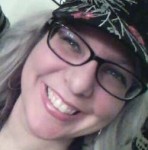 Monica Valentinelli is a writer and game designer who lurks in the dark and full-time freelancer. She writes both original and media tie-in fiction. To date, she has a few dozen creative credits with more on the way.

Published stories and games include "Tomorrow's Precious Lambs" for EXTREME ZOMBIES, "The Dig" for the LOVECRAFT ZINE, and STRANGE, DEAD LOVE for Vampire: the Requiem by White Wolf Publishing.

Her non-fiction repertoire includes online articles and print essays. She has written for sites like: HowtoWrite Shop.com, Crackle.com, SFWA.org and, more recently, GeeksDreamGirl.com, and BookLifeNow.com. Her essays have appeared in books like FAMILY GAMES: THE 100 BEST and THE BONES: US AND OUR DICE.

For more about Monica, visit mlvwrites.com and learn about her publications and her work with clients like John Kovalic and Onyx Path Publishing.