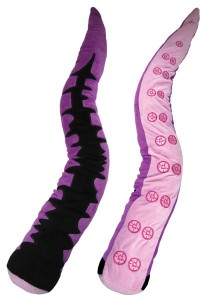 [1]
If you read my What's New at Steve Jackson Games [2] report, you might have seen the Plush Tentacle [3] on that list. Even though I work for the company, there's a lot of toys and games I don't personally design or help create. This particular project was already designed, created, and in the manufacturing queue before I started!
Yesterday, I got a green and purple tentacle in the mail from Steve Jackson Games [4]. Immediately, our younger cat decided to take a nap against it. Sadly, no pictures. I *should* be carrying a camera around me at all times! Both of the plush tentacles are pretty awesome because they're posable and they can be hung. There's a belt-sized loop on both of them.
We released two colors. The green plush tentacle is available through stores and, if early reports hold true, these are going to go fast. The purple one that you see pictured is a Warehouse 23 Exclusive [5].
Warehouse 23 is part of Steve Jackson Games. Sometimes, we produce items you can buy from us that aren't available through retail distribution. There's a few other examples of that, like several T-shirts, sparkly pink Munchkin [6] Jumbo d6 dice, etc.
If you're interested in taking a peek at what you can't get in stores, visit the Warehouse 23 Exclusive [7] page.