Flames Rising is an online resource for fans of Horror and Dark Fantasy entertainment. This horror fanzine offers reviews of Games, Fiction, Movies and more ranging from Top-Selling authors to the coolest Small Press and "indie" publishers. The popular Interviews at Flames Rising include Horror authors, artists and other creators of dark entertainment. Stay tuned to the Flames Rising news feed for the latest news on upcoming products, genre conventions and industry developments.
Flames Rising continues to add new Features and expand the Fiction and Articles sections of the site with topics of interest to Horror and Dark Fantasy fans the world over.
History of Flames Rising
Flames Rising first launched in the fall of 2003, bringing readers the latest news, reviews and interviews for aspects of the gaming industry. Since those early days, Flames Rising has expanded to include all aspects of the horror and dark fantasy genre. With over 200 reviews on the site, and well over 70 interviews with artists, authors and game designers, Flames Rising is dedicated to scouring the web for content tailored to our readers.
The new site design that you see here launched in early 2008, to keep up-to-date with the latest in web design and technology. Run by Matt M McElroy, Flames Rising continues to reinvent itself to stay current on trends in the entertainment industry.
Feel free to explore the site, comment on our posts, subscribe to our feeds or submit your work for publication. To contact Matt M McElroy directly, email him at flamesrising01@yahoo.com.
Who's Who at Flames Rising
Matt M McElroy
– Owner/Editor –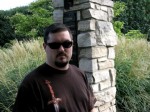 Matt acts as the "Editor-in-Chief" of Flames Rising, which usually means writing reviews, setting up interviews, posting news and checking out the latest Horror & Dark Fantasy products from a variety of publishers. He also recruits reviewers, posts previews and works with publishers to explore new ideas for promoting the genre.
Matt occasionally dabbles in freelance writing and game design. Recently he worked on Buried Tales of Pinebox, Texas for 12 to Midnight. Other projects include the Ghostories Enhancement Pack for Precis Intermedia and Tales of the Seven Dogs Society from Abstract Nova Entertainment.
Monica Valentinelli
– Project Manager/Reviewer –

Monica Valentinelli is a lightning-fast reader and writer who is currently enjoying a posh job at an internet search marketing agency in Madison, Wisconsin. She has a dry sense of humor that requires her to bring a "humor flag" wherever she goes, and she has been known to have an uncanny sense of bad timing. As a weather shaman, Monica was responsible for the Winter from Hell in 2007-8, and is hoping her frequent Zumba classes will appease the thunder god, Thor. From Final Fantasy to a love for numbers, Monica is an avid min/maxer who always "wants more guns." A perpetual coffee snob, Monica enjoys free Wi-Fi, walking in wide, open spaces, and the occasional practical joke.
In addition to spending countless hours providing an untold number of reviews, articles and select fiction for the Flames Rising, Monica has written for over a dozen games for publishers including: Abstract Nova, Eden Studios, Spartans Unleashed, Rogue Games, and others. Her Promethean: the Created fiction was featured in the White Wolf eQuarterly and her short story, "Prey" was recently featured on the Pseudopod.org website.
Visit www.mlvwrites.com for the latest information on Monica's upcoming dark fantasy series "The Violet War" and other projects. To learn more about this horror writer and game designer, be sure to read Monica Valentinelli's Biography or subscribe to the Words on the Water blog feed for freelance writers.
Reviewers & Bloggers
Read more about our dedicated volunteer Reviewers and Bloggers on their individual author pages.
Bill Bodden
Megan Robertson
James 'Grim' Desborough
Alana Abbott
Todd Cash
Kenneth Hite
Michael Brewer
Steve Dawes

Questions? Comments?
If you would like to submit content (including reviews, articles and news) to Flames Rising, drop by the updated Submission Guidlines or visit the Contact Page to send us a note.
Banners & Links
DriveThruComics.com

Flames Rising RPGNow Shop

Noble Knight Games


Permuted Press at the Undead Shopping Extravaganza

Trail of Cthulhu (Pelgrane Press)


Blood of the Dead (Coscom Entertainment)

The Manual of Exalted Power: The Infernals (White Wolf)


Exquisite Replicas (Abstract Nova)


Aletheia (Abstract Nova)


Secret Identity Podcast

Burning Empires RPG (Burning Wheel HQ)


Esoterrorists RPG (Pelgrane Press)


Undead: Headshot Quartet (Permuted Press)

Nox Arcana

Zombie Rally (Snarling Badger Games)


Shadow Nations (Apophis Consortium)

Day by Day Armageddon (Permuted Press)

Shadows of the Emerald City (Northern Frights Publishing)

World of Darkness: Midnight Roads (White Wolf)


Alpha Gods (Orang Utan Comics)

Eclipse Phase (Catalyst Game Labs)

Rogue Trader (Fantasy Flight Games)


Estuary (Permuted Press)

Girl Genius (Airship Entertainment)

Sideshow Collectibles

Supernatural RPG (Margaret Weis Productions)

Savage Worlds RPG (Pinnacle Entertainment)