Posted on July 29, 2019 by Monica Valentinelli
The Christmas in July at DriveThruFiction sale continues! Last time, I offered ten recommendations of non-fiction books that are great for writers and narrative designers. Now, I've got ten new books for you to check out–some fabulous stories! Listing these reads in no specific order, I've picked out some cool novels and anthologies for you from a mixture of authors and publishers.
If you're looking for something fun and related to your favorite show or comic, be sure to check out the SG-1 and Stargate novels from Crossroads Press, Battletech and Shadowrun fiction from Catalyst Games, Blake's 7 from Untreed Reads, Exalted, Chronicles of Darkness, and World of Darkness stories from Onyx Path Publishing, and the site's HUGE collection of 2000 AD and Judge Dredd novels from Rebellion Publishing. Happy reading!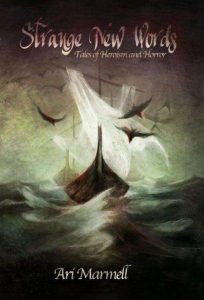 1. Strange New Words: Tales of Heroism, Hi-jinks, and Horror by Ari Marmell: Windows into the fantastic, from crypts to cobras, swords to submarines, rubies to railroads, heaven to hell and places stranger still. Heroes, horrors, and hijinks–both original to this collection and reprinted from a variety of sources–from the mind of Ari Marmell, author of The Conqueror's Shadow, The Goblin Corps, Darksiders: the Abomination Vault, the Widdershins Adventures series, and more. In Strange New Words, let author and game designer Ari Marmell guide you through over a dozen windows into the fantastic!
2. Harlan County Horrors by Apex Book Company: In the black heart of coal country, malevolent spirits and unearthly creatures slip from the shadows into the minds and hearts of men. Young women, twisted by pain, call for love and revenge by the light of the moon. A dead dog by the side of the road is more than it seems. In Harlan County, Kentucky, the supernatural and the mundane mingle in the depths of the earth, filling the mines with powerful forces that draw people down and corrupt from within. Uncover family legacies of evil in Stephanie Lenz's "Inheritance" and Maurice Broaddus' "Trouble Among the Yearlings." Walk the surreal nightmare of alien control in Earl P. Dean's "Hiding Mountain: Our Future in Apples." Twelve stories of coal-black shadow from authors intimately familiar with the region are waiting to take you to the depths of the earth and into the darkness of the human soul. Apex Book Company produces award-winning genre fiction from authors and editors like Maurice Broaddus (Dark Faith), Lesley Conner and Jason Sizemore (Do Not Go Quietly), and Brian Keene (The Lost Level).
3. Vigilant: Through Shadow and Dreams Book One by Sarah L. Stewart and Frances Stewart: Eochaid Lenahr is dying, having given everything to protect one of Scarn's most dangerous artifacts. But how did the young son of a Venirian farmer ever come to be fighting on the side of the enemy, the nation of Vesh? Meet the brave, driven Veshian vigilants who stand between a recovering nation and the poisoned, half-mad wilds of Ghelspad. Learn the story behind the Scarred Lands' dramatic Serpent saga, one of the most significant events of the post-war era. On a world as devastated as Scarn, what does it cost to become a hero? Vigilant is set in the fantasy world of the Scarred Lands campaign setting, and is part of Onyx Path Publishing's suite of stories tied into their games.
4. A Vampire in Whitechapel by Scarlet Blackwell: A bloodsucker discovers he's not the only monster stalking the streets of Victorian London, when his nightly search for sustenance brings him face-to-face with the city's most notorious butcher – Jack the Ripper. "A Vampire in Whitechapel" is a short story published by Untreed Reads, and is part of their Spectres horror line. The short story is a small taste (pun intended) of what Untreed Reads publishes. From mystery to romance and everything in between–check 'em out!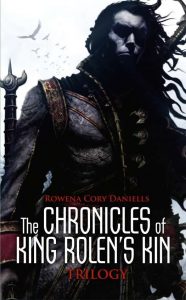 5. The Chronicles of King Rolen's Kin trilogy by Rowena Cory Daniells: The story of a winter-bound kingdom split asunder by intrigue and magic, its princes set against each other and rival powers circling like vultures, this epic fantasy is held together by its vivid characters. Byren, the King's second son must challenge his elder brother for the throne, Fyn the disinherited child with magic in his blood must become a leader, and Pyro the only princess and a secret magic-worker, is the pivot around which the world may turn for good or ill. This ebook edition collects the trilogy featuring The King's Bastard, The Uncrowned King and The Usurper in one ebook–1,200 pages of quality material! This collection is part of Rebellion Publishing's ever-expanding catalog. Check it out!
6. Mask of the Other by Greg Stolze: In 1974, something came out of the sea during the invasion of Cyprus, killing Greeks and Turks indiscriminately until it was bombed into dormancy and entombed. In 1988 a rock band disappeared while filming on an abandoned island-town off the coast of Japan. In 1991, a squad of US infantry was attacked in Iraq by a bulletproof, invisible entity. "Mask of the Other" connects these disparate events, as a group of soldiers plunders the remnants of Saddam's occult weapons program and attempts to engage with creatures of an inhuman mythos… as equals. Mask of the Other is an original novel written by author and game designer Greg Stolze.
7. The New Gothic anthology: Don't embrace the darkness. Fear it. The Gothic is the most enduring literary tradition in history, but in recent years friendly ghosts and vegetarian vampires threaten its foundations. The New Gothic is a collection of short stories which revisits the core archetypes of the Gothic – the rambling, secret-filled building, the stranger seeking answers, the black-hearted tyrant – and reminds us not to embrace, but to fear the darkness. A dozen tales of terror fill this anthology including an original, never-before-seen story from the godfather of modern horror, Ramsey Campbell. Published by Pelgrane Press, who produces quality fiction and games, this is a standalone collection of Gothic tales by authors including Laura Ellen Joyce, Richard Dansky, Steve Dempsey, and Ramsey Campbell. For more fiction, check out Pelgrane Press' catalog of compelling stories, fables, and more!
8. Dinocalypse Now by Chuck Wendig: AN INVASION… FROM PREHISTORY! When the Century Club is called in to prevent the assassination of FDR, it's just another day on the job—but what they discover puts not just the President, but the entire world in jeopardy. With psychic dinosaurs taking over Manhattan and beyond, it's up to Sally Slick, Jet Black, Mack Silver, and the other Centurions to save humanity—from extinction! Written by NYT's best-selling novelist Chuck Wendig, this novel is part of Evil Hat Productions' Spirit of the Century line. Check them out for more great stories!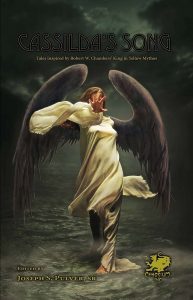 9. Cassilda's Song anthology: Cassilda's Song is a collection of weird fiction and horror stories based on the King in Yellow Mythos created by Robert W. Chambers—entirely authored by women. Authors include Chesya Burke, Lucy Synder, Damien Angelica Walters, and E. Catherine Tobler. There are no pretenders here. The Daughters of the Yellow Sign, each a titan of unmasked fire in their own right, have parted the curtains. From Hali's deeps and Carcosa's gloomy balconies and Styx-black towers, come their lamentations and rage and the consequences of intrigues and follies born in Oblivion. Run into their embrace. Their carriages wait to take you from shadowed rooms and cobble­stones to The Place Where the Black Stars Hang. If you're looking for classic and modern takes on the Mythos, visit Chaosium Publishing.
10. The Best Science Fiction and Fantasy of the Year, Volume Thirteen: A librarian helps a desperate student find the door into a book; Sir Thomas Moore's head is stolen and a messy rescue ensues; a mother sells a piece of her memory so her daughter can afford an education. Science fiction is the story of what if and what comes next. It's more playful, more inclusive and more entertaining than it has ever been before and as the world falls apart around us, it offers us a chance to understand how things could be better, or just how a great story can get us through another night. The Best Science Fiction and Fantasy of the Year: Volume Thirteen brings together the very best clashes between zombies and unicorns, robots and fairies, spaceships and more in a definitive volume that takes us everywhere from the distant future and the moons of our own solar system, to one last visit to Earthsea… This title is part of Rebellion Publishing's catalong and highlights the best authors writing in the genre today including Kelly Barnhill, Elizabeth Bear, N. K. Jemisin, Tade Thompson, and Alyssa Wong.
Tags | anthologies, novels