Posted on September 2, 2009 by jasonlblair
Welcome to the seventh of the 13 Doors: an exclusive look behind the door at the upcoming Little Fears Nightmare Edition – The Game of Childhood Terror.
Door #7: Picture Day
The small press roleplaying game scene has really upped its visual game in recent years. I don't know if you've checked out the scene lately but there is some really gorgeous stuff out there. When it came to putting together the look of Little Fears Nightmare Edition, I had a couple ideas in mind for the logo and trade dress but I was really sweating the illustrations.
My original hope was to use one artist throughout but that just wasn't possible. So, I decided to get creative and look at the resources I had available.
Back when the original Little Fears was all shiny and new, I was fortunate enough to be approached by a pair of excellent overseas publishers who showed interest in bringing the game to their markets. The first was 7eme Cercle, the publisher of the French editions of Unknown Armies and creators of Qin, the Warring States. The other was Feder und Schwert who were the publishers of the German editions of World of Darkness, D&D 3e and 3.5e, and the creators of Engle.
They each put together beautiful versions of the game. I was very fortunate to have such high-quality editions in the Little Fears universe. When I started working on Little Fears Nightmare Edition, I contacted 7eme Cercle and Feder und Schwert about using some of the artwork from those editions. I was lucky enough to work those connections and get in touch with the artists.
7eme Cercle's version of Little Fears was illustrated by the brilliant Peru Brothers. I was able to get in touch with Olivier Peru and get the rights to use the images he and his brother created. The images they created have a darkly playful tone to them. They gave the images an iconic look with lots of creepiness and subtle terror throughout. You'll see more of them in the final book but here are some preview images of their work: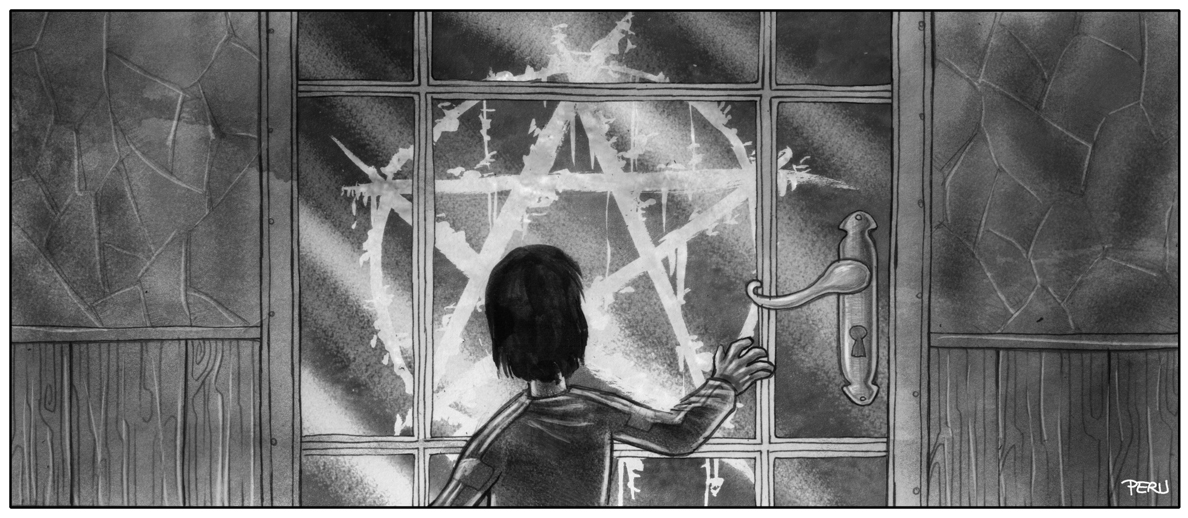 Feder und Schwert's version (titled Kleine Aengste) was illustrated by one of the company's members, Oliver Graute. Oliver was one of the two men I met back in 2001 (the other being Oliver Hoffmann). I was great working with them and Oliver's photomanipulation shows the world of Little Fears in a very unique and incredibly disturbing way. Here are some of his images:
But it won't only be images from foreign editions. There is new artwork as well, from Little Fears favorites and some new folks as well. I have some very kind and generous friends who worked on pictures for the book. Some of them will be in the mainbook and others will be in online supplements. I was fortunate enough to have more pictures than I needed! It's a good problem to have for a one-man band on a budget.
For the cover, I needed an image that would grab people. Something that sells the core concept of the game immediately. The original Little Fears cover is great. It's very dark, moody, and evocative. With the Nightmare Edition, I wanted something different. I went to a person I've gone to before. I picked someone I really enjoy working with and who I knew could deliver the goods: Veronica V. Jones. Veronica contributed a cool dozen images to the original Little Fears as well as some unpublished supplement images. She's responsible for two of the most images in the book: the girl in the shadow of her arguing parents and the girl with the gun. Veronica and I worked on the concept of the cover and I absolutely love what she's done. I hope you will too, once it's revealed. For now, take a look at some of the other interior pieces, these from Doug Snook:
And that's a look at the visual side of Little Fears Nightmare Edition. I hope you enjoy what you've seen. Come back next week for another column and another peek behind the door. If you haven't already, be sure to stop by littlefears.com and vote for which of the seven monsters from the original Little Fears you would like to see return in the Nightmare Edition.
Note: During my search for new and old illustrations, I learned that the other half of the Peru Brothers, Stephane, had passed suddenly at a young age. The book is dedicated in part to him. He was a brilliant artist whose career was only beginning. The world of art is poorer without him.
About Little Fears
Little Fears is a pen and paper roleplaying game that was released in 2001. In it, players portrayed children aged 6-12 who fought monsters that came to our world from a place called Closetland. A completely overhauled version, Little Fears Nightmare Edition, is currently in development. Partnered with Flames Rising, Jason L Blair (the author of Little Fears and Little Fears Nightmare Edition) will provide 13 exclusive looks beyond the door at the new edition including fiction, art previews, and more.
For more information, visit www.littlefears.com.
List of Previews for Little Fears: Nightmare Edition
Thank you to everyone who has entered through the thirteen doors leading up to the release of Little Fears: Nightmare Edition. If you're just starting your journey, here is a full list of previews for you to explore:
Tags | jason blair, little fears