Posted on April 18, 2019 by Travis Legge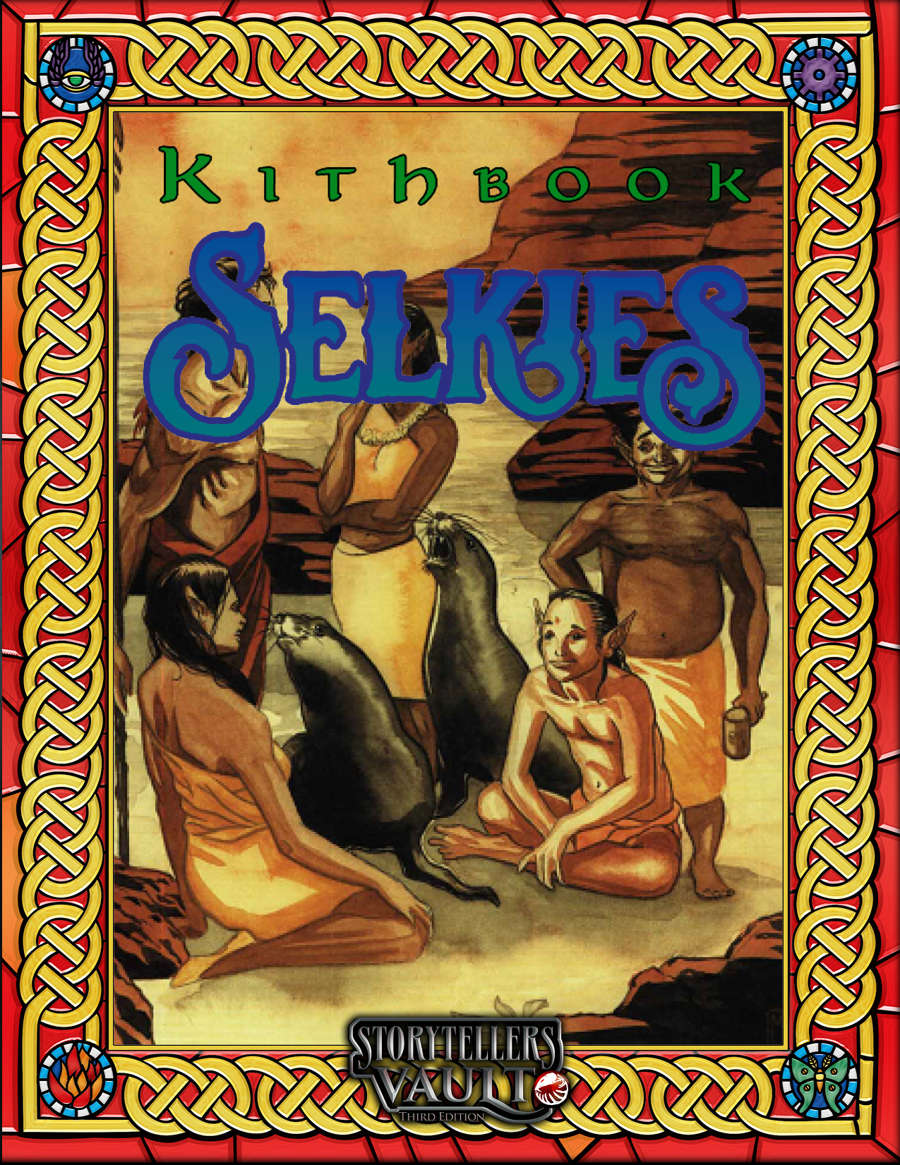 There is a massive sale running at the Storytellers Vault, offering 75% off of the 20th Anniversary Edition core rulebooks for each World of Darkness line. In addition to these savings, the sale offers a 25% discount off of all sourcebooks and most of the community content for these lines. While this presents a prime opportunity to catch up on any of the official 20th Anniversary Edition materials you may have missed, I would like to take a moment to call your attention to some of the community content included in the sale. These titles are organized by game line, not listed by any sort of ranking. All twenty of these sourcebooks are very well done and worth every penny. Get them at a discount while you can!
Changeling: The Dreaming
This beautifully rendered sourcebook provides the first in-depth look at the history of the sealkin, offering Merits, Flaws, pregenerated characters, and a wealth of information on Selkie society. Kithbook: Selkie contains everything players and Storytellers require to integrate these unusual beings into a Changeling: The Dreaming 20th Anniversary Edition campaign.
This book provides new cantrips, features, and treasures designed for use with Dark Ages: Fae via the 20th Anniversary Edition update. Perfect for groups looking to expand their Dark Ages: Fae campaign.
Mage: The Ascension
This sourcebook offers a structure for incorporating a newly re-formed Council of Nine attempting to rise from destruction after a 24-year hiatus. Tips for interactions with the Technocracy and the Disparate Alliance, campaign seeds, and reflections on the state of the Mystick Traditions can all be found in this volume.
Major Arcana by Secrets of the Masquerade
This unique supplement from the prolific creator who goes by the moniker Secrets of the Masquerade offers a system for integrating the Major Arcana of a Tarot deck as a narrative tool in your Mage: The Ascension game. This interesting and thoughtful tool can add a layer of depth, chance, and mysticism to your storytelling.
This book offers a massive collection of Paradox flaws and effects ready to drop into your game at a moment's notice. This is perfect for Mage Storytellers new and old who want a fast, easy, and flavorful way to address Paradox without slowing down gameplay or wracking your brain for Paradox effects.
This sourcebook brings the World of Darkness: Sorcerer systems in line with Mage 20th Anniversary Edition, converting paths that were absent from Sorcerer: Revised into an Aspect-Based System and expanding the rules of Aspect-Based casting to be compatible with Mage 20. This includes over 75 rituals, new Merits and Flaws, and a number of sorcerous societies for players and Storytellers to use in their campaigns.
Mummy: The Resurrection
Pillars of Ma'at seeks to update and reconcile the Mummy: The Resurrection setting and systems to come in line with the 20th Anniversary Edition World of Darkness games. This vital supplement reconstructs the Amenti through the viewpoint of a world without a Reckoning, placing the metaplot in the hands of the Storyteller. Other groups of Mummies are mentioned, but the primary focus rests on the Amenti.
Vampire: The Masquerade
Presenting exactly what it says on the tin, this small sourcebook is filled with big ideas. Within these pages are 101 enumerated plot seeds, written as single sentences. Perfect for one-shots, side quests, or even as the beginning seeds of a Chronicle, these plot ideas are well worth the price of admission.
Fans of Thaumaturgy will not want to pass up this incredible collection of Paths and Rituals. In addition to raw Thaumaturgical expansion, this sourcebook covers Merits, Flaws and Backgrounds for characters with an Occult focus. Bring more magic into your Vampire game with Bloodcraft!
Clanbook: Gargoyles offers a deep look at this bizarre creation of the Tremere that have now earned their place as a species in their own right. This book covers the history of Gargoyles, examinations of their Disciplines, a new Attribute to replace Appearance, and introduces the concept of evolved Gargoyles called Misbegotten.
This massive tome offers an alternate system for including progressive Clan Weaknesses in your Vampire: The Masquerade 20th Anniversary Edition campaign. Each clan's weakness is examined thematically and constructed to allow the weakness to grow more pervasive over time. Add another layer of horror to your campaign with this expansion.
This group of ready-made Vampire: The Masquerade 20th Anniversary Edition characters offer a wide variety of antagonists that can be inserted into your Chronicle as written, or easily customized to suit your needs. A great time saver!
This sourcebook delves into the etiquette and social norms of the Camarilla and the Sabbat. The material presented herein is just as useful in a LARP setting as in a Tabletop game and the book is well worth the price.
This 17-page collection provides detailed descriptions and 20th Anniversary Edition game statistics for a wide array of firearms. An indispensable resource for games that include gunplay.
This collection of NPCs offers a number of quick reference stat blocks and character histories for the Storyteller to drop directly into their campaign. Menagerie of Mortals is beautifully presented, highly useful, and well worth every penny.

This sourcebook offers an alternative view of the Cappadocian Clan, bringing the Cappadocians forward to the modern nights. The information herein gives you all you need to being the original Clan of Death into YOUR 20th Anniversary Edition campaign.
Werewolf: The Apocalypse
Joshua Heath brings the One-Page Chronicle Jumpstart format to Werewolf: The Apocalypse with this beautiful selection of seeds and ideas centered on illness, corruption, and tainted food supplies. All of Heath's One-Page Chronicle Jumpstart products pack a ton of value into a small page count, and this one is no exception.
This 31 page pdf contains over 80 new Garou gifts. Each Breed, Auspice, and Tribe is represented, and gifts run the range from Rank 1 to Rank 6. The systems presented in this book are well-written, balanced, and playtested. Beautiful, professional-quality layout and graphic elements make this a must-have for any Werewolf Storyteller or player.
Wraith: The Oblivion
This Wraith: The Oblivion sourcebook presents a location from the real world, viewed through the lens of the World of Darkness. Heart-shaped Hole focuses on Wraith, but presents information that can be used with multiple lines in order to integrate Wymering Manor into your World of Darkness.
Author proceeds from this sourcebook benefit The Trevor Project, an American non-profit organization founded in 1998 focused on suicide prevention efforts among lesbian, gay, bisexual, transgender, and questioning youth. Renegades of Mercury presents a small group of Renegades who deliver lost love letters to and from soldiers across the Shroud. Examine love beyond the grave with this sourcebook for Wraith: The Great War.
I hope you will give these products, and the rest of the community content at Storytellers Vault a look. Let me know in the comments what you think of the list, and feel free to mention any great Storytellers Vault releases I may have overlooked.
Travis Legge is a writer and game designer
See his work at
DMs Guild: https://www.dmsguild.com/browse.php?author=Travis%20Legge
DriveThruRPG: /browse/pub/338/Aegis-Studios
Storyteller's Vault https://www.storytellersvault.com/browse.php?x=0&y=0&author=Travis%Legge