Posted on December 16, 2016 by Flames
Flames Rising is kicking off a series of guest blog posts from authors, artists, and publisher friends of site. They'll be tell us how their 2016 has gone and maybe we'll get a few hints about their plans for 2017.
Next up is author and Books Division Chief at Visionary Comics Jeffrey J. Mariotte !
2016: Downs and Ups and More of Both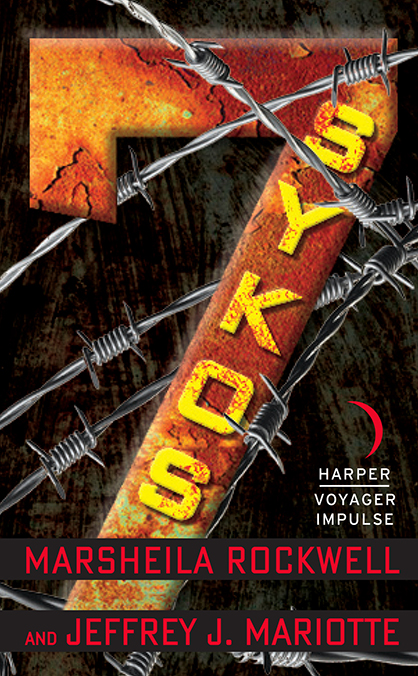 2016? It was a year of ups and downs, with the ups very, very up but some of the downs pretty far down, as well. It was a year in which a lot of personal heroes passed on, including my older brother Michael. It was a year in which a turbulent election roiled a lot of uncomfortable currents around my country.
On the other hand, there were definite high points, worthy of celebration, and that's what I'll focus on here, in more-or-less chronological order.
In January, Cutting Block Press released the first title in their "Single Slices" series of ebook-only horror short fiction. The story they chose to launch the line with was "The Lottons Show," by my frequent writing partner, Marsheila (Marcy) Rockwell, and me. It's a horror story involving both clowns and puppets, so really, something for everyone, and it's graced with an amazingly creepy cover.
Late in the month, HarperCollins released the first novel that Marcy and I wrote together (also in ebook). 7 SYKOS is a near-future sf/horror/thriller hybrid described by the publisher as "The Walking Dead meets The Andromeda Strain," and by horror master Jonathan Maberry as "new territory for the zombie genre."
February brought the Amazing Arizona Comic-Con to Phoenix, AZ. Marcy and I had a booth there, and we had a terrific show. It ran February 12-14, so on the evening of the 13th, we went out for a romantic pre-Valentine's Day dinner, and were able to announce our engagement at the con on Valentine's Day itself.
On March 1, Harper released 7 SYKOS as a mass market paperback. March is also always the month when the incredible Tucson Festival of Books happens. Marcy and I were there, signing tons of books and talking to readers and fellow writers for two solid days.
Did anything happen in April? It's kind of a blur… oh, wait, I remember. I turned in a novel, then packed about 500 boxes (literally, not exaggerated for effect), moved from my condo in Sierra Vista, AZ to Marcy's house in Gilbert, AZ, and then on April 23, we were married! Now that's how you cement a long-term writing partnership with an incredible partner, a great writer, an accomplished poet, and a wonderful woman.
For a few months after that, we kept our figurative noses to the metaphorical grindstones, working away on various projects, delivering manuscripts, trying to find time between that and day jobs and family obligations to just be together. The biggest event was son David's graduation from the University of Arizona in Tucson. Then August came, and the publishing schedule picked up again with the release of V-Wars: Shockwaves from IDW Publishing. It's an anthology edited by the aforementioned Jonathan Maberry (based on V-Wars, a vampire property he created), containing a story by Marcy and me: "The Real HousewiVes of Scottsdale." On a personal note (and speaking of IDW Publishing), the also-aforementioned son David Mariotte accepted a job there as an editorial assistant. More than a decade ago, I was IDW's first editor-in-chief, so it was a very cool circle-of-life moment.
In September, Tor Books, in collaboration with the Visionary Books division of Visionary Creative Services/Visionary Comics, released my solo novel Deadlands: Thunder Moon Rising, which I count as among the very best of my 60-plus novels. It's a weird western thriller based on the bestselling, long-running Deadlands RPG from Pinnacle Entertainment Group, and the second of three Deadlands books Tor is releasing (the first, Ghostwalkers, by Jonathan Maberry–him again!–came out in September 2015, and the third, Boneyard, by Seanan McGuire, will follow in September 2017). [Incidentally, working on a Deadlands comic issue (collected in the trade paperback Deadlands: Dead Man's Hand), was what first brought me into contact with the fine folks at Visionary Comics, where I'm now division chief of Visionary Books.]
Also in September, Devolution: The Horror Magazine published "Mile Marker 237," a poem by Marcy. They were also the first market she submitted it to, and they snapped it up and published it in a heartbeat. And we got to speak to the Arizona Mystery Writers organization about psychopaths and psychopathic brain structures, topics that are two of the main components of 7 SYKOS.
October's publishing event was X-Files: Secret Agendas, another Maberry-edited anthology from IDW Publishing. Marcy and I had a story called "Transmissions" in that one. We did a couple of book signings close to home, but otherwise–except for a family trip with the two youngest boys, to the Grand Canyon and Bearizona–stayed close to the keyboards, because…
…November happened. I had a deadline at the beginning of the month for NCIS: New Orleans: Crossroads, coming from Titan Books in March 2017. Then toward the middle of the month, Marcy and I had a deadline for the second book in a Xena: Warrior Princess trilogy called Gods of War (to be published by HarperCollins Canada, presumably in 2017). Somewhere in there we found time to go to the great Tucson Comic-Con and TusCon 44, where we did some panels and signings and shared a memorable dinner with friends Joan Vinge, Jim Frenkel, and George R. R. Martin. Later in the month, Titan Books released my novel NCIS: Los Angeles: Bolthole, the book I was scrambling to finish before moving and marriage, back in April.
Now it's December. I'm working on edits to the NCIS: New Orleans book, and together we're finishing up a collaborative story for an anthology coming next year from Zombies Need Brains. The book is called Submerged, and our story is tentatively titled "Son of Blob." Of course, it's also the holiday season, so we're trying to spend time with family and friends, being thankful for a busy and productive 2016, and looking forward to more of the same in 2017. We wish you and yours peace, joy, love, and good reading, next year and forever.
If you want to keep up with what Marcy and I are up to, check our websites at marsheilarockwell.com and jeffmariotte.com, follow us on Facebook (Marcy and Jeff) and Twitter (Marcy and Jeff) or drop a line to news@rockwellandmariotte.com and ask to be subscribed to our very occasional newsletter, "Married with Deadlines."