Posted on November 30, 2016 by Flames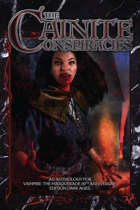 Onyx Path Publishing continues its support of the 20th Anniversary Edition of the Vampire: the Masquerade Role-Playing Game. Vampire has always been loved by its fans for the rich setting filled with tragic anti-heroes and horrifying villains among the damned. Throughout the game's history White Wolf and now Onyx Path have published a variety of novels and anthologies allowing authors to explore that setting even further. Here are two new Vampire anthologies exploring both the Dark Ages and the Modern Nights.
The Cainite Conspiracies Anthology
Step back into the Dark Ages…
…into a time when the clans, high and low, battle for blood and power.
[...more]