Posted on February 5, 2010 by Monica Valentinelli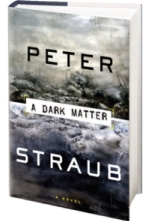 When I first sat down to read A DARK MATTER, I wasn't quite sure what to expect. Sure, I had read Peter's work before and I'm pretty familiar with modern horror, but I didn't know anything about this particular story other than one, little tidbit. In our interview with Peter Straub, he had mentioned that he was inspired by his experiences in Madison, Wisconsin. That little morsel made me curious, because I went to school in Madison and could see how he got the idea for this book. Madison is unique from the rest of the state, because you can study or pursue just about any religion, philosophy or political group in this college town. I could imagine that those same gurus that Peter saw in the 60s might be strolling around State Street today. Needless to say, the concept piqued my curiosity.
With that in mind, I started reading A DARK MATTER and was a little surprised by what I had read. Heavily focused on characterization, the story has a literary quality to it that I don't really see much in mainstream fiction — especially modern horror. What do I mean by "literary"? Well, in my mind, literary fiction has a serious tone to it because the author is more deliberate with his (or her) use of words, and how those words are typeset on a page. The word I often use to describe literary fiction is "crunchy." As a reader, you're then forced to savor each word and each sentence before moving on to the next. A DARK MATTER has that kind of quality, even though I feel it's not as "crunchy" as FINCH. The characterization in this book is very deep and thorough; you feel as if you know these characters in a way that you might know a lover or a twin. You feel what every one of these characters feels both in the present and in the past, a technique that is masterful considering the sheer volume of characters that are in this book. In many ways, reading A DARK MATTER is like taking a step back from a large mosaic; the further you get into the story, the more you understand how all the pieces fit together.
Spencer Mallon, a guru with a childlike need for power, manipulates himself and his followers into believing that they can successfully conduct an ancient occult ritual on the first try and reap in the benefits. His "followers" include Don Olson, Keith Hayward, "Hootie," the Eel, and a few others. The bulk of the story is focused on the investigation by Lee, the Eel's husband, a successful author who didn't share that part of his wife's past. He was the only one who didn't attend the ritual or "buy" Spencer Mallon's claims, even though he knew most of the others who did. The book focuses on his investigation and his ability to interview the other characters in order to unlock the past. Each character provides a piece to the puzzle about what really happened that night and each one suffers from that event in their own, unique way. Since the group is inexorably linked to one another, their intimacy creates conflict between Lee, the author, and Lee, his wife. Lee, the author, also suffers from the knowledge he gains because he starts to wonder more and more about the secrets his wife, Lee "The Eel" Truax, seems to be keeping from him.
The horror in this book hit me from all directions, because this story also serves as a warning to anyone who is careless with their pursuit of forbidden knowledge. I felt that this was one of the most realistic depictions about what would happen if the doorway between reality and the occult were blown wide open. Every character (including the author) is irrevocably changed by what they experienced during that ritual and the events leading up to it. The horror comes from their paranoia, the forbidden knowledge that they've gained and how they deal with it, the unique experience each of them felt during the ritual and the personal effect that they've had on each other. Here, the horror doesn't just come from facing the proverbial monster under-the-bed, but knowing that it exists in many forms, and that it can't be defeated. As they say, "Ignorance is bliss."
For those readers that are interested in a modern horror story, there is a thread of that in A DARK MATTER as well. One of the characters is linked to a mass murderer; to tell you anymore would probably spoil the story for you.
So, having said all that I have, who would enjoy reading A DARK MATTER? If you're a curious person who "has to know"… If you're the type of reader who enjoys a dark mystery and doesn't mind being frightened when you least expect it… If you're someone who has always wondered "What if?" Then this is the book is for you.
To keep up-to-date with news about Peter's work, we encourage you to visit the official Peter Straub Facebook fan page or his website located at www.peterstraub.net. If you're interested in pre-ordering A DARK MATTER, you can get your copy through Amazon.com today.
Tags | horror novel, modern-horror, occult, paranormal