Posted on April 6, 2011 by Flames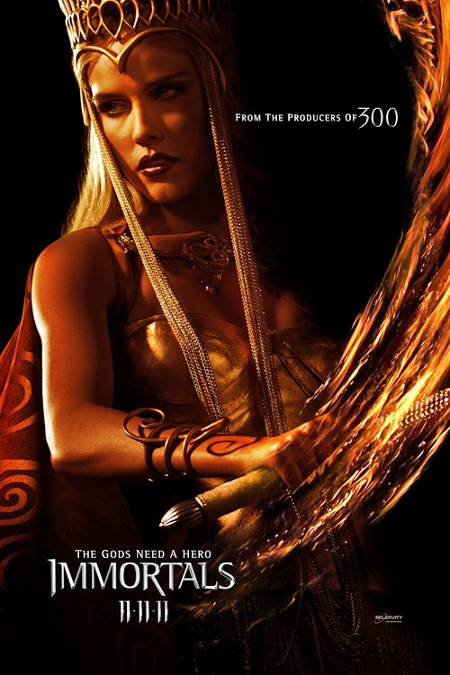 Relativity Media and graphic novel publisher Archaia Entertainment, LLC have formed a publishing partnership to produce and publish a hardcover graphic novel anthology based upon Relativity's upcoming epic motion picture Immortals, starring Henry Cavill (Superman: Man of Steel), Luke Evans (Robin Hood), Kellan Lutz (Twillight), Isabel Lucas (Transformers: Revenge of the Fallen), Freida Pinto (Slumdog Millionaire), and Mickey Rourke (Iron Man 2).
Archaia will release the Immortals graphic novel in September, serving as a precursor to the 3-D motion picture, which releases worldwide on November 11, 2011. The graphic novel will expand upon the film's key characters and events through a series of original tales written and illustrated by some of the top names in comics, including David Mack (Kabuki), Ron Marz (Witchblade), Dennis Calero (Dark Tower) and Ben Templesmith (30 Days of Night). The graphic novel will be published through Archaia's Black Label division, a publishing pipeline dedicated to working alongside creative professionals within the entertainment industry eager to launch and expand their brands in the publishing world.
"We could not be more proud to form our creative partnership with Archaia, a publisher that has successfully earned industry-wide acclaim for its commitment to quality and fans of genre entertainment. Archaia possesses all of the creative resources required to perfectly capture the film's artistic and narrative essence," said artistic and narrative essence," said Peter Adee, President, Theatrical Marketing &Distribution, Relativity Media .
The Relativity-Archaia partnership was facilitated by Joe LeFavi of Quixotic Transmedia, who spearheads business development for Archaia's Black Label division. "We are thrilled to have found such an amazing partner in Relativity. Working closely with the film's creative team, we are working hard to expand upon the mythology and reach a level of quality worthy of such a visionary storyteller as the film's director, Tarsem Singh. We are honored that Relativity chose Archaia to introduce fans across the globe to such a rich and visually stunning world," said LeFavi, who will also serve as executive editor on the graphic novel.
Archaia will hold a panel at the WonderCon in San Francisco, CA on Saturday, April 2 from 10:30 AM – 11:30 AM in Room 220 of the Moscone Center South to celebrate their collaboration with Relativity Media on Immortals, and share more details about their creative team and special promotions surrounding the book's release. Later that afternoon, members of the cast will also be on hand to debut exclusive footage and host a panel discussion at 4:00 PM in the Main Hall.
Directed by Tarsem Singh (The Cell, The Fall) and written by Charles Parlapanides and Vlas Parlapanides, Immortals also stars Stephen Dorff (Public Enemies) and John Hurt (Hellboy). Relativity Media is distributing the 3-D epic worldwide. In the UK, Australia, and certain other territories, distribution is in association with Universal Pictures International. In Immortals, the ruthless King Hyperion (Rourke) leads his bloodthirsty army on a murderous rampage across Greece to find a deadly weapon that will destroy humanity. A mortal chosen by Zeus named Theseus (Cavill) must lead the fight against Hyperion and his evil army with the fate of mankind and the Gods at stake.
Tags | archaia, drivethrucomics