Posted on March 22, 2019 by Flames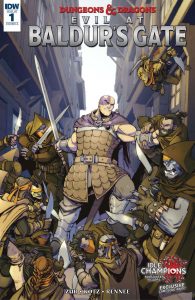 Minsc the Mighty—Evil Beware!
The Baldur's Gate heroes return to the city at last, but their time adventuring in Ravenloft and the frozen northern reaches of the Realms has changed them. Each of them must face great trials ahead before they'll be ready to embrace their destiny. A new hero of the people roams the streets of Baldur's Gate, and Minsc feels left behind despite his own legend.
Can he reclaim his place as the city's Beloved Ranger? Whatever happens, evil is going to get its butt kicked most thoroughly!
Find out what happens in this fun story! The first five issues of Dungeons and Dragons: Evil of Baldur's Gate are now available at DriveThruComics.com!
Evil at Baldur's Gate Issue 1
Evil at Baldur's Gate Issue 2
Evil at Baldur's Gate Issue 3
Evil at Baldur's Gate Issue 4
Evil at Baldur's Gate Issue 5
If you love Dungeons and Dragons, be sure to check out IDW's other comics. There's a ton of new and "old school" D&D comics now available in digital!