Posted on May 22, 2009 by Flames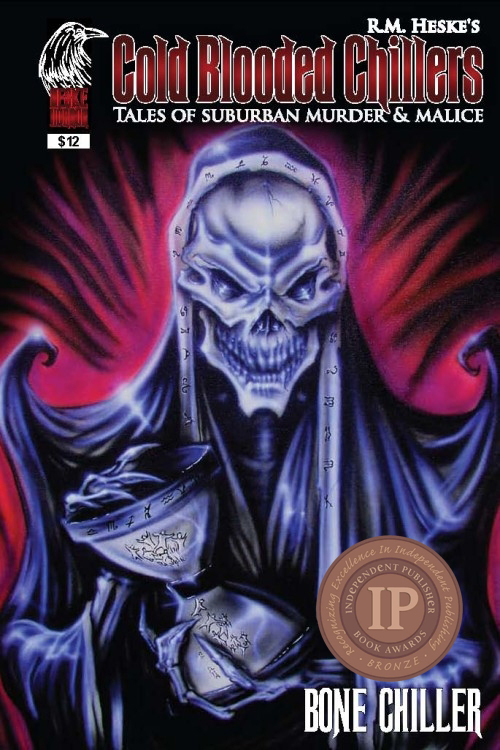 Bone Chiller, a comic anthology penned by R.M. Heske with illustrations by indie horror's leading and emerging artists, received a Bronze medal at the 2009 Independent Publisher Book Awards in the Horror category. The 140-page trade paperback published by Heske Horror features spine-tingling tales from the critcally acclaimed series Cold Blooded Chillers: Tales of suburban murder and malice.
The Independent Publisher Book Awards (the "IPPY" awards) are conducted annually to honor the year's best independently published titles. This year's awards attracted 4,090 entries throughout the US and Canada, plus most English-speaking countries worldwide. Past IPPY award success stories include The Millionaire Next Door, a winner in the inaugural 1997 awards contest, which has sold more than 2.5 million copies and spawned off-shoots including The Millionaire Mind.
According to Jim Barnes, Managing Editor and Awards Director @ IndependentPublisher.com, here is a sampling of judges' comments offering strong praise for Bone Chiller:
"Good stuff, well-written and well-drawn.
Good gory fun!"

"A real grab-bag of chilling tales, written with
a good sense of humor and great timing."

"I like the variety of artists. This is a fun book."
"Winning this award is a huge feather in our cap," says Mr. Heske. "Our Cold Blooded Chillers series has received stellar reviews posted on USAToday.com, Project FanBoy, ComicMonsters, Broken Frontier, Comic News, Comics Bulletin and a host more. But having the IPPY medal on the cover of Bone Chiller brings instant credibility to booksellers and horror fans, and is a tribute to the quality work of the contributing artists and letterists."
Cover art on Bone Chiller was created by Preston Asevedo. Stories were illustrated by Asevedo, Zeu (Infiniteens), Reno Maniquis (Wall of Angels), Monty Borror (Addicts), Dirk Shearer (Necromancer), Adam Swiecki (The Reborn Legends), Alain Norte and Breno Tamura (The Secret Cross). Letterists were Alain Norte, David Paul and Jesse James Wroblewski.
Bone Chiller can be ordered online at HeavyInk, IndyPlanet and at www.coldbloodedchillers.com. The book is also available to retail distributors at www.HavenDistro.com. PDF downloads of Bone Chiller and the Cold Blooded Chillers series are available at a discount at DriveThruComics.com. A trailer of the book can be seen at ComicBookTrailers.com.
About Heske Horror
Robert Heske is a screenwriter and comic book creator with IMDB credits and a vampire graphic novel entitled The Night Projectionist due out this Fall by publisher Studio 407 (with film rights optioned by Myriad Pictures). Mr. Heske has screenplays in various stages of production with filmmakers and producers. He writes a bi-weekly column called IndieCreator for InvestComics.com. His email is info@coldbloodedchillers.com.
Tags | drivethrucomics, horror comics