Posted on March 23, 2011 by Monica Valentinelli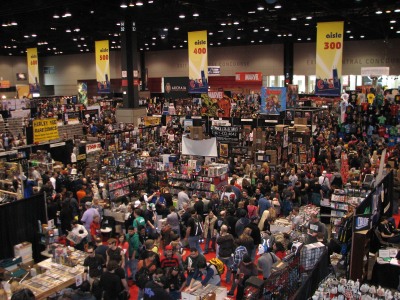 We recently made the trek down to Chicago for the second year of C2E2. The attendance was up by ten-to-fifteen thousand people year-over-year to reach in upwards of 40 to 45 thousand; you can see by the picture at the top that the show was hopping. I was really impressed by the attention to detail to make this show fun. Last year, the show's organizers walked the floor on Sunday, which had died down considerably, and asked the vendors and booth managers what could be done. Huge, huge, difference between this year and last year. Huge.
For starters, this event was held in a different building than the previous one. There was a second floor balcony in the main dealer area that allowed people to stay in the convention area and get food and drink. If you wanted something a little healthier, there were a few places you could go downstairs. Tables were set up on the first floor off to the side to allow people to sit down. That change encouraged people to frequent the main floor and stay inside the hall. The autograph area was on the direct opposite side; if you wanted to meet the celebrities frequenting the con, that would be your best option since there was very little traffic.
I tried to go to the True Blood panel, but the line was 3 to 400 people deep, so I ended up opting out. Artist's Alley was bustling, but I suspect that was due to two things: one, there were a ton of really awesome artists who showed up and two, several big name comic publishers were in absentia. Sunday was geared for kids. This changed the energy of the show, but not in a bad way, and some publishers and vendors offered different items and displays to reflect the change in audience.
In addition to the show floor, there was a large area for gaming with demos provided by Wizards of the Coast and a charity event sponsored by Child's Play. My notes on my Magic: the Gathering demo won't fit here, so that'll take up it's own post. Panels were off to the side, but accessible and well-marked. This was a BIG improvement over last year. Panel attendance was way, way up.
Other than the shortened selection for food after three p.m., I'd say the only other thing I'd improve is a pet peeve of mine. If you're a publisher or convention organizer, could you please for the love of all things comics coordinate with your artists and writers? That way, if I walk up to either booth (e.g. in Artist's Alley or the publisher) I know whether or not a) my favorite creator is around and b) where I can talk to them during show hours? K? Thx. Bye.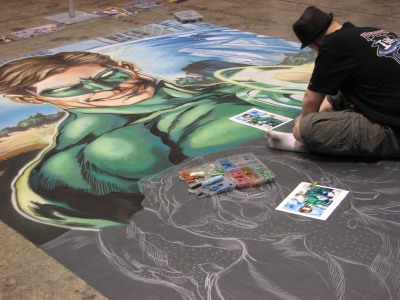 Marvel and DC Comics were there, bigger and better than ever. For them, it was less about buying stuff and more about highlighting Chris Hemsworth's first appearance for Thor and the new line of Green Lantern issues. This sort of booth, where Marvel and DC engages with fans through give-a-ways and splashy displays, was what I'd come to expect from these giants. So no surprise here.
So who was on the floor? Dark Horse had a booth, primarily to promote its digital app. Image, Radical, Boom! and Top Cow didn't have any booths; whereas publishers like Avatar Press, Zenescope, Moonstone and Archaia did.
I'm a Dark Horse fan but I don't frequent a comic book store on any regular basis. Shocking, I know. For me, part of the reason why I go to conventions like these is to buy direct from the publisher, see what's out there and visit the artists working on these books. When I tried to talk to Dark Horse about what they had available, the message was: Well, you have to go somewhere else to buy it. Only, that "somewhere else" was some random place on the floor. I don't have an iPad. I don't have an iPhone, either. I enjoy single issues of digital comics, but I like to collect trades of series I enjoy. So, to go to a comic publisher and be turned away because I wasn't interested in their app was a huge disappointment for me. I'm excited about what Dark Horse is doing and understand why they needed to push their digital; I just felt not offering anything for people, like myself, to buy was a missed opportunity because there's a lot to explore at Dark Horse. On a positive note, I was happy to see the promo for Neon Genesis Evangelion: Campus Apocalypse series.
Avatar Press continues to offer titles that fall under the "premium horror" category. Alan Moore's Neonomicon, Night of the Living Dead and their Crossed series are just a few comics available. While they haven't gone into digital yet, I feel Avatar is in this for the long haul. They were the only major comic publisher to have an appearance at Wizard World Chicago last year and every time I see them they are pounding the pavement. I have other thoughts on their horror titles, but I won't get into those here.
By far, Archaia, had the best booth presence on the floor. They set up their booth as a mini-comic bookstore and gave fans the ability to connect with several writers and artists while still providing the opportunity to merchandise relevant comics. I'm checking out some previews of Robotika, Okko and The Lone and Level Sands in digital before I take the plunge to buy the hardcover trades. I've read Revere, Artesia, Mouse Guard, Killing Pickman and Days Missing. On Sunday, it was nice to see parents and kids flood this booth for Mouse Guard and some of its other kid-friendly titles. Admittedly, I thought Boom! Kids would have gotten a great deal out of Sunday's show.
In summary: I am confident that C2E2 will be bigger and better next year. The organizers are engaged, they know what they're doing, and it shows. I was really happy with the experience and hope I can be a little better about my digital feedback next year. My connection at my hotel was terrible so I didn't really get the chance to breathe until now.
Well, I think that pretty much sums up my thoughts for the show's main floor. I have a lot more to talk about so stay tuned for more from C2E2. If you have any questions, feel free to post them in the comments and I'll be sure to respond.
Tags | chicago, comic books, Conventions / Events