Posted on April 18, 2011 by DecapitatedDan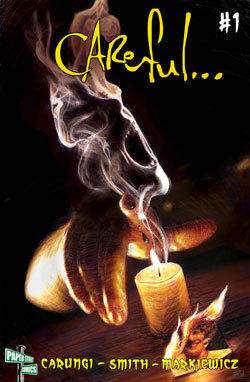 Issue: Careful… #1
Writer: Victor Carungi, Gentry Smith
Art & Inks: Adam Markiewicz
Gray Tones: Roderic Rodriguez, Marc Lewis
Letters: Brant Fowler
Cover Artist: Gentry Smith
Publisher: Paper Street Comics
Release Date: July 2010
Pages: 28
Price: $3.50
"What if you could wish revenge on everyone who makes your life hell, and someone (or something) would do the dirty work for you? When bullied Deacon learns the dark past of his small town Texas high school, he discovers a vengeful ritual used to wreak havoc on his enemies – like the school's all-star quarterback. But when Deacon wakes up covered in someone else's blood, he realizes that the ritual was no childish game. And with every passing day the lines blur between the payback he envisioned and the revenge he's commiting."
Artwork: 4.0 out of 5
Why what do we have here? Another great looking comic by Paper Street Comics is what. I will just say that I deducted half a point only because of the neck on the final page. Other than that this book is a treat to the eyes. It has a kind of tv cartoon feel to it. That is all based on the fantastic shading on every panel. Character designs are all great and consistent throughout. A great looking book.
Story: 4.5 out of 5
I want you to ask yourself this one simple question. Have I ever read a book b Victor Carungi? If you answered no please do so. I have yet to read a book written by Victor, and in this case Gentry Smith as well, that was not highly entertaining. The dialogue is on point page after page in this one. I didn't that vibe of something being forced or wording put into a balloon that has no reason. The plot here is intriguing and a great cliffhanger ending left me wanting more.
Dying Breath: 4.0 out of 5
So my the main impression I got of this issue was, revenge is a dish best served with blood on a candle in Texas. Some fun horror styles are played on here. You have the mythology of blood Mary, some of the 90?s high school horror and even a little bit of witchcraft. It's just as much fun to look at as it is to read. When this one comes out check it out for yourself. I highly believe you will be left with two options. One you will buy the second issue or two, you will buy every book done by Paper Street Comics. This one is going to be a winner.
If you would like to buy or know more about Careful… #1 you can find it on sale at www.paperstreetcomics.com
Review by Dan Royer
Tags | horror comics, small-press