Posted on June 9, 2009 by Jason Thorson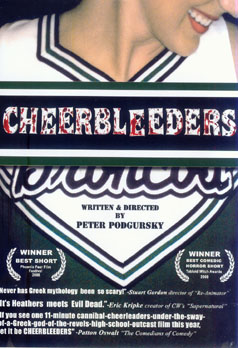 Cheerbleeders is a short horror film by Peter Podgursky, the proud owner of a MFA in Film Production from USC. In fact, these eleven minutes of cinematic fun comprised his thesis project and it has since made the rounds at several horror film fests winning best short at the Phoenix Fear Film festival 2008.
Here's the dirt: Best friends, Penny and Devon (Laurel Vail and Wyatt Fenner), are high school misfits in Blackfoot, Idaho – a tiny and isolated burg. When Penny brings an ancient urn to class, it accidentally spills its black slimy contents on Devon. This black sludge is essentially a gnarly love potion, turning him into…gasp…the most popular kid at school! Drunk with power, Devon holds sway over everyone, including the cheerleading squad, which he commands to massacre the football team, midgame. Can Penny stop the insidious evil known as unrestrained adolescent popularity?
Cheerbleeders is a slick looking and fast paced little film. Thematically, it's very similar to any random episode of Buffy. Maybe not-so-coincidentally, Podgursky is currently the receptionist/office manager at J.J. Abrams' Bad Robot. Visually, it's fantastic. The colors are vivid and the contrast is dynamic. The sets and costumes, while not requiring anything approaching The Lord of the Rings, are on point, nonetheless.
This film borrows several of its aesthetic quirks from a variety of sources, most obviously Evil Dead 2/Army of Darkness. The interplay between the film's editing and its sound design recall scenes from these Raimi standards such as when Ash constructs his chainsaw prosthetic.
Despite not cultivating the next Marlon Brando, the acting here is also acceptable. Honestly, I'm sure the Oscars were never part of the game plan when Cheerbleeders was conceived. However, Laurel Vail's Penny, the only part requiring any true thespian mojo, is well-played and Vail shows true acting acumen.
Cheerbleeders' weaknesses are about what one can expect from a student film and pointing them out almost seems petty. But, alas, this is a review after all.  The most noticable problem is an inconstancy between dialogue recorded in scene vs. lines that had to be re-recorded and dubbed in post. Although, the all hardcore soundtrack, including bands such as Minor Threat, goes a hell of a long way toward me forgiving the dubbing issue.
Cheerbleeders gets the job done. It does so without being too terribly original, but it's only eleven minutes long. That doesn't leave a lot of opportunity to reinvent the wheel. It's abundantly clear that a lot of skill and technique were required to come up with the end result that Podgursky and crew achieve. This bodes well for his future and, as horror fans, potentially ours as well.
2.5 out of 5 flames
Review by Jason Thorson
Visit www.cheerbleeders.com for cast photos, trailers and more information.
Tags | indie film, modern-horror