Posted on January 3, 2012 by Flames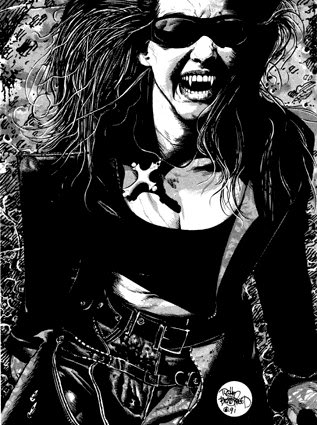 Children of the Revolution is a rogue's gallery of those Embraced "in interesting times," to use a euphemism. In times of upheaval and turmoil those who join the ranks of the Damned can't help but be shaped by the chaotic events around them. The transformational disruption that occurs in the world remains indelibly with the Kindred Embraced in that moment, marking him as an agent of change among Kindred society in some capacity.
One example might be the Anarch Tyler from Chicago by Night, Embraced in the throes of active rebellion and forever characterized by her opposition to tyranny. The Lasombra Gratiano, Embraced by his clan's progenitor, committed diablerie on that sire, forming the Sabbat in the crucible of that betrayal's aftermath. The inscrutable Inconnu Dracula, playing one sect against the other while defending his homeland against the Turk incursions. All of these are excellent examples of the sorts of Kindred who could be considered "children of the revolution."
Now it's your turn. Examine an old chronicle of yours or describe a favored character's backstory. Show us, in practice, the vampires who emerge from the interesting times of your chronicles or in your consideration of the World of Darkness. Delve into the secret history of Vampire, into the War of Ages and among the bloody annals of the Jyhad. What events in Kindred or mortal history shaped the vampire you propose?
Read more about the project and how to submit your character at WhiteWolfBlogs.com.
Tags | vampire the masquerade