Posted on June 8, 2010 by DecapitatedDan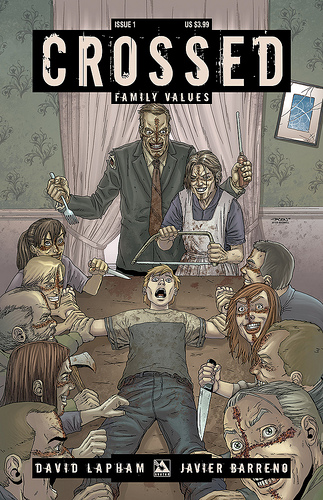 Issue: Crossed: Family Values #1
Writer: David Lapham
Artist: Javier Barreno
Inks: Julien Hugonard-Bert
Colors: Digikore Studios
Publisher: Avatar Press
Release Date: April 2010
Pages: 24
Price: $3.99
"Nothing is sacred as Crossed returns! The biggest hit horror series of the year returns with an all-new six-issue series written by David (Stray Bullets) Lapham! Set right at the start of the Crossed outbreak, this epic tale of depravity promises to shock and disturb you with even more intensity than the first series! The Pratt family lived a idyllic life on a horse ranch in North Carolina. A few generations of family working, living, and learning together. But not all things should be shared with, nor done to, other human beings. Much less your own family. Some men are just born evil, some men are turned Crossed. But which is worse? Imagine, for a moment, the worst crimes against humanity. Picture the cruelest affronts to decency. Conjure your darkest nightmares… and then realize it could all be so much worse. When civilization crumbles in one terrifying moment; when people are gleefully breaking into unthinkable acts of violence all around you; when everyone you love has died screaming in agony: What do you do? There is no help. There is no hope. There is no escape. There are only the Crossed."
Artwork: 4.5 out of 5
What! This isn't Jacen Burrows? Could have fooled me. No just kidding I knew it wasn't but it is a very similar style. I think that is something to take note on, even when looking back on older Avatar titles, a good deal of the artists have a similar look. So anyways this picks up where Vol. 1 left off in terms of gore. There is plenty to be had and make sure you keep the kiddies away from this one. The colors are spot on from panel to panel, and I want to point out that the 2 page spread was GORE-geous!
Story: 4.5 out of 5
If you didn't read Vol. 1 yet, please remove yourself from the computer chair now, and go to your local comic shop, buy a copy, read it and then return. I can wait…Jeez that took long enough! Alright so now that were all on the same page, this story arc brings back all of the craziness you would expect from just knowing the title. Lapham digs deep from the bowels of I don't even want to know where to bring us this very exciting and action packed issue. Perfect fit so far.
Dying Breath: 4.5 out of 5
You know if you don't want to be offended that's fine, put down the issue and go read one of your super sissy books, because this book will make you want your mommy. It's not afraid to go to far, and then piss on that spot and push you into the puddle. Great artwork and a fun horrific story will have me hooked, and if you read Vol. 1 you know you will be reading Vol. 2. A great start that I just have to have more of, NOW!
If you would like to buy or know more about Crossed: Family Values #1 you can find it at www.avatarpress.com.
Review by Dan Royer
Tags | avatar press, drivethrucomics