Posted on April 17, 2019 by Flames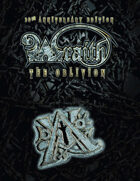 The World of Darkness has been a part of many of our lives for a very long time. The 20th Anniversary editions of the games have been some of the most expansive and innovative additions to the game line in years, giving a new breath of life to a classic. DriveThruRPG and Storytellers Vault is holding a sale currently on the 20th Anniversary game lines and supplements. There are many hidden gems in this sale, so I am going to give you my top picks and why you should add them to your collection. I have these in no particular order.
Beckett's Jyhad Diary
If I were to recommend any set of books for anyone looking to expand their knowledge of Vampire the Masquerade, one of the books I would always suggest would be Beckett's Jyhad Diary. This compendium includes lore from almost every game edition and card game. This artifact book has beautiful illustrations, fantastic representations of cannon NPCs, and a great overarching idea. I keep this open at all times when I am writing or doing any storytelling for VtM.
Beckett's Vampire Folio Series
I am putting these all together because the series itself is expansive and gives you a deep dive into Beckett's Jyhad Diary, or as I like to call it the VtM Bible. This series takes different sections of Beckett's Diary and gives a comprehensive breakdown of all of the NPCs and their stats within the book. For anyone who is a serious fan of Beckett, wanting a good list of NPCs, or just interested in the lore surrounding the history of VtM, this whole series is a must-have. The link above takes you to the first in the series.
Wraith the Oblivion 20th Anniversary Edition
Wraith the Oblivion used to be the game where everyone loved the concept but nobody knew what to do with it. The 20th Anniversary Edition changed that and has give a new understanding to this line, making it more accessible to those that may love the idea but are lost on the execution of running a game. It is also the top seller for 20th Anniversary books. I suggest picking this up while it is on sale!
Madison by Night
Wisconsin has always been a center point for Vampire the Masquerade, and this Storyteller Vault addition to the game line has provided a wonderful history and structure for Madison, a diverse and progressive city. It also gives several kindred of note within the city so you can build a chronicle up quickly without having to come up with your own NPCs. It is written by Bill Bodden, who has worked on many of the 20th Anniversary game lines and is very familiar with the Madison area.
Pentex Employee Indoctrination Manual
Everyone goes through somewhat of an indoctrination process when they are hired at a new company. The difference is the level of grooming that occurs. This resource, however, shows just how far Pentex is willing to go to make sure their employees are exactly what they want. And if that doesn't work they can always be transferred to the Research and Development Department.
Dread Names, Red List
Dread Names, Red List is a great supplement for V20 games and many of the NPCs outlines in the book can crossover to other game lines. This takes an in-depth look at the history and motivations behind those that have found themselves on the Red List and how to use them in your games. It also looks at Alastors, those who hunt the Red List, how to become one, and how to run a chronicle that is focused on them. This is a very useful supplement for GMs who are wanting to bring in some metaplot ties or antagonists to their city.
Believe in Magick!
This Storyteller Vault addition for Mage: the Ascension is a great beginners guide to the game of Mage. Many new players may feel intimidated by this game, as it is a different feel from the rest of the 20th Anniversary lines, but it is a great game with lots of story potential. Pick up this beginners guide for your table and have them read through it to get a better idea of the game they will be playing.
Ghouls and Revenants
This Vampire supplement outlines ghouls and revenants, giving insight into the subtle society that has built up among their kind. Forever changed and isolated from normal mortals, the struggles ghouls face are vast and can make for compelling stories and plotlines. Revenant families are born and bred to serve their clans, so how do they fit in with mortals? Those who serve are more than just cronies with shotguns, and this supplement provides that interesting depth to these characters.
Bonus: A Harpies Primer
A Harpies Primer is my own supplement added to Storyteller Vault that focuses on what the Harpy position is, how to play one as a PC, and some cool things you can do with the position. It is meant to be a beginners guide for players who may be new to the Camarilla or who may be interested in playing a Harpy. The Harpy is one of my favorite positions within the Camarilla and is also one of the least understood.
Tags | vampires, white-wolf, world-of-darkness