Posted on August 16, 2010 by Flames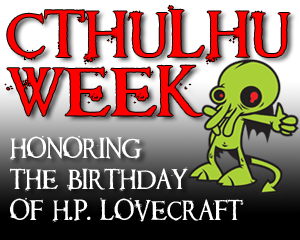 Did you know that H.P. Lovecraft was born on August 20th in 1890? We did! In honor of H.P. Lovecraft's birthday, we're having a week filled with Cthulhu! Whether you're a gamer or a horror aficionado, we will have something for everyone.
Cthulhu Week at FlamesRising.com is special in a lot of ways because of Lovecraft's influence on the horror genre. Over the years, we've covered books, movies, games and music that were either directly or indirectly related to the Cthulhu Mythos. Hands down, Cthulhu is definitely your favorite elder god. Previously published articles have included interviews with Kenneth Hite, Joseph Vargo and A. Scott Glancy, as well as our coverage of the Trail of Cthulhu RPG, Unspeakable Words board game and the Beyond the Wall of Sleep review. This week, we have a lot of fun reviews and other goodies in the pipeline, including a wonderful contribution from Robin D. Laws, who provided the rules design for TRAIL OF CTHULHU!!!
If you don't want to lose your mind, be sure to stay tuned this week as we travel to the underwater city of Ry'leh to embrace all things Cthulhu! "Ph'nglui mglw'nafh Cthulhu R'lyeh wgah'nagl fhtagn!"
Atomic Overmind Press and FlamesRising.com Team Up for Cthulhu Week Give-A-Way
We are pleased to announce that Atomic Overmind Press is a proud sponsor of Cthulhu Week. Artist Drew Pocza and Atomic Overmind lent us their graphic design talents for the week and we're thrilled to worship this elder god through these great images.
In honor of Lovecraft's birthday, Atomic Overmind Press is also giving away several copies of the award-winning book CTHULHU 101 through our site. This pocket-sized book is the perfect introduction to Cthulhu and we think will make a fun addition to your digital or physical library.
Want to win? Read the rules below and comment to enter. How easy is that?
Contest runs through midnight, August 20th so be sure to enter today! We have several books we can give away, so don't be afraid to tell a friend, too!
Contest Details
Atomic Overmind Press will be giving away a handful of both print and eBook editions of CTHULHU 101. Please read the fine print below to find out how you can win!
1. One Entry Per Person – We ask that you post one entry per person, so that your fellow horror fans can have an equal chance of winning a copy of CTHULHU 101.
2. Entries That Will/Won't Be Considered – By keeping these simple guidelines in mind, you will increase your chance of winning.
What Will Be Considered – Post a Lovecraft or Cthulhu-related comment below this article. Please note that any contest winners that live outside of the U.S. will receive a digital edition of CTHULHU 101. Only entries posted by midnight, August 20th will be eligible to win.
What Won't Be Considered – Entries that are full of harsh or foul language, overly graphic/sexual depictions or discriminatory/slang comments will not be posted.
3. Valid Email Address Required – When you post your comment, there's a field to enter your email address. In order for us to notify winners, we ask that you please include a valid email address. This email address will not be posted publicly, and we will not use your email address for any other reason other than to notify you if you've won.
4. Valid U.S. Postal Address Required – Once we notify you, we will need you to provide us with a valid U.S. mailing address so we can mail you your prize. As we stated above, if you are selected as a contest winner and live outside of the U.S., you will receive a digital edition of CTHULHU 101.
Contest winners will be notified via email within one week after the contest ends. Good luck!
Tags | cthulhu, cthulhu week, Flames Rising, lovecraft