Posted on April 15, 2011 by Flames
Exclusive comic prequel to the upcoming supernatural horror video game.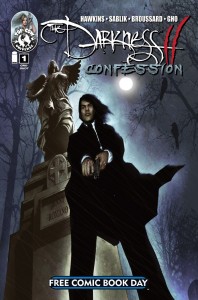 2K Games, Top Cow Productions, Inc., and the Free Comic Book Day Committee announced today that they have teamed up to produce The Darkness II: Confession, an exclusive comic tie-in for The Darkness II video game, for Free Comic Book Day. The 32-page, full-color comic will be a prequel to 2K Games' upcoming video game, The Darkness II. Produced by Top Cow's lead artists and writers in partnership with 2K Games, The Darkness II: Confession will be distributed by Diamond Comic Distributors to thousands of independent comic book stores worldwide on May 7, 2011.
"Top Cow has always supported Free Comic Book Day and this year we've created our best offering yet with The Darkness II: Confession, a prequel to the upcoming video game The Darkness II by 2K Games," said self-proclaimed hardcore gamer and president of Top Cow, Matt Hawkins. "In working closely with 2K Games on the comic, we've ensured that everything fits into The Darkness' canon for long-time and new fans of Jackie Estacado. This free comic is a perfect primer for the game."
Since its inception in 2002, the Free Comic Book Day event has celebrated the original American comic book art form by supplying thousands of participating independent comic book specialty shops around the world with free comic books for fans. Top Cow has participated as a publisher since the beginning and has given out over half a million free comics through the event, including The Darkness which has appeared in a number of previous Free Comic Book Day offerings such as Artifacts #0, Broken Trinity #0 and First Born: Conception. This year, Top Cow is a Silver Sponsor of Free Comic Book Day 2011, The Darkness II: Confession will be based on a story created by Top Cow's Matt Hawkins and Filip Sablik, written by Filip Sablik (Pilot Season: Alibi, Last Mortal), feature art by Artifacts team Michael Broussard and Sunny Gho, and a cover by Matt Timson (Impaler, The Darkness).
The Darkness II: Confession introduces comic fans, video game fans, and new readers to Jackie Estacado, the bearer of The Darkness, an ancient primal force which acts a blessing and a curse for its bearer, allowing him access to an otherworldly dimension and control over the demons that dwell there. The Darkness II: Confession takes readers from Jackie's origins in the first video game, through his rise to power, and the events leading up to The Darkness II.
The Darkness II video game breaks out of the sea of conventional first-person shooters with its fervid Quad-Wielding gameplay, which will allow players to slash, grab, and throw objects and enemies with their Demon Arms while simultaneously firing two weapons. The game is layered with the use of dark versus light, steeped in deep and twisted storytelling, and engulfed in stylistic violence that is visualized through a hand-painted graphic noir technique that stays true to its comic book origins.
The Darkness II: Confession and The Darkness II video game are based on the supernatural horror comic book series created by Top Cow. The Darkness II video game will be coming to the Xbox 360 video game and entertainment system from Microsoft, PlayStation 3 computer entertainment system and Windows PC in fall 2011. The Darkness II is not yet rated by the ESRB. For more information on The Darkness II, please visit www.embracethedarkness.com. For more information on Free Comic Book Day, please visit: www.freecomicbookday.com. To find out more about Top Cow, please visit: www.topcow.com.
2K Games is a division of 2K, a publishing label of Take-Two Interactive Software, Inc.
Top Cow Productions, Inc., a Los Angeles-based entertainment company, was founded in December of 1992 by artist Marc Silvestri, who also co-founded Image Comics earlier that same year. Top Cow currently publishes its line of comic books in 21 languages in over 55 different countries. The Darkness is © and ® 2011 Top Cow Productions, Inc.
Now in its tenth year, Free Comic Book Day is an annual event where participating comic book specialty shops across North America and around the world give away comic books absolutely free to anyone who comes into their shops. The event is held the first Saturday in May and is the perfect opportunity to introduce friends and family to the many worlds of wonder available at local comic book shops. From super-heroes to slice of life to action/adventure and beyond, Free Comic Book Day has a comic book for everyone!
Tags | drivethrucomics, top cow