Posted on March 18, 2010 by alanajoli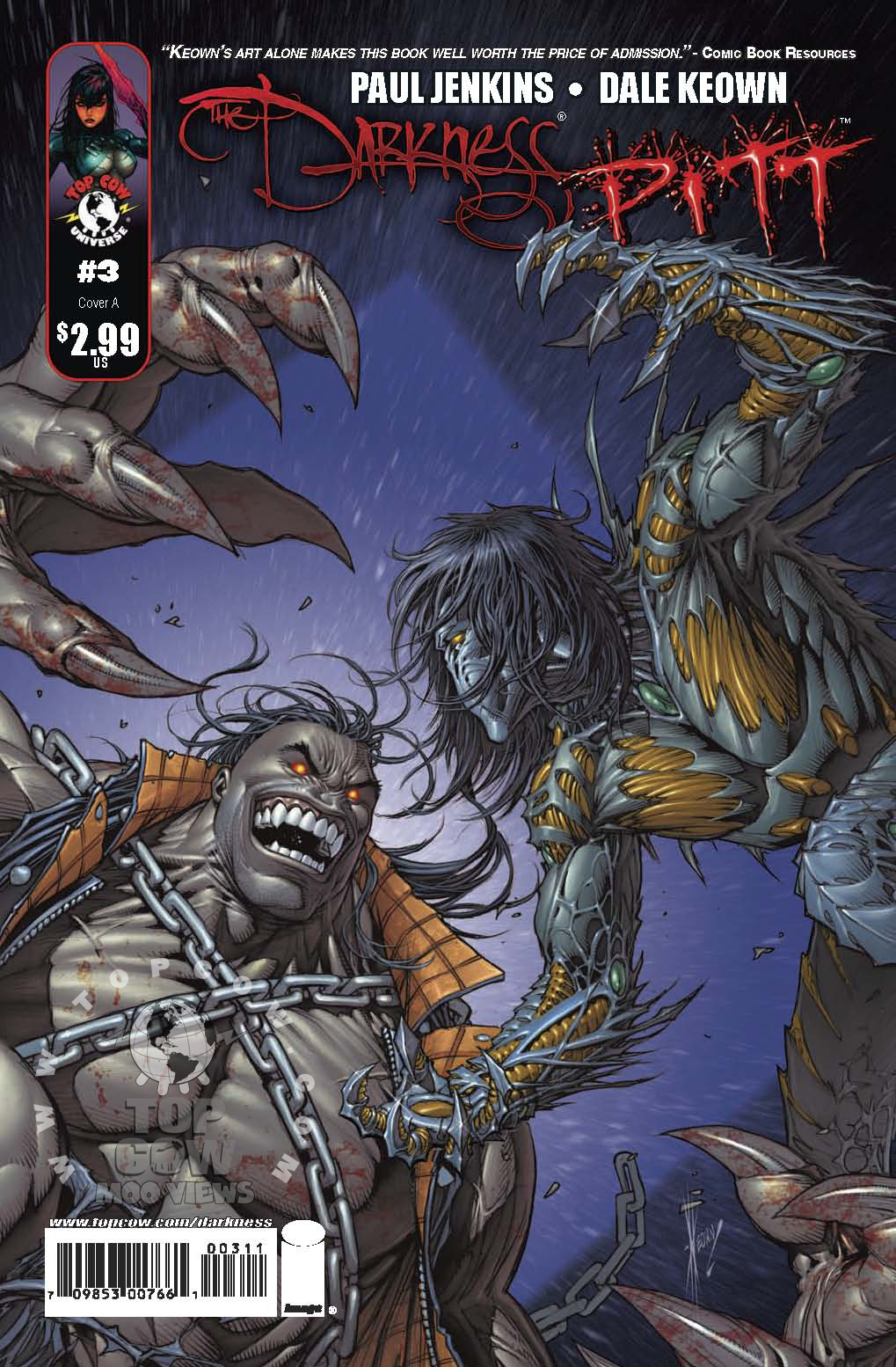 I have to say that of the tie-ins to the Witchblade universe, the title I was least excited about was The Darkness. I'm not really a fan of following around the bad guy, and it seems like Jackie Estacado's whole job, being the Darkness incarnate and the head of a mob family, is all about being the bad guy. So I acknowledge that I wasn't enthusiastic about picking up The Darkness/Pitt #3 when it was sent by the publisher as a pdf download.
I'm happy to say, however, that the series really deserves a chance, in large part due to the balancing act between The Darkness and Pitt, two series that have come together for this continuing crossover. Pitt is a human/alien hybrid accompanied by his human (but psychic) half-brother Timmy, who is only nine years old. As issue #3 begins, Pitt, Timmy, and Jackie are surrounded by a zombie-like horde that only Timmy's mind is holding at bay.
Jackie's "voice over" narration is snarky and fun, more sarcastic than cruel, making me think that his character probably has redeemable qualities (though how that balances out with his being evil incarnate, I'm not sure). But what really shines in issue #3 is the continual banter — even when surrounded by danger on all sides — between Jackie and Pitt. Even better is when Timmy can't take it any more and calls them both out on not acting like adults. Timmy seems to be the most powerful of the three characters, as well as the most mature in some ways, which makes him a complete scene stealer. He's not too precocious, he's just the single character ready to stop everything until everyone can just get along.
Dale Keown, the creator of Pitt and the artist for The Darkness/Pitt cross-over, is as phenomenal as the cover blurb promises. He has a fairly traditional comic-book style, which works very well for the storytelling here, and his attention to detail, particularly in facial expressions and anatomy (even for zombies) really takes the art to a higher level than the run-of-the-mill superhero comic. His panels are at all sorts of angles, but the flow of the story is never interrupted by their non-traditional placement, or the way characters extend beyond them. The dialog by Paul Jenkins also shines, and makes me think that despite my lack of inclination to care about the adventures of Jackie Estacado, I'd pick up more issues of this title just to follow along with the adventures of Timmy and Pitt. It's definitely worth picking up an issue and giving it a try.
Review by Alana Abbott
Tags | drivethrucomics, top cow