Posted on October 28, 2009 by Monica Valentinelli

Halloween is our favorite holiday here at Flames Rising headquarters. We wound up with an orange and a black cat, our house is often decorated in September, and we enjoy coming up with new concoctions year after year. Although we really enjoy the holiday, it wouldn't be as much fun without all of you.
Last year Flames Rising celebrated Halloween with you by offering 31 days of Monster Madness. For this year, we started with the horror plot generator to help you get those creative juices flowing. Since we offered flash fiction (in the form of mini-monsters) last year, we decided to take a more gaming-related approach for Halloween.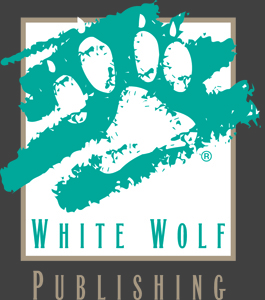 Over the years, FlamesRising.com has written several reviews (Ancient Mysteries, Armory Reloaded) and conducted many interviews (Jess Hartley, Chuck Wendig) with White Wolf. We've gotten to know the folks over at White Wolf and have shared a beer or two at various conventions. So, when were thinking about ideas for Halloween, White Wolf kept coming up in the conversation.
After pitching the idea to Eddy Webb and Kelley Barnes-Herman, we were delighted that they were enthusiastic about offering this free Storyteller Adventure System (SAS) One-Scene with all of you.
The idea behind DEVIL'S NIGHT was something Matt (your Flames Rising Editor-in-Chief) and I have often discussed. In the new World of Darkness (nWoD), Storytellers can have a game just focused on mortals trying to survive in a world filled with monsters. In my writing and in my gaming, the word "monster" is a relative term. The antagonist in any story or chronicle doesn't have to be pure evil; they could be misguided, lost or — in this case — confused. When Matt and I were discussing ideas for our pitch, we also knew we wanted to include fire as a theme. Which is why things might get pretty hot for your characters during DEVIL'S NIGHT.
DEVIL'S NIGHT is about a pyrokinetic named Gabriella St. Bruno who has lost control over her abilities. When I was developing her character, I wanted to give her a lot of flexibility. Storytellers can either depict her as a victim or as a villain; gamers can either eliminate her, try to save her or investigate why she lost her powers.
One of the things that Eddy and I had discussed was to ensure that Gabriella wasn't the typical "I light things on fire" trope that has been done, done and re-done. To get around that, I thought about what might motivate Gabriella's character and what she might have lost. To me, pyrokinesis would be a dangerous ability that would also have an effect (or a cost) on a character. In this case, Gabriella finds solace in religion as a way of dealing with her pain. To her, she's not sure if her ability is a gift or a curse. Her insecurity makes her a very dangerous character on Devil's Night, because her fires might also inspire other deadly acts of mischief around the city. The question is: What will you do to put out the fires?
If you end up meeting Gabriella in your game, I'd like to encourage you to talk about it on the White Wolf forums or leave your comments here at FlamesRising.com.
We would like to extend our deepest thanks to White Wolf for partnering up with us to offer you this freebie. We hope that you enjoy your free SAS one-scene this Halloween, and wish your characters the best of luck as they battle the flames.
Tags | halloween, sas, white-wolf, world-of-darkness