Posted on May 10, 2011 by Flames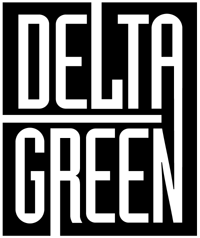 "Delta Green: Intelligences" is a new short story by Dennis Detwiller in the award-winning Delta Green setting.
Dennis' company Arc Dream Publishing is holding a fundraiser for a new Delta Green novel, Through a Glass, Darkly. As the fundraiser hits milestones towards its goal, Arc Dream will release all-new Delta Green short stories to go along with it — starting with "Intelligences."
Here is an excerpt.
Delta Green: Intelligences
Albert Syme is an odd sort who keeps to himself. Floppy and dire, he looks like a clerk, and that's what he is; one of the thousands that haunt the lunch carts on Washington Avenue at noon. Syme's glasses hang on the end of his nose like a man poised at the edge of a cliff. His eyes look at you precisely like those of a gecko sunning itself. They are blank and green and flat, and he stares for too long. People don't look at him. It's not because he's imposing. He's precisely the opposite, small and long-armed and bulging in the middle. It's not because he seems dangerous. He looks somewhat simple, slick like he was dolloped in a thin grease, and empty in the face.
The reason people don't look at him is that he's forgettable.
At this moment, Albert Syme is as close to normal as he ever will be.
Syme works for the Office of Naval Intelligence. Precisely four people know this, and only his boss and the one other person in his office know his name. The two ladies who sit in the Navy desk opposite the ONI collation room know he's there but don't know who he is. He supposes the bank might know—his pay draft being supplied by the Office of the Navy, after all. He says nothing to anyone else. His barber. His landlady. To them, he is a receipt. He has no family (they gave him up in Boston) and no friends.
Such things worry Syme. Sometimes, at work, he plays a game where he draws lines, like pipes, from name to name in his mind, connecting all who might know the secret. It doesn't really matter, he supposes, but he still worries. He imagines his name filling with water, sees the liquid moving in the dark of the pipes, drowning the names of those connected to him. He pictures the people in their tubes, drowning as the water rushes in, in the dark.
He smiles when he thinks these things. His secret, his job, is the most important thing in his life.
The job is his life, though he couldn't tell you why.
Now, July 19, 1928, he eats a hot dog in the summer sun, grasping it in one ink-stained hand while holding his hat down to keep it from catching the breeze and tumbling up the walk. He is surrounded by hundreds of people who fail to see him, lost in their own lunches, conversations, lives. He eats with the conviction and blankness of an animal. He does this every day when the weather is fine.
When he finishes, he crumples up the hot dog's wax paper wrapper and drops it to the cement. He glances at the ink on his hand and heads back up the steps of the huge, stone building, crossing from the light of the sun into the shadow of the portico. As he crosses from outside to in, the wind catches his hat but he snatches it from the air before it can get away.
He goes inside and continues the last day of his daily routine.
Δ
If Syme had left ten minutes later, he would have seen the officers arrive. Three men in Navy dress, one with a handcuffed valise on his arm. In this building that is not unusual, but this man was a rear admiral. His name tag read WELLES. Syme would have recognized him from the photo on the wall next to the hot pot. He stares at it every day. The two men with the rear admiral were built in the exact way Syme is not. They were human walls with legs, wearing truncheons and pistols on their hips. They did not smile or speak.
These men entered the ONI collation room and the rear admiral spoke with Syme's supervisor, Templeton Mears, a man who always looks as if he had just survived some near disaster. Mears listened to the description of the job the rear admiral had in mind, and before he could finish Mears swung a hand towards Syme's desk. Mears barely contained the black terror he felt speaking to the Director of Naval Intelligence. As they spoke, it looked as if Mears' eyes would continue to grow until they engulfed his whole face.
When the rear admiral was done, the valise was opened and papers were removed, as well as two manilla envelopes which stank of photographic chemicals. They were placed squarely in the center of Syme's desk. Mears signed a paper for them, and the men left. Immediately Mears fell into his wood chair, which squeaked under his weight. He covered his eyes with his hands.
The room fell back into the drone of the electric clock ticking time.
If he had been there, Syme would have seen all of this. Instead, he was outside, eating his hot dog.
Δ
Syme does not like his boss. Mr. Mears is a slack man. He fails to do what is required by the job. He slinks in and out at odd hours. He piles work on Syme's desk. He reads funny books and sports annuals and flips through the encyclopedias which line the wood-grained walls, leaving Syme and the other man in the office, Norman, to finish the collation. Norman is not efficient, but cares about his work. Syme does not hate Norman. Instead, he feels about Norman the way he feels about the people who ride the #13 bus with him on the way to work. They are there the reason he is there, and as long as they don't bother him, he will not bother them.
What they do in the room, besides being secret, is boring. They pull Navy files, type and collate copies, staple photographs, cross-check ID numbers and collect them for closed envelope reports. They hand-duplicate files, sometimes many times over. These reports are numbered and are picked up once a week by an armed Navy officer. Where they go from there, no one in the room has any idea. For Norman it is a source of endless speculation. For Mears it is a unconsidered question. For Syme it is an indication that what they do here, in the ONI Collation Office, room 3118, is important.
Syme enters and finds Mears' desk empty. Norman sits at his smaller, steel desk, hunched over it, his jacket off, sweat on his thick brow and in his thinning brown hair. Norman leans over a sheet of graphing paper and draws a careful line on it with a mechanical pencil. He does this with his tongue pinched between his yellow teeth. Norman often has to hand-draw maps. It is something Syme does not have an eye for.
"What is this document?" Syme asks the room, his back to Norman's back.
Norman's pencil stops on the sheet and he turns. His face is round and red and Irish. His mouth hangs open. His empty blue eyes stare at Syme's back without any recognition of the fact that Syme was speaking to him.
Syme hefts the folders and holds them up without turning around.
"Some big wheel brought that down from the Chief of Naval Operations. I wasn't here. Just Mears. Mears told me."
"Where is Mears?"
Norman laughs, repeats the question in a whisper as if it were a joke, and goes back to work.
Syme removes his jacket, catching a whiff of his body odor in the process, folds the coat and drops it over the edge of his chair. He sits, pulls in his chair, carefully arranges his tools on the table—his typewriter, his India ink, his fountain pen, his mechanical pencil, stapler, eraser, ink eraser, paperclips and onionskins.
When this is done, he opens the photographic envelopes first. This has become a habit for him. He likes to guess what the report might be by looking at the photos. Photographs of wreckage usually mean foreign technology intelligence; bodies usually mean accidents; grainy photos are often spy shots of foreign fleets; photos of people usually mean suspected spies. There will be the original and for each original a copy.
Today when he looks at the first image, he has no idea what the report might contain.
The photograph is of an eye in extreme close-up. It is huge, bulbous and black, hanging on the skin of some creature, skin which looks like it is flaking off in diamond-shaped chunks. A human hand is barely visible in the upper right corner, out of focus, holding a wooden ruler with large hash-marks. The ruler indicates the eye is three and a quarter inches across. Even though the whole creature is not visible, Syme can see it is dead. He is not precisely sure why he knows this.
Something pulled from the ocean by some Navy destroyer?
Syme blinks, staring at the photo, and adjusts his glasses as if that might somehow help.
Finally, in an attempt to jumpstart his work, he unshuffles the stack of photos and papers in a fan on his desk, like a deck of cards.
He sits still for a long time.
Then he reads.
– Dennis Detwiller, © 2011
Arc Dream Publishing will release the full text of "Delta Green: Intelligences" when the Through a Glass, Darkly fundraiser hits $15,000. You can sign up below.
Tags | cthulhu, delta green