Posted on October 18, 2010 by Monica Valentinelli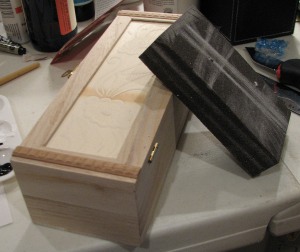 Like to dress up for Halloween? Enjoy gaming? Get into the Halloween spirit and dress your dice up, too! Since I really enjoy the Toreador clan from Vampire: The Masquerade, I decided to decorate my dice coffin by kicking it old school.
If you drop by any craft store, they'll have unfinished jewelry boxes or even a few coffins you can pick up. I opted to go with this unfinished jewelry box because I wanted to line it. The coffins they had were the five-sided kind you might see in an old horror movie. (Okay, fine. The truth is my scissors-and-glue fu isn't very strong.) Anyway, the box was about a dollar and I had some materials on hand. First thing I did was sand the box down and then coated it with a brown wash. I didn't bother priming it, because I wanted the wood grain to come through. If you don't have brown craft paint, you can pick up a bottle for less than a buck. I would not recommend mixing it yourself. To "cool" down the brown, I added forest green to make it look a little more aged.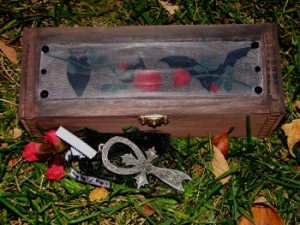 After I let the box dry, I worked on the top. The finishing touches were really easy to find. Victorian-inspired Halloween decor is one of the hot themes this year; you can find black lace and dead roses almost everywhere you look. Birds like ravens and owls are pretty popular, too.
Now, I went a little crazy nutso with the scenery because I wanted it to look three-dimensional. I used black tulle, which you can find in any wedding aisle. The flat, red roses are from the scrapbooking section of our local craft store and the owl, mask and bat were die cut stickers from a Halloween display. The total cost of that display, along with the plexiglass, is about six bucks. The plexiglass was a major pain-in-the-butt to score and cut; if you're having problems remember — bribery does work. (This is especially true if you have friends with steadier hands than you do.) Since I wanted to age the look of my dice coffin, I sanded the plexiglass down a bit. It's really hard to tell from the picture, but it does have that gloomy feel I was going for. Because the glue dots were showing through the tulle and the fabric, I ended up adding some black rhinestones on the top for a little flair.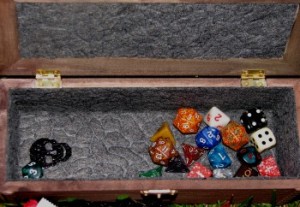 Okay, on to the inside. The fabric I picked up for about seventy cents; it's textured felt. The material was really easy to work with and stretches really well, but I don't recommend using regular glue. Two words for you on that one: spray adhesive. The other benefit to the felt, is that you don't hear your dice rattling around in the box every time you move it. Unless, of course, you're into that sort of thing.
I had a few stickers on hand, so I added a black skull for a finishing touch. Glitter on skulls is another really popular Halloween decorating tool; if my memory is accurate, that was something that Martha Stewart had recommended last year. I did consider adding a full skeleton to the coffin's interior, but I didn't want to go overboard. The sprig on the outside was something I put together with some Halloween ribbon and a few paper roses. The ankh you see there was used in a Vampire: the Masquerade LARP; thought it would look great in the picture. So, voila! Behold the dice coffin!
All together, it cost about ten dollars to make the dice coffin. I spent a total of two hours to make this, including the time it took for the paint to dry. Now all I have to do is figure out how my own costume is going to top that.
Love the idea of a dice coffin but don't have time to make one? If you're looking for other dice costume ideas, I highly recommend tracking down a goblin dice bag or try sewing a few bloody eyeballs to your existing dice bag. Just grab some extra buttons lying around and stick your stickers onto that so you can take them off after the holiday.
If you have tips to share, post 'em in the comments below. Happy haunting!
Tags | gaming, halloween, halloween crafts, vampires, white-wolf