Posted on February 25, 2019 by Flames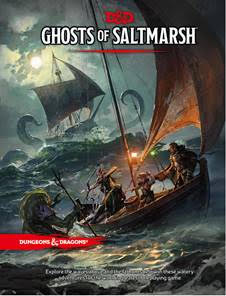 Dungeons & Dragons is excited to announce a new adventure book called Ghosts of Saltmarsh, which takes classic sea-faring adventures and updates and expands upon them for use with D&D fifth edition. The book details the port town of Saltmarsh and the surrounding lands players can explore using their own ship and the vehicle mechanics included in the 256-page book. Unravel sinister secrets of the sea with Ghosts of Saltmarsh releasing in game stores, digitally and everywhere on May 21, 2019. An alternate art cover with a distinctive design and soft-touch finish is available exclusively in game stores on May 21.
"The Saltmarsh series consistently ranks as one of the most popular classic D&D adventures," said Mike Mearls, franchise creative director of D&D. "With its ties to ocean-based adventuring, it was an obvious step to augment it with additional sea-based adventures and a robust set of rules for managing a nautical campaign."
The book includes details on the port town of Saltmarsh, as well as plenty of adventure hooks for each chapter. Fans can play through the whole story in a seafaring campaign leading characters from level 1 through level 12, while Dungeon Masters can easily pull out sections to place in ongoing campaigns in any setting. The appendices cover mechanics for ship-to-ship combat, new magic items, monsters and more!
Ghosts of Saltmarsh will be available both in game stores and everywhere else on the same date – May 21st. Fans are encouraged to pick up the adventure in the way that's most convenient for them, but there is an alternate art soft-touch cover that will only be available in game stores. The alternate cover image was created by N. C. Winters and features a snarling sahuagin.
For more information on Ghosts of Saltmarsh and all things D&D, please go to DungeonsandDragons.com and check out the breadth of live D&D programming and interviews available on Twitch.tv/dnd. You can also listen to interviews involving Ghosts of Saltmarsh as well as D&D mechanics and lore on Dragon Talk, the official D&D podcast.
Tags | dungeons & dragons, wotc