Posted on February 23, 2013 by Monica Valentinelli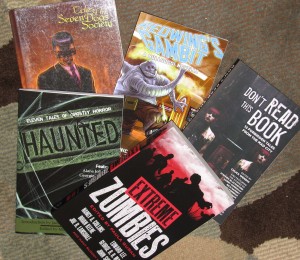 Today FlamesRising.com readers, I appeal to your dark side. I ask you to fan the flames, stoke the fire, and spread the world about the Evil for Crestline Auctions going on this weekend!
Drop what you're doing! 'Cause, that's RIGHT now!!!
Lilith Saint Crow, who you may recall is a fantastic writer and aficionado of great food, fabulous wine, and maniacal laughter, recently experienced a tragedy. Her son's school burnt to the ground.
Now, members of the creative community are donating their talents for a variety of services and goods to help raise funds for these kids.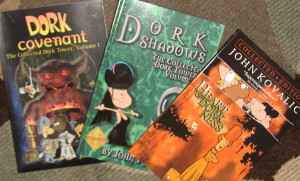 Two auctions just launched; the goods were provided by yours truly. The first is a lot of a few of my short stories and novellas (included in five FABULOUS books) PLUS a $20 gift certificate to DriveThruFiction.com. The second, are the first three trades in the Dork Tower series, signed by cartoonist and Munchkin illustrator John Kovalic!
The auction ends on Monday, February 25th. If you don't have the funds, please help spread the word. That's still evil, though of a different sort.
Thank you!