Posted on May 21, 2012 by DecapitatedDan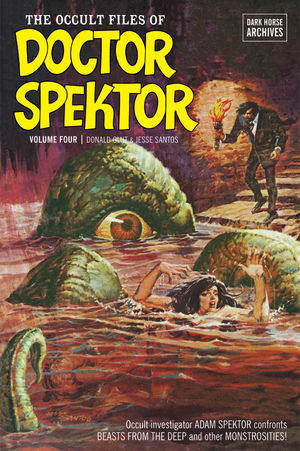 Available at Amazon.com
Issue: Doctor Spektor Archives Volume 4
Writer: Donald Glut
Artist: Jesse Santos
Publisher: Dark Horse
Release Date: February 2012
Price: $50.00
"Confronting supernatural threats and vengeful monsters, Dr. Spektor travels from Scottish lochs to cursed swamplands–and from the surreal dreamscape of the Egyptian afterlife to New York City's Chinatown! Collecting issues #19 to #25 of The Occult Files of Doctor Spektor and a Spektor tale from Gold Key Spotlight #8, plus notes from Spektor's secret files, including a piece on Dr. Solar!"
Dying Breath: 4.0 out of 5
Believe it or not review reader, I have never had a chance to check out Doctor Spektor comics before. Sure I have heard of them, but it was not until Dark Horse supplied me with this great volume that I had my first chance to really check this cast out. The artwork in this volume by Santos is fantastic. He does a great job of keeping the cast consistent from panel to panel. The man can also draw an amazing monster or two. I thought that the Leviathan and the Lurker were the highlights of the bunch, but each stories creature or villain could easily hold it's own. The stories in this series do feel dated (70?s), but they can hold up with the horror detective tales of today.
For those fans of Cal McDonald, Dylan Dog, or John Constantine you might want to check out Doctor Specktor. The same concept applies here, in that something bizarre is happening and it is up to him to solve it. Each story has it's own tale, and they play out like a weekly television show. You have the mystery and intrigue to capture the readers from the start, but then they are wrapped up by the end. So there is a good deal of story to be had in these pages. My only downside was that I felt some of the stories we really good, but others were not able to live up to that same level.
Overall this is an amazing collection, that I am very proud to have had the chance to look at. Fans of the horror detectives will easily fall in love with this book, and I think any old school horror fans will be happy to check this out as well. These stories can stand up with the best of them and this book deserves to be on your horror shelf.
Artwork: 4.5 out of 5
Story: 4.0 out of 5
If you would like to buy or know more about Doctor Spektor you can find it at DarkHorse.com and Amazon.com.
Review by Dan Royer
Tags | horror comics