Posted on October 11, 2019 by Flames
DriveThruRPG.com announced today that the Phone PDF, a new format designed specifically for handheld mobile devices, is now available. At the RPG gaming table, while game masters are likely to have a laptop or tablet nearby, an increasingly large number of gamers use their phones for quick reference.
Typical game manuals and comic books in standard PDF format use the same page size and pagination as printed hard copy editions. That format works well on tablets and monitors, but normal PDFs are not well suited to phone-sized screens.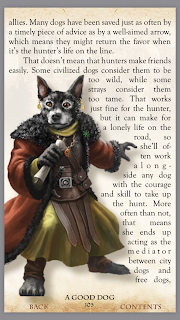 In early 2019, DriveThruRPG worked closely with Onyx Path Publishing to create the Pugmire Phone PDF–which you can download FREE today! FlamesRising.com contributor Monica Valentinelli downloaded the Pugmire PDF via her iPhone's browser to see how it works; the phone PDF format is 720 pages long and includes quick links on every page for ease of use. In addition to the Table of Contents, for example, added section menus allow for ways to reference rules and other important information necessary to play the game.
Starting in May, DriveThruRPG invited several publishers to create Phone PDFs of their own RPGs. Today, DriveThruRPG also announced that Andrews McMeel Publishing (Zweihander), Denagh Design (vs. MIRRORSHADES, et al.), Magpie Games (MASKS), Metal Weave Games (Baby Bestiary), and Troll Lord Games (Castles & Crusades) — as well as a number of community content creators on DMs Guild — have created Phone PDFs using their specs, and many other titles from a variety of publishers are currently in development.
Visit DriveThruRPG's Customer Knowledge Base to learn more about Phone PDFs, including recommended Apps for phones and other information.
Are you a creator or publisher wanting to convert your book into a Phone PDF to join the first wave of amazing titles now available? Visit DriveThruRPG's Publisher Knowledge Base.
What do you think? Will you embrace the phone PDF?




Tags | drivethrurpg, pugmire