Posted on September 6, 2018 by Flames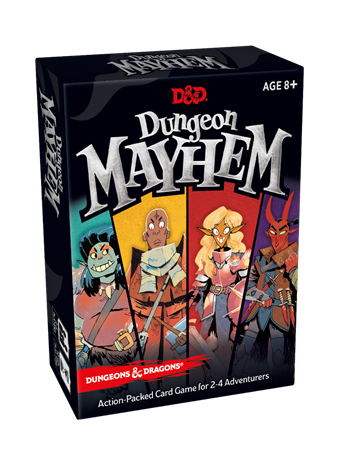 Wizards of the Coast is ready to throw down with Dungeon Mayhem, an easy-to-learn card game pitting the wits and brawn of a party of adventurers against each other. 2 to 4 players choose one of four decks modeled after characters in Dungeons & Dragons (barbarian, paladin, rogue, or wizard) and sling spells, daggers and, well, MAYHEM at each other until there's only one left to claim the treasure. Look for Dungeon Mayhem in stores everywhere starting on November 16!
"The colorful art style and fast pace makes Dungeon Mayhem perfect for introducing new fans to D&D," said Nathan Stewart, director of D&D. "In the time it took me to dictate this quote to my underlings, I've already thrown two dagger cards at Shelly Mazzanoble and blocked incoming damage from both the paladin and wizard. That treasure is MINE!"
Everything you need to play Dungeon Mayhem comes in a small package, but it certainly packs a big punch. Designed by Jordan Comar and Roscoe Wetlaufer to bring players into the D&D multiverse, Dungeon Mayhem can be a quick palette cleanser in between marathon gaming sessions or a make for a full night of gaming with several escalating rematches. Novice players can learn how to play in under five minutes while a game of Dungeon Mayhem is over in less time than it takes to skin a displacer beast – under 15 minutes.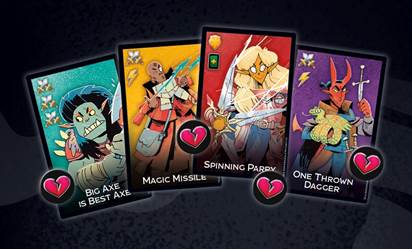 "The first thing people say when they finish a game of Dungeon Mayhem is that they immediately want to play it again," said Shelly Mazzanoble, brand manager for Avalon Hill who led the playtesting for Dungeon Mayhem along with help from C.J. Prosise from the Seattle Seahawks. "Nathan Stewart is going to pay for everything he's done to my poor barbarian Sutha."
Dungeon Mayhem will be available everywhere on November 16 and will retail for $15. The illustrations created by Kyle Ferrin in the four decks of cards represent Sutha the Skullcrusher (barbarian), Azzan the Mystic (wizard), Lia the Radiant (paladin), and Oriax the Clever (rogue). Pick one of these characters and play their mighty power cards such as Azzan's Vampiric Touch to swap hit points with an opponent or Sutha's Whirling Axes to heal yourself while dealing crushing damage to the rest of the party.
Keep your friends close! Not only so they can help take out the paladin but because it makes pickpocketing SO much easier. That's what Dungeon Mayhem is all about!
Tags | dungeons & dragons, wotc