Posted on November 11, 2019 by Flames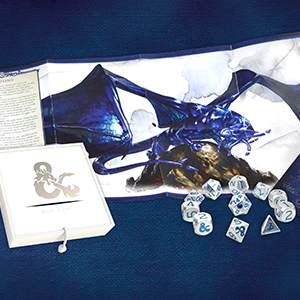 It's been five years since Dungeons & Dragons fifth edition launched, and the explosion of D&D's popularity since then has been a wonder to behold! Now fans can celebrate D&D through the D&D Sapphire Anniversary Dice Set, available directly from Wizards of the Coast starting at 11a.m. (PT) on November 21, 2019. The set commemorates both #5yearsof5e AND forty-five years since D&D's first publication in 1974.
"When the D&D team realized the sapphire is the traditional anniversary stone for both five years and forty-five years, and that adding a laboratory-created sapphire to a twenty-sided die wouldn't jeopardize the integrity of a roll, we couldn't pass up the chance to make something really cool to celebrate the milestones" said Nathan Stewart, VP of the D&D Franchise at Wizards of the Coast. "The team put together a fun product for our fans that includes art and newly updated stats for sapphire dragons, making these classic dragons ready for play in your next D&D session."
The D&D Sapphire Anniversary Dice Set includes eleven custom-designed aluminum dice from Level Up Dice. Embedded in one of the d20s is a sapphire lovingly grown** by a rock gnome artificer in a charmingly-cluttered workshop. Additionally, each set includes a high-quality dice box and a matching dice tray displaying the ampersand, fifth edition D&D stats and details introducing the sapphire dragon, commemorative stickers, and a sequentially numbered collector's card confirming the set's authenticity. Oh, and every die, except that extra-special d20 has an engraved ampersand on the highest number – boosting your D&D cred whenever you roll max damage with that trusty battleaxe!
Only 1,974 D&D Sapphire Anniversary Dice Sets will be available to the public, so mark November 21st at 11am Pacific Time on your calendar so you don't miss out! These dice sets will only be available directly from Wizards of the Coast at a price of $299.99 (USD). For more product information, including more images of these beautiful dice, head to https://dnd.wizards.com/products/sapphire-anniversary.
Join in the celebration of D&D's forty-fifth anniversary and pick-up this beautiful dice set when it's available on November 21st! Sign up for updates and reminders for when the D&D Sapphire Anniversary Dice Set goes on sale here: https://myaccounts.wizards.com/login/dnd
* Okay, you caught us. Humans grew these sapphires in laboratories on Earth. Sorry.
** Still kidding. Still lab-grown by humans.
Tags | dungeons & dragons, wotc