Posted on November 14, 2023 by Flames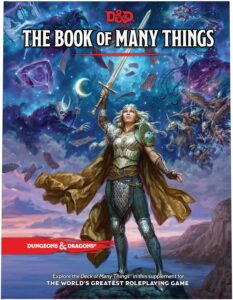 The Deck of Many Things Bundle is the latest Dungeons & Dragons 5th Edition sourcebook and game accessory. Included in the physical product is a 192-page sourcebook titled The Book of Many Things as well as beautifully-boxed Deck of Many Things containing 66 cards and a hardcover 80-page card reference guide.
The 22-chapter sourcebook, which is available in standard and alternate printings, features Asteria (p. 188) on both covers and is structured around The Deck of Many Things as well as a standard deck of playing cards. This information-dense guidebook includes an introductory chapter written for history buffs that explains the origin and evolution of this titular magic deck. Following Chapter One: Fool, The Book of Many Things offers thematically-appropriate dungeon master tools, character creation options, factions, guilds, and cults, adventure locations, maps, monsters, and statistics for the deck's creators (the human warrior, Asteria, and the medusa, Euryale) in twenty-one, idea-packed chapters.
Broken out into five, easy-to-reference sections, each chapter in The Book of Many Things draws inspiration from a card found in The Deck of Many Things' original set of 22 unique themes including Comet, Flames, Sun, and The Void. For this edition, 44 new cards have been added like Aberration, Crossroads, and Giant creating "the deck of many more things" (pg. 52). All of the new cards are addressed in Chapter 7: Sage (formerly The Vizier) as well as the guidebook accompanying The Deck of Many Things.
Though the sections for The Book of Many Things are cohesive, the strength of this supplement is the variety of ideas, rules, setting, and in character quips thematically designed around each card. For example, Chapter 9: Knight declares in the first sentence that "A character who draws the Knight card from a Deck of Many Things gains the service of a loyal warrior." (pg. 65). This is followed by a descriptive paragraph explaining what can be found in the chapter before quickly launching into new magic items, narrative ideas, and an allied construct called the "Deck Defender." In this way, the chapters offer idea-rich material that best fits that card rather than pigeonhole elements into a repetitive structure.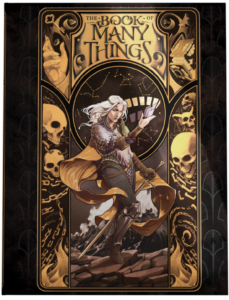 To offset the supplement, The Deck of Many Things has a guidebook that presents divinatory advice for in game-references and the means to generate adventures. Additionally, the guidebook does offer both upright and reversed meanings for each card in a tightly-structured and straightforward manner. Each card has five associated meanings for person, creature or trap, place, treasure, or situation as well as an addition five for the reversed meanings.
The Deck of Many Things is a physical and digital bundle available for pre-order at a discounted price of $99.99. Similar to other titles, if you purchase through Wizards.com players receive pre-order bonuses. Customers who pre-order through Wizards.com ahead of the release date on November 14, 2023 receive access to the digital edition of The Book of Many Things on D&D Beyond as well as a digital dice set, ten frames, and four backdrops. The physical product will ship at a later date that has yet to be announced.
According to Wizards.com, the official release date for the physical product (both the standard and alternate cover) has been pushed back from November 14th due to a manufacturing error. The Deck of Many Things Bundle has an MSRP of $109.99 at online stores like Amazon.com as well as your friendly local game store. The listing includes a digital copy of The Book of Many Things for your use on DnD Beyond. You can also pick up virtual gaming add-ons at DMsGuild.com (for Roll20) to enhance your experience.
Printing and packaging issues aside, The Deck of Many Things Bundle is a stellar offering from Wizards of the Coast and is easily one of the company's best products for 2023.
A review copy of The Deck of Many Things physical bundle was provided to FlamesRising.com by Wizards of the Coast. This review was written by Allie Brooks, includes affiliate links to Amazon.com and DMsGuild.com, and has been published with the author's permission.
Tags | DnD, dnd5e, dungeons & dragons, wotc