Posted on June 22, 2011 by Monica Valentinelli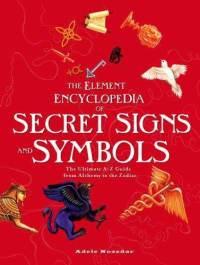 Available at Amazon.com
Published by Harper-Collins, The Element Encyclopedia of Signs and Symbols: the Ultimate A to Z guide from Alchemy to the Zodiac is not one book, but several smaller books that range from the language of flowers to numerology and, of course, symbols.
Normally, I find there are two challenges a book like this has to overcome. First, there's the issue of gravity. Books in this vein can either be lighthearted, with more of a pseudo-magical feel to them, or serious and grounded in fact. This particular tome is squarely in the middle. While it does offer an aura of mystery in some respects, The Element Encyclopedia of Signs and Symbols also offers a comprehensive resource guide at the end of the book.
Second, a book about signs and symbols may also be problematic if the content is entirely focused on Western cultures. Some of the sections here are grounded in cultural myth from European and American superstitions. However, the first section includes several illustrated symbols from multiple cultures and religions from all over the globe. Some popular; some obscure. The pictures enhance the entries and help anchor each description.
The writing is clear and engaging, but the biggest selling point for me was the variety of information in this book for the price. In addition to the signs and symbols, you can find trees and plants, gemstones, colors, numbers, animals and three other subjects.
I'm primarily using this book as a resource for my stories, and there's plenty of good material here to draw from. With ten, different books chock full of information and hidden meanings to read, The Element Encyclopedia of Signs and Symbols is a great addition to any library.
Review by Monica Valentinelli