Posted on December 10, 2020 by Flames
Lysa Penrose is known as a writer and story creator for Wizards of the Coast, community manager of all things Dungeons & Dragons, and even a witch slinging tarot tutorial videos. In this post, Lysa shares how she combined these experiences and more into an upcoming narrative roleplaying game, Mundane Magic.
First Mechanics Reveal: Mundane Magic RPG
My first experience with tabletop roleplaying games happened by accident. I was between jobs, a leap-of-faith career change, my ex-corporate life funding a year off to soul search like a millennial stereotype. In a depressive fog of YouTube binging and self-doubt – hey, major change is scary! – I stumbled across the first episode of Critical Role. Curiosity got the better of me when faced with this odd 4-hour video. My mind and imagination had discovered Dungeons & Dragons, and I tipped over the precipice and into the rabbit hole….
I've shared this story before in interviews asking how a career in Dungeons & Dragons happens. And how does it happen? A whirlwind. If you don't know me: Hi, I'm Lysa Penrose, and I've been an adventure writer, co-author of two D&D hardcovers, event organizer, D&D Adventurers League community manager, Wizards of the Coast social media manager, and, now, Dungeon Masters Guild Brand Manager. Suffice it to say, when it comes to tabletop roleplaying games, my name is associated largely with D&D.
But I want to tell you about all the other TTRPGs that inspired my upcoming narrative roleplaying game: Mundane Magic.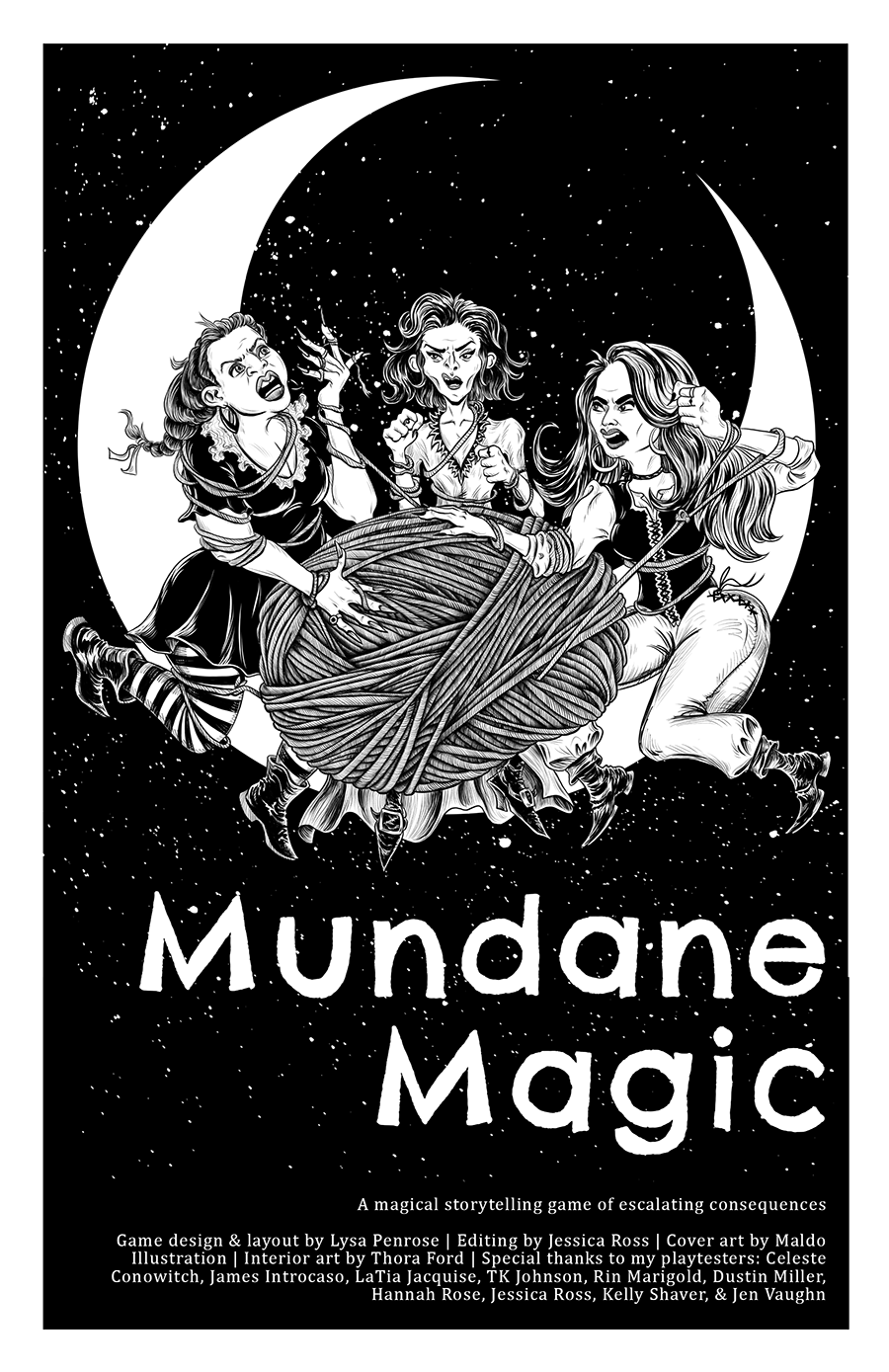 Mundane Magic Cover by Maldo Illustration
Mundane Magic is a magical storytelling game of escalating consequences. Players roleplay a coven of all-powerful crones, three fates who meddle in mortal lives. Think Hocus Pocus: a combination of extreme power and intellect mixed with extreme ignorance of "normal life" to create antics and shenanigans galore.
The game hinges on two main mechanics. First, there are "Gifts" which are character skills.
While D&D sparked my interest in TTRPGs, playing the Gumshoe System opened my eyes to how abilities and skills set the tone for a game. When players are presented with suggestions of what they can do, their imaginations lean in that direction. Load someone up with combat abilities, and it makes sense if they turn to violence as a solution. Gumshoe was the first system I played that relied heavily on a different "pillar of play" with investigative abilities.
For Mundane Magic, I wanted players to be able to flavor their magical abilities in any way they imagined, so "Gifts" include three broad categories that cover intellect/wisdom, agility/strength, and charisma/social prowess. I wanted everything about gameplay to feel magical, so these Gifts can be used for mundane actions AND simple magical ones.
The second main mechanic is "Spell Tokens".
Playing Good Society, a Jane Austin RPG, introduced me to dice-less narrative games and captured the essence of how I enjoy tabletop RPGs. Offering "Resolve Tokens", which another character must accept, players can just… make things happen. That's it. No dice rolls. Players become pure storytellers as much as the game master, and in this way, sometimes players make "bad" things happen to their characters or others if it makes for a more entertaining narrative.
Mundane Magic didn't click for me until I played Good Society, and then my mind was blown. I struggled at first, because I wanted magic to be as freeform and imaginative as possible (versus your typical list of exact, carefully worded spells). Tokens! Still, I needed to reign in spellcasting in some way, so I modified the token concept in two ways. Spells are limited by their "Focus" which prescribes the flavor of any character's spellcasting, and Spell Tokens convert into "Chaos Tokens", which the game master utilizes to inject fun challenges. The result? A pendulum effect of storytelling and falling forward.
There are a zillion more TTRPGs I could list as influencing my style of design. Mission: Accomplished! does an amazing job of creating fun dynamics between players during character creation. Ten Candles embraces players as storytellers so fully. Vampire the Masquerade implements the threat of consequences beautifully….
If there's one piece of advice I can offer to fellow game designers, it's to never stop playing. If you're so busy that you don't have time to play and discover new games and remember why you love this hobby, you're too busy!
If one day Mundane Magic offers a little spark of inspiration to someone else, then that is a dream fulfilled. Hope you'll all check out my little RPG baby on December 14 on DriveThruRPG.com.
– Lysa Penrose
Tags | indie rpgs