Posted on February 8, 2019 by Flames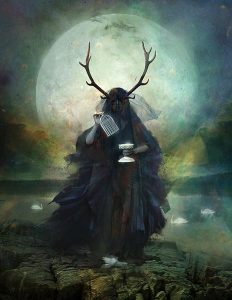 Acclaimed artist Samuel Araya illustrated a brand new edition of The King in Yellow, published by Arc Dream Publishing, featuring ten landmark tales of the horror genre in a 220-page volume.
Stories include: "The Repairer of Reputations", "The Mask", "The Yellow Sign", "The Street of the Four Winds", and more! Full-page paintings and unnerving sketches evoke the weird romance of Robert Chambers' finest tales; Lovecraft expert and author Kenneth Hite annotates every tale with his uniquely macabre erudition. His insights bring ever-deeper understanding of truths that only the mad or the hopeless would seek. Designer Simeon Cogswell and publishers Dennis Detwiller and Shane Ivey present a tome that rivals previous editions of Chambers' works.
Follow the Sign engraved in gold to the tattered robes of the King in Yellow. You might just lose your mind. The King in Yellow is available at DriveThruFiction.com.
Tags | classic horror, lovecraftian