Posted on September 8, 2020 by Matt-M-McElroy
Free League Publishing has just released two new expansions for the popular ALIEN RPG offering a new adventure as well as a way to jump into the game with a basic introduction rule set!
ALIEN RPG Starter Set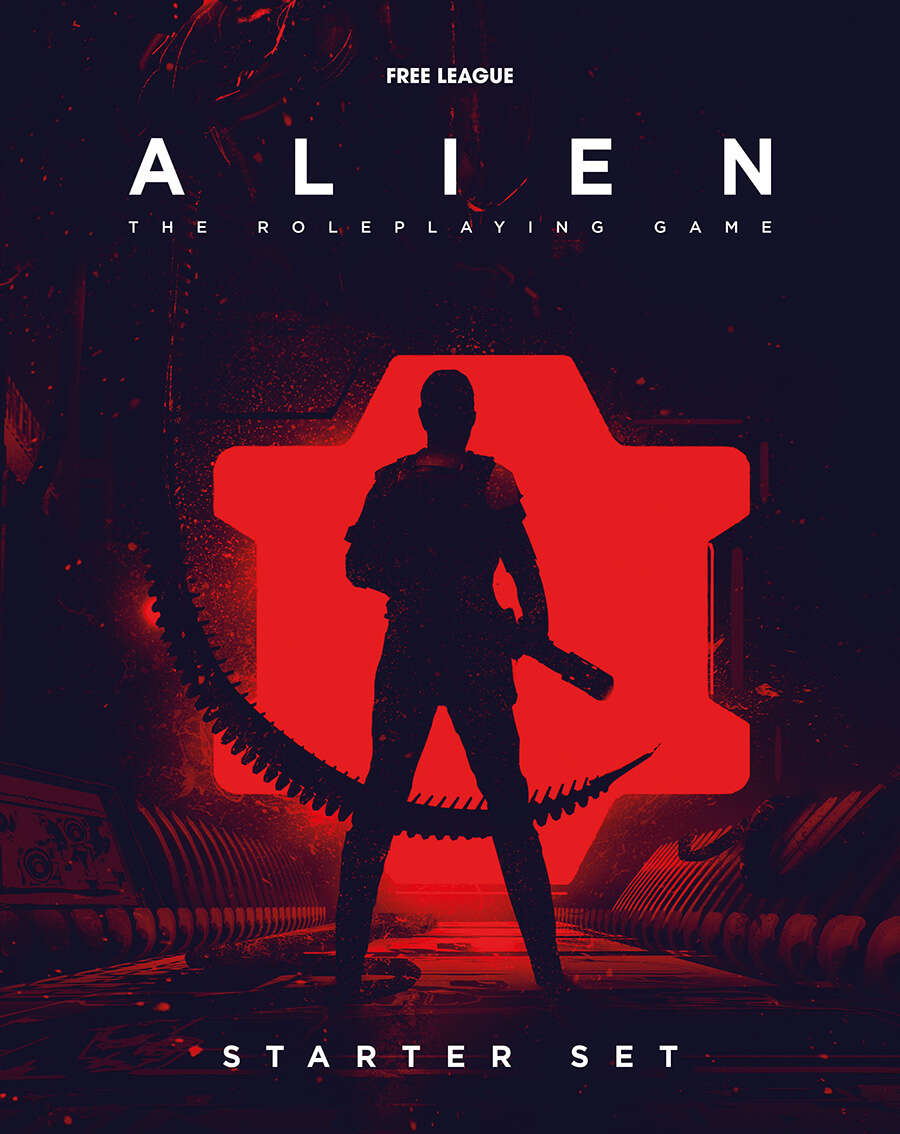 The job was routine, the money fair. Then the damn company diverted you to answer a distress call from a ship that disappeared almost 80 years ago—a derelict carrying something bizarre, twisted, and alien. What the ship's frozen crew brought back with them was bad enough—what they themselves were turning into was a bloody nightmare. Add to that an annoying sensor ghost shadowing you in the void, and your stress level is shot.
It's all a bit much.
You don't get paid enough to deal with monsters. But hold your breath, count to three, and play your cards right with this one, and you just might walk away very rich. Oh, who am I kidding?
You're all going to die.
This is a starter set for the official ALIEN tabletop roleplaying game—a universe of body horror and corporate brinkmanship, where synthetic people play god while space truckers and marines play host to newborn ghoulish creatures. It's a harsh and unforgiving universe and you are nothing if not expendable.
Stay alive if you can.
This set contains everything you need to start playing:
– A 104-page rulebook with a fast and effective ruleset designed specifically to support the core themes of ALIEN: horror and action in the cold darkness of space.
– The 48-page complete scenario Chariot of the Gods by sci-fi novelist Andrew E.C. Gaska, taking you on a thrilling, terror-filled ride into deep space where no one can hear you scream. Chariot of the Gods is designed for 3–5 players plus the GM.
– Five pre-generated characters to play.
– A huge full-color, double-sided map, with one side depicting chartered space in the year 2183 and the other floor plans for the Chariot of the Gods scenario.
– 84 game markers for keeping track of characters, motion tracker pings, and more.
– 56 custom cards for weapons, personal agendas, and initiative in combat.
The ALIEN RPG Starter Set is now available in PDF format at DriveThruRPG.com!
Also available now from Free League Publishing:
ALIEN RPG Destroyer of Worlds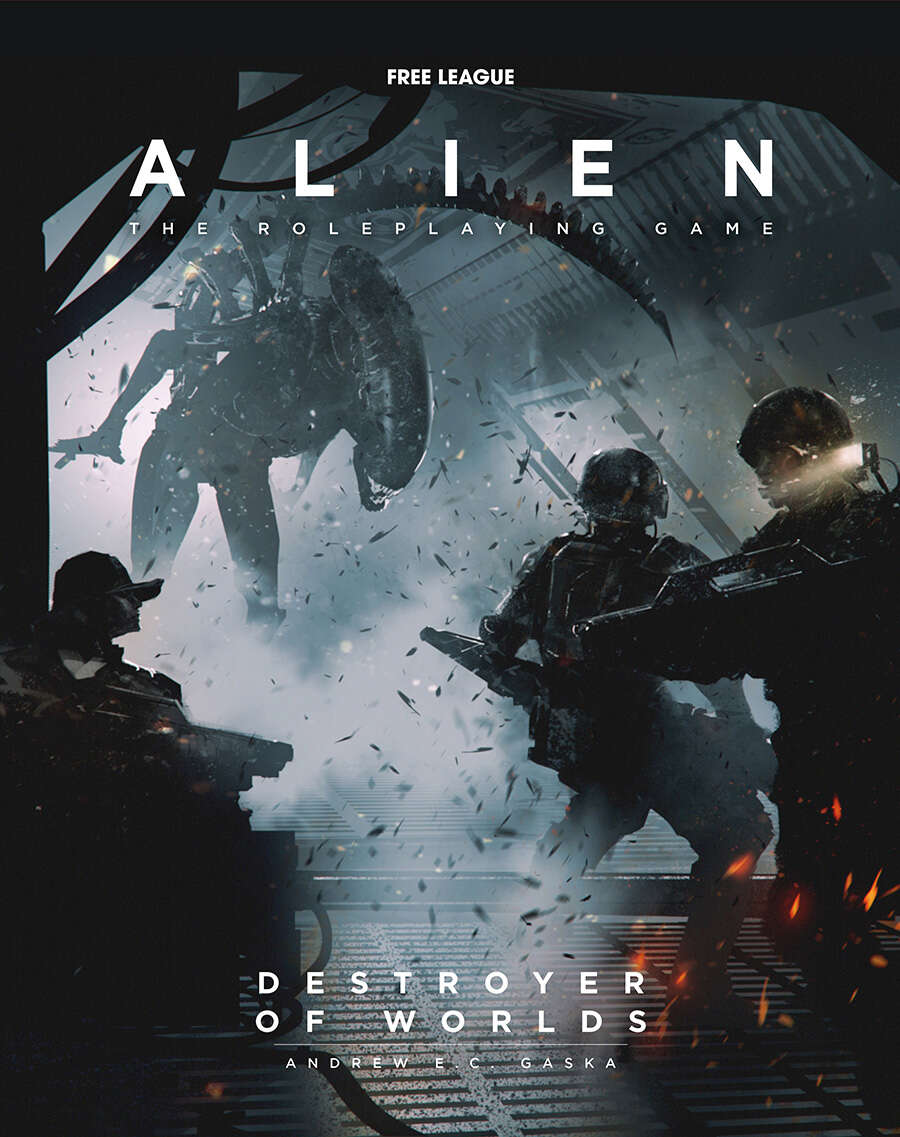 The mission was a manhunt, the objectives clear—track down four fugitives, recover any assets they may have made off with, and keep 'em all out of enemy hands. Go find them on a frozen moon full of hostiles and get it done on the eve of war.
Nothing you couldn't handle.
But what it is that these bastards stole—and how the hell it got inside them—is another thing altogether. It's all above your paygrade, marine—but somehow you're the one who's got to deal with it.
Of course, now there's an invasion fleet incoming, and there's something else, too—something much worse. Something out there hates you—hates everyone. Something big and ugly. Something with metal teeth—and you're pretty sure it ain't alone.
Yeah, the mission was supposed to be a simple manhunt. Instead it turned out to be just another glorious day in the corps.
Destroyer of Worlds is a complete Cinematic Scenario for the ALIEN roleplaying game, written by sci-fi novelist Andrew E.C. Gaska. In Destroyer of Worlds, players take the roles of Colonial Marines. The scenario is designed for 3–5 players plus the Game Mother, and it's a gauntlet of one hell after another. Expect it to take three sessions to complete. This set contains:
– The main Destroyer of Worlds scenario book.
– A huge double-sided map of Ariaricus colony on one side and the Fort Nebraska space elevator ground base on the other.
– Seven pre-generated characters to choose from.
– Custom cards for weapons, vehicles, and personal agendas.
– Player maps and handouts.
NOTE: The ALIEN RPG core rulebook OR the ALIEN RPG Starter Set is required to play Destroyer of Worlds.
ALIEN RPG Destroyer of Worlds is now available at DriveThruRPG.com!
Tags | drivethrurpg, sci-fi, sci-fi-horror