Posted on November 30, 2011 by Matt-M-McElroy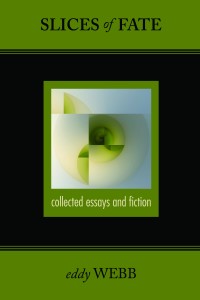 Matt M McElroy, Publisher of FR Press, announced today that Slices of Fate, the collected works of author Eddy Webb, will debut early December 2011.
"Slices of Fate is a collection that spans the depth and breadth of Webb's work," said editor Monica Valentinelli. "Arranged chronologically, this is a beautiful representation of the stories and voices Webb has to offer his readers."
Stories range from the author's nod to literary tales like "A Sheepish Trip to Yorkshire" to more speculative works like "The Battlefield." Essays include a series on two of Webb's loves: wrestling and Sherlock Holmes. Combined with several pieces of microfiction, the collection is an in-depth representation of the author's work thus far.
Both digital and print editions of the collection will be available through online retailers like DriveThruFiction.com in early December 2011.
About Eddy Webb: Eddy Webb (with a "y," thank you) is a writer, podcaster, game designer, and transmedia developer. Hired on with CCP/White Wolf in late 2007, he currently designs content for the World of Darkness MMO. He lives a sitcom life with his wife, his roommate, a supervillain cat, and two pug dogs.
On the web: EddyFate.com
Twitter: @eddyfate
About Monica Valentinelli: Monica Valentinelli is an author and game designer who lurks in the dark. Her work has been published by several companies ranging from Crackle.com to Eden Studios. Her editing credits include Haunted: 11 Tales of Ghostly Horror and Ninja Burger 2nd Edition.
On the web: MLVWrites.com
Twitter: @mlvalentine
Facebook: http://www.facebook.com/pages/Monica-Valentinelli
Tags | ebooks, Flames Rising