Posted on October 16, 2009 by Monica Valentinelli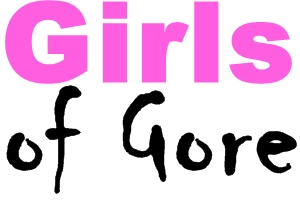 *cue ominous music*
They're creepy and they're kooky… Mysterious and spooky…
My first nomination for the Girls of Gore series went to Eve from THE MENAGERIE, the world's first female (and vampire). In this edition of Girls of Gore, I'd like to turn your attention to the lovely Morticia Addams, who is definitely more than what she seems. Now, you might think that Morticia is just another pretty goth that's all dressed up with nowhere to go, but you'd be wrong. Dead wrong. She may dress in the finest, black gowns and take extra care of her appearance, but Morticia is definitely a Girl of Gore. Why? Well, read on.
First, I'd like to share with you a little history about where Morticia's character came from. Charles Addams (1912-1988) was an American cartoonist whose work has been described as macabre, bizarre and dark — yet humorous and saccharin-sweet. The Addams Family originated from his cartoons, many of which were featured in The New Yorker. The 1960s TV show was based on Addams characters, but his work also inspired a couple of animated series, films and The Addams Family musical, too. (Morticia is also rumored to be behind the inspiration behind Magica De Spell from Darkwing Duck!)
In horror comedies, you might expect a Girl of Gore to be a woman with more guns, but in this case — she's the woman who is smooth as silk with poison on her lips. Morticia is literally the glue that holds The Addams Family together; whenever the wealthy family gets into trouble, it's her wit and calm demeanor that helps see them through sticky situations. Whether it's some con artist going after the family for their money or someone's commenting on her children's behavior, Morticia "takes care of it" any way that she can.
In my opinion, Morticia Addams (like the well-known version played by Angelica Houston)offers us a different kind of "Girl of Gore," for even though she doesn't dress like a gunslinger — she's still pretty fearless and she's arguably the smartest and bravest member of the family. Lurking beneath that calm, quiet demeanor is a woman who will not hesitate to protect her loved ones. Sure, we may laugh along with her jokes, but Morticia isn't afraid to stay true to her love of the strange, the bizarre and the macabre, regardless of what other people may think of her. Not to mention, Houston's version of Morticia is deadly, but silent. Never raising her voice above a whisper or speaking out of turn, her manners always seem to remain intact. Even though she's cold and calculating, Morticia isn't afraid to share her love with Gomez or the rest of her family. Under the guise of black comedy, her complex nature offers us the chance to see both the best and the worst parts of what it means to be a woman.
I happen to like Morticia Addams quite a bit. Like her, I also prefer rainy days and stodgy Victorian houses; probably because I'm a writer who has been known to lurk in the dark on occasion. Morticia flaunts her dark side, though, regardless of the situation. Even though she's a fictional character, she always seems to rise above any obstacle because she ignores the naysayers. In my mind, the best analogy I have for her is a poisonous viper: once she has made up her mind about what needs to be done, she will strike. Hard.
Would you like to nominate the next Girl of Gore? Post your suggestion in the comments below!
Tags | black comedy, females in horror, girls of gore, horror-comedy