Posted on December 22, 2017 by Matt-M-McElroy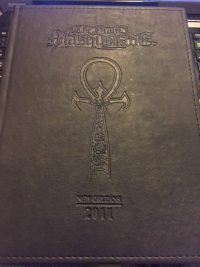 Inspired by Justin Achilli's Act Charitably, Win V20 I've decided to do my own contest. I have an extra copy of the Grand Masquerade Limited Edition Vampire: The Masquerade 20th Anniversary core book that was released in 2011. Like Justin, I'd like to give it away to someone who'd like to play the game and own a piece of Vampire history. Unfortunately, it is a little late to give this as a X-Mas gift, but maybe someone will kick off the new year with a rare book…
So, to get entered into my drawing:
1. Make a donation of any size over $1 to one of the three charities linked below. I'll be using links on the DriveThru sites, but you can also donate directly if you want.
2. Send me proof of your donation. You can forward your email receipt, snap a photo, or take a screenshot showing your donation. Then, send the record of your donation to info@flamesrising.com.
On January 20th, 2017, I'll gather the names of everyone who has made a donation. Then, I'll draw one random name and contact them for their shipping details. I will cover the cost of shipping the limited edition book to the winner.
The causes I've picked for the drawing are:
– The Hero Initiative creates a financial safety net for comic creators who may need emergency medical aid, financial support for essentials of life, and an avenue back into paying work. Find out more about Hero Initiative at Heroinitiative.org
– The Roleplaying Game Creators Relief Fund (RCRF) is a charitable organization founded to provide financial assistance to tabletop roleplaying game creators suffering hardship due to medical emergencies, natural disasters, and other catastrophic situations. Find out more about the RCRF here: http://RCRFcharity.org
– Feeding America is the nation's leading domestic hunger-relief charity. Our mission is to feed America's hungry through a nationwide network of member food banks and engage our country in the fight to end hunger. For more information visit: Feedingamerica.org
To be entered, donate any amount over $1 you want to any of the causes above. You do not have to donate to all three; one donation above $1 is enough for entry into the drawing. The entry is tied to your name, not the dollar amount you pledge.
Tags | vampires, white-wolf, world-of-darkness