Posted on August 22, 2013 by Flames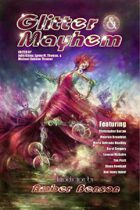 Welcome to Glitter & Mayhem, the most glamorous party in the multiverse.
Step behind the velvet rope of these fabulous Science Fiction, Fantasy, and Horror tales of roller rinks, nightclubs, glam aliens, party monsters, drugs, sex, glitter, and debauchery.
Dance through nightclubs, roller derby with cryptids and aliens, be seduced by otherworldly creatures, and ingest cocktails that will alter your existence forever.
Your hosts are the Hugo Award-winning editors John Klima (Electric Velocipede) and Lynne M. Thomas (Apex Magazine), and the Hugo-nominated editor Michael Damian Thomas (Apex Magazine).
Join glittery authors Christopher Barzak (One for Sorrow) and Daryl Gregory (Pandemonium) on the dance floor, drink cocktails with Maria Dahvana Headley (Queen of Kings: A Novel of Cleopatra, the Vampire) and Tim Pratt (Marla Mason series), and skate with Seanan McGuire (InCryptid series), Diana Rowland (Kara Gillian series), and Maurice Broaddus (The Knights of Breton Court series). The fantastic Amber Benson gets the party started with her floor-rattling introduction (Calliope Reaper-Jones series).
We're waiting.
Glitter & Mayhem is available now in eBook formats at DriveThruFiction.com!
Also available now from Apex Book Company:
I Can Transform You by Maurice Broaddus – From the dust of The Trying TimesTM, corp-nations have risen up in place of failed governments, and twilight haze dropped down in place of the sky. The economy fell, and the Earth itself shot heavenward, transforming the very face of the planet into an alien landscape with towers punching past the new sky into one of many unknowns. Soon after, the jumpers started raining from among the blue lanterns that took the place of sun and stars.
Appalachian Undead by Eugene Johnson & Jason Sizemore (editors) – Come see the dark side of the mountains where the undead walk. Appalachia stands against an ever-hungry, never-tiring army created by the region's own mysteries and lore. Appalachian Undead collects intriguing zombie tales by some of the best names in horror, including John Skipp, Jonathan Maberry, Gary A. Braunbeck, Tim Lebbon, Elizabeth Massie, Lucy Snyder, Bev Vincent, Tim Waggoner and many more.
Tags | apex, drivethrufiction