Posted on October 14, 2008 by Flames
Not a Secret Crisis! Not a Final Invasion! On October 15th, it's Cassie Hack versus Solomon Hitch in the brawl to end it all! Get ready for Hackoween!
Tim Seeley's Spike TV Scream Award nominated Hack/Slash is teaming up with the cult favourite web comic Halloween Man for a special Halloween crossover!
See! Cassie and Vlad's rampage through Solar City!
Tremble! As alien sex gods rip the universe in half!
Buy! Into our shameless hyperbole!
And it's all for free on www.halloweenman.com! The only cost will be your immortal soul!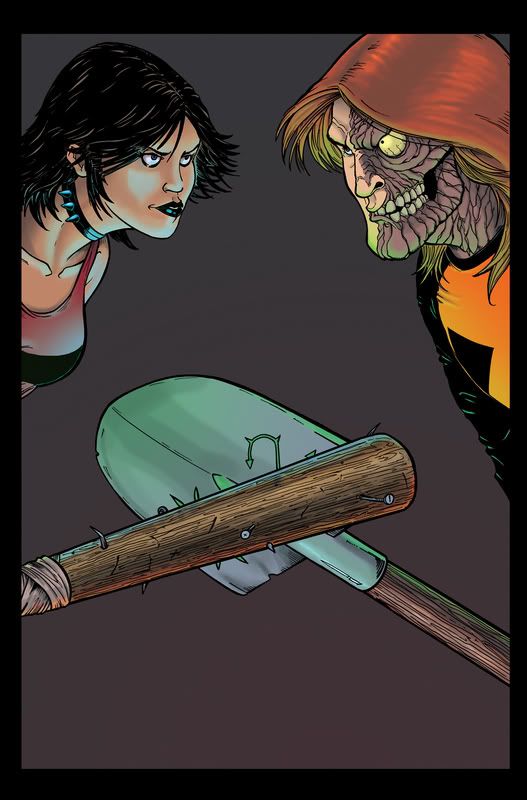 Brought to you by the following maniacs:
Drew Edwards (Writer)
David Baldeón (Penciller)
Scott D.M. Simmons (Inker)
Marc Lewis (Colorist)
Brian J. Crowley (Art Direction and Letters)
Russell Hillman (Editor)
Our cover is a tribute to the classic Freddy vs Jason poster. It's awesome. It's so incredibly awesome, it made us want to run a contest.
We'd like you to attempt to do something a bit similar. A cover featuring characters from Halloween Man and Hack/Slash, which is also a tribute to a classic horror movie poster (or video/dvd cover).
The winner will receive a page of David Baldeón's original artwork, and second place will get a Halloween Man t-shirt, but all of the entrants will go into the special Hack/Slash tribute gallery at HalloweenMan.com, and will be seen by OVER EIGHT HUNDRED BILLION PEOPLE*!
(*may not represent actual viewing figures.)
Send your entries to hmartwork (at) gmail (dot) com. The deadline is 28th October, entries will go up on www.halloweenman.com on October 31st – y'know, Halloween?
In the meantime, here's some fab freaky fun preview pages that just might cause your eyes to bleed a little. If you like those, why not get a head start on your fellow fanboys – hit your local comic book store or devilsdue.net and buy all of DDP's wonderful Hack/Slash collections, and then drop by www.halloweenman.com for classic tales of Halloween Man.
Tags | devils due, halloween, horror comics