Posted on October 3, 2012 by Monica Valentinelli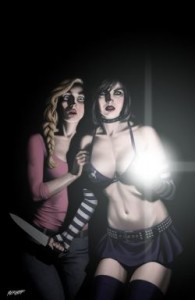 Script by James Lowder
Art by Matt Merhoff
Colors by Carlos Badilla
Letters by Crank!
Edits by Tim Seeley
The Case of the Killer and the Questing King is a stand-alone comic for the Hack/Slash series created by Tim Seeley. I've reviewed Hack/Slash before for FlamesRising.com; I'm also one of the designers on the Hack/Slash card game from Eden Studios. While I don't have a current professional connection to the comic property, I'm still a fan of Cassie Hack and the string of secondary characters that have begun to get their own screen time. Now that's over with, I can dive into the review of Hack/Slash Issue #18. This comic, in particular, dives into a character we haven't seen very often — Cat Curio.
Cat was first introduced as a little girl in Hack/Slash: The Series #23. After surviving her slasher encounter with Samhain, she was in a coma for many years, and is now an adult. That time lost means that she errs on the side of naivete and has some amount of emotional immaturity. This story, and the alternate cover, highlight her Nancy Drew-like tendencies when she falls into an oh-so-easy manipulative trap set by her "hero," a super spy (and merchant) named Brendon Mannix Joyce.
Joyce is a little old-fashioned, something ripped out of the pages of an old detective novel — but he fits the image of someone Cat might idolize. There's the "surface" level personality the King of Spies carefully shows and then there are the layers of his motivation and intent. Questions Lowder, who debuts as a writer for Hack/Slash with this issue, explore include whether or not this character is a slasher or a threat, if he knows one, or if he's been fighting them all along.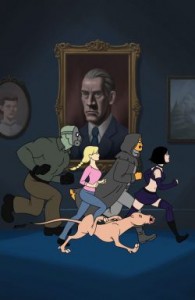 When Joyce tries to warn Curio about the Catalog Killer, a slasher who's been systematically killing people on different lists, the pair team up to track down the killer. This is where the real adventure begins for both characters, because Cat's ability to "be" the detective she wants is within limits. She has yet to stand on her own two feet and knows when she's getting in over her head. Adding in Pooch was a nice touch for me, because I feel that his character grounds the story and makes it grittier, regardless of what he's doing. Pooch is that otherworldly reminder — slashers aren't the only crazy things in the world of Hack/Slash, and he's proof of that.
The story is written in a retro style and fits Cat Curio, the star of this comic. It's an interesting, fresh take with some fun easter eggs for those of you who've followed the series from the beginning. As the Hack/Slash series progresses, there's always more room for side effects as Cassie and Vlad hack their way through slasher after slasher. This story is important in the sense that there's possibility for growth — potential threats and more characterization of the secondary cast that's come to know, love, and warn Cassie and Vlad. However, the story was penned as a stand-alone issue, so if you're mildly curious to get a taste of what Hack/Slash is all about, this is a good comic to pick up.
Review by Monica Valentinelli
Tags | comic books, horror comics