Posted on June 14, 2012 by Monica Valentinelli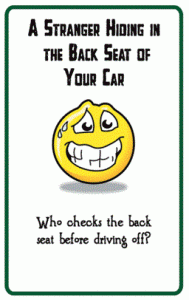 Heebie Jeebies is a card game of "unsettling notions" designed by Dave Cook. Don't be fooled by the smiley faces! The game, which I describe as a cross between a tell-all game like Truth or Dare with a Garbage Pail Kids flair, has been announced through crowd-funding source Kickstarter. The Heebie Jeebies Game Production Kickstarter has a few weeks to go yet for its goal.
I playtested this game a few times and one of the things I liked about it was how simple it was. I felt that Heebie Jeebies was a game for people who like games with a social component. There's really no way to min/max this game because a lot of it is based on emotion and what you think you know about someone. I played with a larger group of players and, like Fauxcabulary, I feel Heebie Jeebies is really good for larger groups.
Here's how Heebie Jeebies works:
1) Designate The Subject
2) The Subject draws four cards from the deck
3) Cards are placed in spots 1-4 on the game board
4) Other players secretly vote on The Subject's worst fears, nightmares, and uncomfortableness
5) The Subject reveals, one-by-one, what he (or she) is squicked out by
6) Players get a point if they guessed correctly. The game ends when someone gets to ten points.
I hadn't seen the cover of the box until now, but I feel that Dave did a good job trying to capture the feel of the game. The smiley faces are, for me, really key to this because they're gross without being gross. I will tell you one thing — by the end of the game you'll find out what you know (or don't know) about the other players. That's part of the reason why I recommend playing with a bigger group! More people = more squicking.
Heebie Jeebies Demo
Here's the demo video of the game. What do you think?
Tags | card-games, kickstarter