Posted on July 15, 2011 by Monica Valentinelli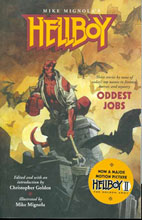 Available at Amazon.com
Question: What do you get when you cross Joe Lansdale and Tad Williams with Hellboy?
Answer: An anthology called Oddest Jobs.
Hellboy: Oddest Jobs is an anthology edited by Christopher Golden and illustrated by Mike Mignola. The collection isn't like other anthologies, for this one steers toward the category of "collectible." You want this anthology to sit on your self to show-off to your friends.
As a collector of all things Hellboy myself, I picked up this anthology for two reasons: one, it was Hellboy and two, I knew that Christopher Golden's involvement would ensure that the stories would have a certain quality to them.
I wasn't disappointed. Although I didn't like each and every story in the collection, there's a broad range of tales and storytelling styles from authors I've read and authors I haven't. Each plot stands on its own, however, and offers something new for fans of this franchise. I really appreciated A Room of One's Own by China Mieville and Jiving with Shadows and Dragons and Long, Black Trains by Joe R. Lansdale.
The first story begs the question: Are interior decorators evil? I thought the idea of questionable wallpaper was unique, but still Hellboy. Lansdale's story, on the other hand, is the longest within the collection and was written as a pastiche replete with journal entries and file notes. The style blended elements of the graphic novels into a short story format to highlight both the setting and Hellboy's character.
Other authors include Tad Williams, Brian Keene, Gary A. Braunbeck, Garth Nix and Amber Benson. Combined, the stories offer a range of mysteries and action-based tales that will make you cheer… for Red…
If you're looking for a good introduction to the Hellboy universe, I'd pick up this anthology to get a feel for what Hellboy is all about. If you're a fan of the series like I am, this would be a good piece to add to your collection.
Review by Monica Valentinelli

Tags | hellboy, short-stories