Posted on November 27, 2009 by Jason Thorson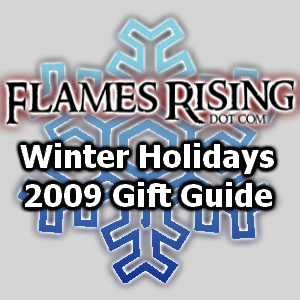 In this edition of FlamesRising.com's Winter Holiday 2009 Gift Guide, we turn to horror movie buff and FlamesRising review Jason Thorson, who provides you with a few horror movie recommendations.
You can find many of these films at large department stores or online; we also recommend renting some of Jason's picks and trying them out before you give them as a gift. You'd be surprised how good some of these horror movies are!
Well, the Holidays are encroaching on us again. Every now and then that obese old prowler who breaks into your home in the middle of the night every December 24th actually manages to leave you with something worth your while.
However, there's nothing wrong with forcing his jolly hand, so here you go: five horror movies that are both relatively new and good, two qualities that when combined are like gold! Here's hoping you have a pitch black Friday….
Let the Right One In – Outstanding Swedish tale about a 12 year old boy who befriends a vampire girl.
Martyrs – French-Canadian masterpiece about the depraved psychological journey taken by an abuse victim after she enacts revenge on her tormentors. This movie is as unique and disturbing as anything ever made.
Inside – French-made movie about a pregnant widow being stalked by a maniac on Christmas Eve. This well-conceived little gem is chock full of cringe-inducing moments.
Drag Me to Hell – Don't miss Sam Raimi's roller coaster return to the horror genre. It's Evil Dead meets E.C. Comics and it's full of moments that will force you to have no other reaction than uncomfortable, nervous laughter.
Murder Loves Killers Too – This indie home run turns the slasher flick on its head in truly unexpected and entertaining ways. Best feature winner at the Madison Horror Film Fest 2009.
Jason Thorson – 2009
Tags | horror-movies