Posted on October 28, 2010 by Jason Thorson
I'm a fan of most Halloween activities, but there's one that I hold a little nearer and dearer than the rest.  I love visiting haunted attractions!  When done well they're fully immersive, interactive, and live action horror stories – the ultimate sensory stimulation and overall inspiration for horror fans and horror artists alike.  My enthusiasm for the haunt manifested at an early age.  I grew up in Beloit, Wisconsin – the quintessential post-industrial Midwestern city.  Not a lot to do, but when October shambled around every year my fellow citizens got outright giddy about celebrating the time of year when everything dies, and frankly, resembled more closely our lovely little city.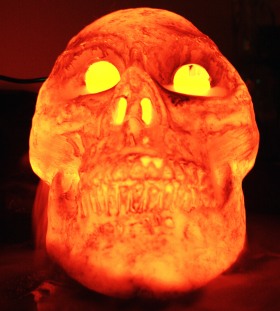 Back in the late 1970's and early 80's, a white barn stood on the east side of town, adorned with a faded orange sign featuring the words "The Scream" painted in bold black letters.  It was nestled among the strip malls and fast food establishments that had usurped its formerly rural surroundings over the prior couple of decades.  This anomalous barn was an establishment of legend.  Kids had lost their minds in that place!  Boogiemen came right out of the walls to snatch you from behind, and trolls hid under the stairs to snap their talon-like fingers at your ankles….The horror! 
Unfortunately, though, "The Scream" gave way to a drug store before I'd reached the age to truly enjoy its terrifying inhabitants.  Instead, I became haunted by the ghost of "The Scream".  The myths about that foreboding white barn sparked an interest in me that was insatiable.  That's when my pursuit of the experience known as the haunted attraction began and like many things I've pursued in my life, I'd approached haunted houses from the opposite direction – I was determined to build my own. 
When I was nine, the spare bedroom in the attic of my parent's home was transformed into my own house of horrors by virtue of the following materials: yarn cribbed from my mother's stash, spare bed sheets, construction paper, markers, thumb tacks, and most importantly – my record player equipped with a 33-inch album of spooky sounds.  My friend, Chris, and I spent hours creating false walls by thumb-tacking bed sheets to the ceiling.  We rigged yarn trip wires to trigger special effects that included horrifying stuffed animals lurching towards unsuspecting victims from above, and we tied yarn to the drawer handles of a desk and pulled them open from our hiding places beneath the spare bed.  We strategically placed scary signs along the way, pointing toward the next location of sheer terror and all the while ghosts moaned and chains clinked from the single monaural speaker in my record player.  And though we tried and failed to charge several people a $0.25 admission to our Halloween masterpiece, we did take turns going through it over and over again which was truly an experience to behold! 
As I got older I started to frequent haunted attractions as much as my funds and transportation would allow and the quality of them ran the gamut.  The bad ones were those that can still be found in any small city in America.  They're usually put up by the local chapter of the Jaycees or the Boys and Girls Club of America and they're typically found in malls.  They last all of 5 minutes and are akin to walking through an anthropology museum on acid – rooms that resemble still life paintings, only with bad store-bought props and weird lighting.  Worse yet are the haunts sponsored by the local church in which the featured set piece is likely the "Cavern of Aborted Fetuses" or something similar.  And frankly, I'm hard pressed to be frightened by "the ghosts of those who chose to have premarital sex", but I digress.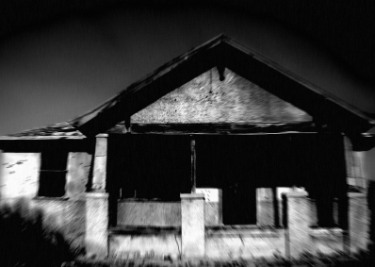 Despite that I've had the displeasure of experiencing quite a few duds during this time, the good ones blew me away and helped shaped me as a purveyor of horror.  One such example was known as "The Haunted Barns", located in Northwestern Illinois near the mighty Mississippi River.  The waiting line began in a park located near the edge of town.  A Black school bus driven by a corpse and smelling of rotten meat picked up loads of people and headed out of town on a tiny ribbon of rural road.  After a matter of miles, the bus suddenly veered off the road and through a narrow path cleaving a vast cornfield in two.  After emerging into a clearing, the bus dropped everyone off outside a series of barns, each barn connected to the one next to it via a steel tube which extended from one barn's top story down to the next barn's first floor. 
The mere sight of these interconnected barns struck fear into our hearts from the outset.  One girl in our party, on the precipice of a panic attack, asked the very convincing demon guarding the entrance to the barns whether or not she could get out if she needed to.  It was amusing to listen to this monstrosity respond in a guttural bellow, dripping with malice, "Yes.  There are more than 30 actors inside and several emergency exits!"  The Haunted Barns utilized a variety of techniques: fear of the dark, fear of small spaces, fear of heights, fear of seven-foot tall guys wielding chainsaws.  Once you were inside it took nearly an hour to get through and it was worth every penny!   I spent the next several Halloweens of my early adulthood searching for more attractions on the level of those wicked barns. 
Nowadays, I still enjoy the experience of a good haunt, but in a different way.  Until recently, when I went through a haunted attraction I craved the scare.  I loved the thrill and I pursued it aggressively.  I leaned into it; head first, as if I were walking into a fierce wind, sniffing out the frights.  I wanted to consume the tension and the atmosphere, blissfully, like a fat kid wading into a pink ocean of cotton candy.  Now I can't seem to get enough and I think I sometimes inadvertently turn the tables and scare the ghouls and ghosts before they get a chance to put the hex on me.  It's difficult to find the gratification I used to get because I've seen it all.  So I'm resigned to getting my thrills vicariously through observing the reactions of the charmingly naïve among my friends and family.
If there's one thing those who work at spook houses know, it's how to sniff out an easy mark.  It's the same way a shark torpedoes toward blood in the water.  So I could write about how fun it is to bring along someone who's not familiar with the fun and perils of the haunted attraction, but I'm basically talking about bringing along a "mark".  Honestly, corrupting the innocent is great fun and there's no better way to do that than by setting them up so the professionals can knock 'em down.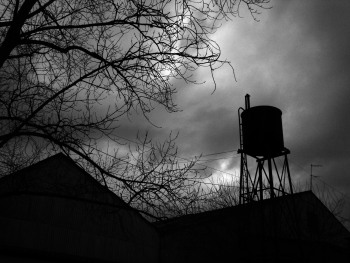 Imagine what it's like for one of your "uninitiated" friends to take their virgin steps into the inky void of a haunted house.  It's a combination of "fear of the unknown" and fear of the known – in the sense that whatever is about to occur is supposed to be frightening.  So, understandably, their impulse is to avoid being at the front of the group.  Given this, I make sure to repeatedly emphasize the following point on the way to the attraction: "Whatever you do – DO NOT find yourself last in our group!"  Now granted, the rear position really is wrought with its own unique perils, but generally they're not as bad as being in the front.  The real fun begins once we proceed through the entrance of the haunt and I make sure to move at a ridiculously fast pace.  The fear of being last usually propels the anxiety-ridden rookie to desperately assert themselves at the front of the group, thereby heeding my warning and acting against their own better instincts.  Then I watch as my unwitting cohort stumbles into the brunt of the scares at a wickedly unforgiving pace.  Afterward, the smell of old sweat and the tell tale signs of fried nerves and utter exhaustion on the mark's face is enough to warm my black, decrepit heart.
These days my lack of time and the number of birthdays under my belt prevent me from traveling too far and wide to get my fix.  I tend to hit up my local haunts every year, such as Schuster's Haunted Forest located just outside of Madison, Wisconsin, which is good fun, if not super terrifying.  But as I've wound down, the art of the haunt has wound up.  Over the last 10 or 15 years the endeavor of running a haunted attraction has not only become big business, it's become a year-round business.  The big names in the industry put on shows that are literally not for the faint of heart.  Some of the best include the infamous House of Shock in New Orleans, Pittsburgh's highly regarded Scarehouse, and the sprawling Wisconsin Fear Grounds located near my neck of the woods in Waukesha, just to name just a few.
My advice to everyone this October is to find yourself an easy mark or two – friends and enemies may suffice, just ask my in laws – and grab a couple of your favorite haunted house enthusiasts, then head to your nearest attraction.  If you don't know where to look, there are several resources out there such as www.hauntedhouse.com.  Hit as many haunts as you can because their quality and quantity are growing exponentially and the odds dictate that the great haunts you're sure to find will erase the memories of any duds you may suffer.  And for those of you who are cut from the same moldy blood-soaked cloth as me, I recommend perusing www.hauntedattraction.com which covers every angle of the industry, in depth and year round.
Happy haunting and remember to look behind you!
Tags | halloween, haunted house, haunted-attraction