Posted on June 8, 2021 by Flames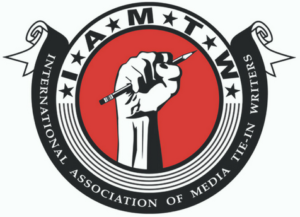 The International Association of Media Tie-In Writers (IAMTW) recognizes the wide range of authors who work on media tie-ins. Often overlooked, these writers craft exciting tales using beloved characters and settings of franchises including the likes of Mike Hammer, Firefly, Murder She Wrote, James Bond, Buffy the Vampire Slayer, Star Wars, Doctor Who, and Star Trek. These stories can be original adventures, or adaptations of movies or television episodes. They include all genres and a wide range of lengths and formats.
To recognize the accomplishments of the unsung authors in this particular field, the IAMTW sponsors the annual Scribe Awards and the Faust Award to recognize the achievements of media tie-in writers.
This year's Scribe awards have six categories to highlight excellence in Novels (Adapted and Original–General, Original–Speculative), Short Stories, Audio Dramas, Young Adult/Middle Grade works, and Graphic Novels. Congratulations to all the nominees!
AUDIO DRAMA
The Enemy of My Enemy by Tracey Ann Baines
He Kills Me, He Kills Me Not by Carrie Thompson
Out of Time by Matt Fitton
Save Our Souls by Scott Handcock
Tropical Beach Sounds and Other Relaxing Seascapes #4 by Tim Foley

GENERAL ORIGINAL NOVEL AND ADAPTED NOVEL
Masquerade for Murder by Max Allan Collins
Mindgame by David J. Howe
Day Zero (Watch Dogs Legion) by James Swallow & Josh Reynolds
The Rise of Skywalker (Star Wars) by Rae Carson
GRAPHIC NOVEL
Blade Runner by Michael Green and Mike Johnson
Darth Vader Volume 1: Dark Heart of the Sith by Greg Pak
Horizon Zero Dawn by Ann Toole
Life is Strange by Emma Vieceli
Two Doctors by Jody Houser
ORIGINAL NOVEL–SPECULATIVE
Firefly: The Ghost Machine by James Lovegrove
MCU Avengers: The Extinction Key by Greg Keyes
Star Trek Discovery: Die Standing by John Jackson Miller
Star Trek (Kelvin Timeline): More Beautiful Than Death by David Mack
Star Trek (TOS): Agents of Influence by Dayton Ward
SHORT STORY
"Extermination Examination" by Robbie MacNiven
"Scritch, Scratch" by Monica Valentinelli
"Stone by Stone" by Christie Golden
"Useful Parasites" by M. K. Hutchins
"A View from Olympus" by Gareth Hanrahan
YA/MG
In the Study With the Wrench by Diana Peterfreund
Liberty and Justice for All by Carrie Harris
The Rise of Skywalker by Michael Kogge
The Rise of the Archer-Illager by Matt Forbeck
Max Alan Collins Garners Faust Lifetime Achievement Award
In addition to the 2021 Scribe Awards, the International Association of Media Tie-In Writers is honored to present the 2021 Faust Award for lifetime achievement to the wonderfully talented and incredibly prolific Max Allan Collins.
Mr. Collins has developed a dozen Mike Hammer novels from Mickey Spillane's files. For the popular CSI TV series (and its spinoffs), he wrote ten best-selling novels, four graphic novels, and four award-winning video games—and several puzzles! He has written tie-in novels for NYPD Blue, Dark Angel and Criminal Minds. Other tie-in work includes such diverse franchises as Dark Angel, G. I. Joe, Maverick, Saving Private Ryan, and The Mummy (to name only a few). His tie-in books that have appeared on the USA Today and the New York Times bestseller list include Saving Private Ryan, Air Force One, and American Gangster. Among his other movie novels are Dick Tracy, Maverick, The Pink Panther, Windtalkers, Waterworld, U-571, The X-Files: I Want to Believe, and Road to Perdition from his own graphic novel.
Max Alan Collins has also produced screenplays that include Mommy and The Last Lullaby, based on his Quarry novels, also the basis of a recent Cinemax series. He has scripted the Dick Tracy comic strip, Batman, and co-created Ms. Tree and Wild Dog. On top of all those accomplishments—and plentiful other awards—Mr. Collins co-founded the IAMTW.
Tags | awards