Posted on November 2, 2009 by Matt-M-McElroy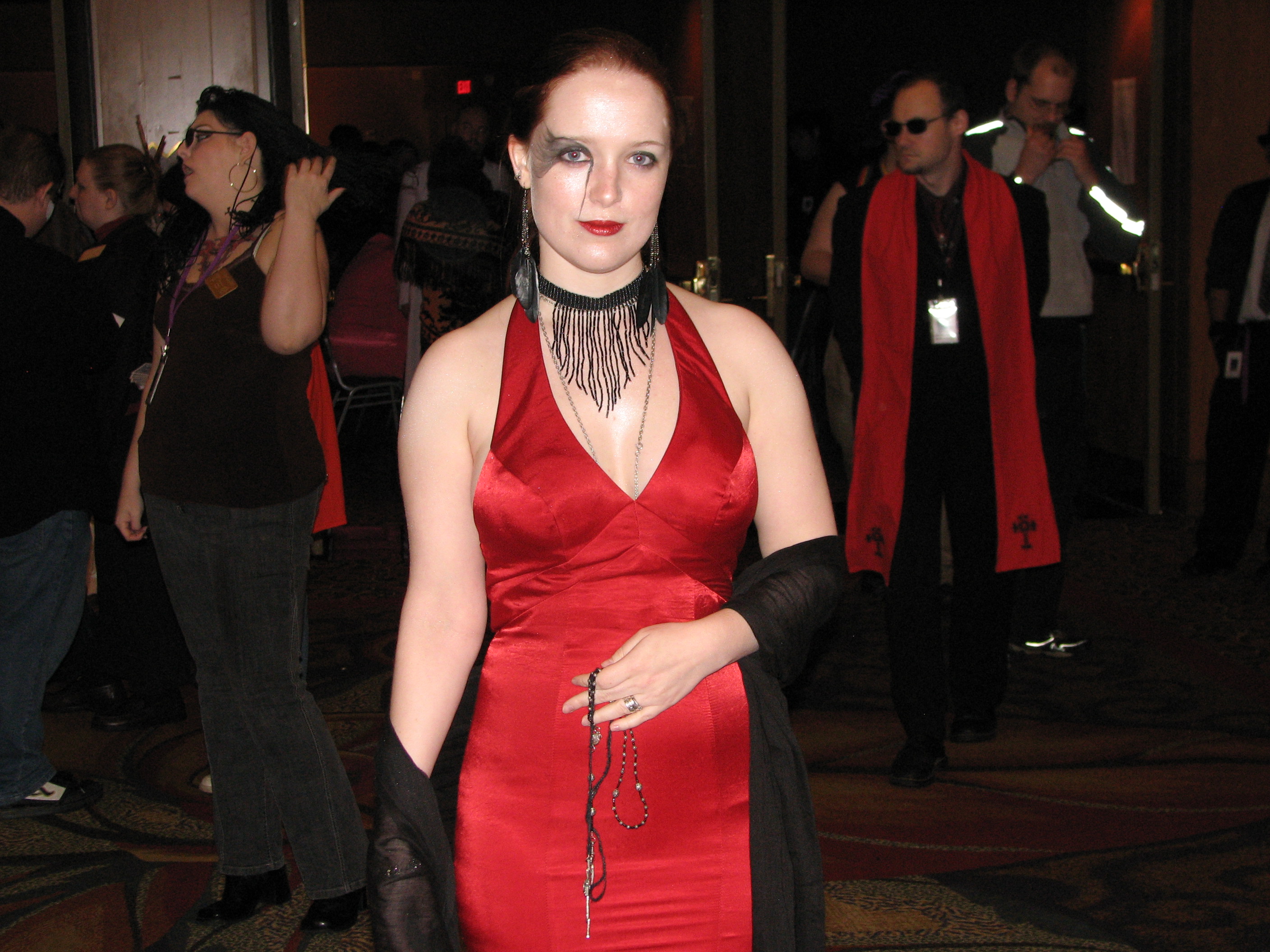 As ICC 2009 rolled into its second day of events I had the chance to attend a retrospective panel that featured developers of both Mage and Werewolf games (past and present). On the panel were Ethan Skemp, Bill Bridges, Eddy Webb and Jess Heinig. The panel offered a good look back at some of the design choices and core themes of both games and gave fans a chance to ask some questions about the differences, from the developers point of view what the biggest differences were between the previous World of Darkness editions of the games and the new World of Darkness versions.
The next panel I attended was present by Eddy Webb titles "Your Game Sucks" which was a follow-up to last year's "Killing Sacred Cows" presentation. This particular presentation was about Player Motivations and Types in a LARP environment and drew on different theories that have been present over the years. One part that stood out for me was that different players may have wildly different reasons for playing the game and with just a bit of communication players can manage to achieve their goals without stepping on each other's motivations. Eddy posted a pdf of Killing Sacred Cows from last year and I'm hoping he will do the same this year. While the presentation was geared toward Camarilla play, it certainly had plenty of great information for non-Cam LARPs and tabletop RPG groups as well.
I'm hoping that future ICC events feature more of these types of panels and that fans of White Wolf games get the chance to interact with the creators in this type of set-up.
ICC 2009 itself continued with both Werewolf: the Forsaken and Changeling: the Lost LARP events during the day. I missed out on checking out the plot specific events due to being in the various panels, but I will say that the costumes and props featured in these games were very, very cool. There was an in-character Goblin Market going on during the Lost game that I would really have liked to see in progress, but scheduling just did not work out in my favor.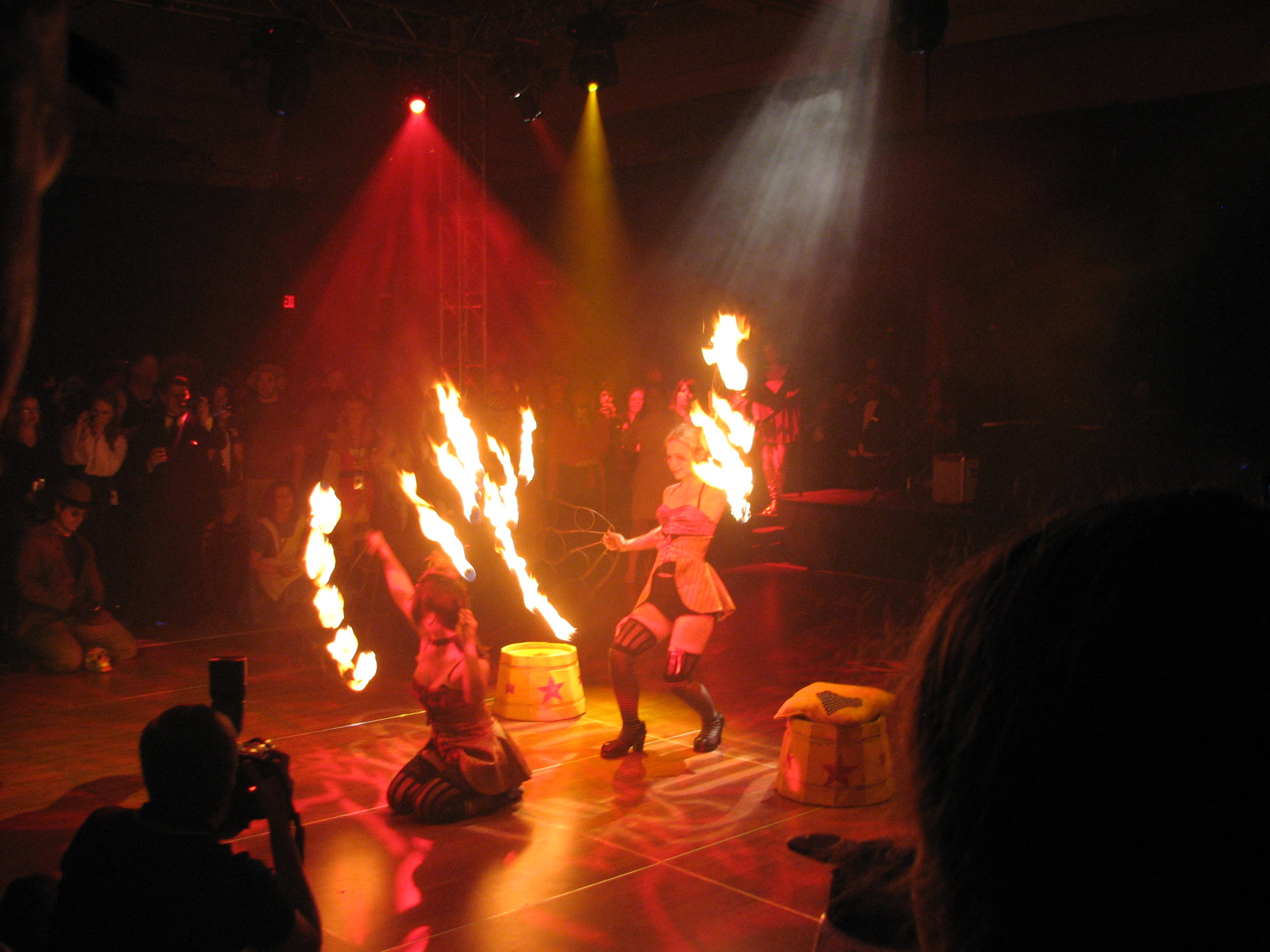 Later on the Requiem LARP picked up and many great costumes were on display. More photos here and on Facebook will be available as I get the chance to upload them from my camera. The Succubus Club Halloween party was very, very cool and also featured many entertaining costumes. There was great music, fire dancers, amazing food and plenty to drink. White Wolf/CCP know how to throw a great party and I think people will be talking about this one for some time. I hear that next year's party is going to be even more amazing…I'm already looking forward to it.
Of course I'm sure a lot of people are wanting me to get on with this post and get to the Closing Ceremonies and Announcements that wrapped up ICC 2009 this year. Some big things are in store for both the Camarilla and White Wolf over the next year or so. Some of this was presented by members of the White Wolf/CCP including Chris McDonough, Shane DeFreest, Ryan Dancy, Kelley Barnes and Greg Fountain.
A handful of awards were handed out to members of the Camarilla who went above and beyond the call of duty over the last year to make the club a success. Some of them contributed extra time and energy to recruiting new players and mentoring them into the games, some of them helped organize events and generally put in the extra time to make sure the club worked to achieve its goals.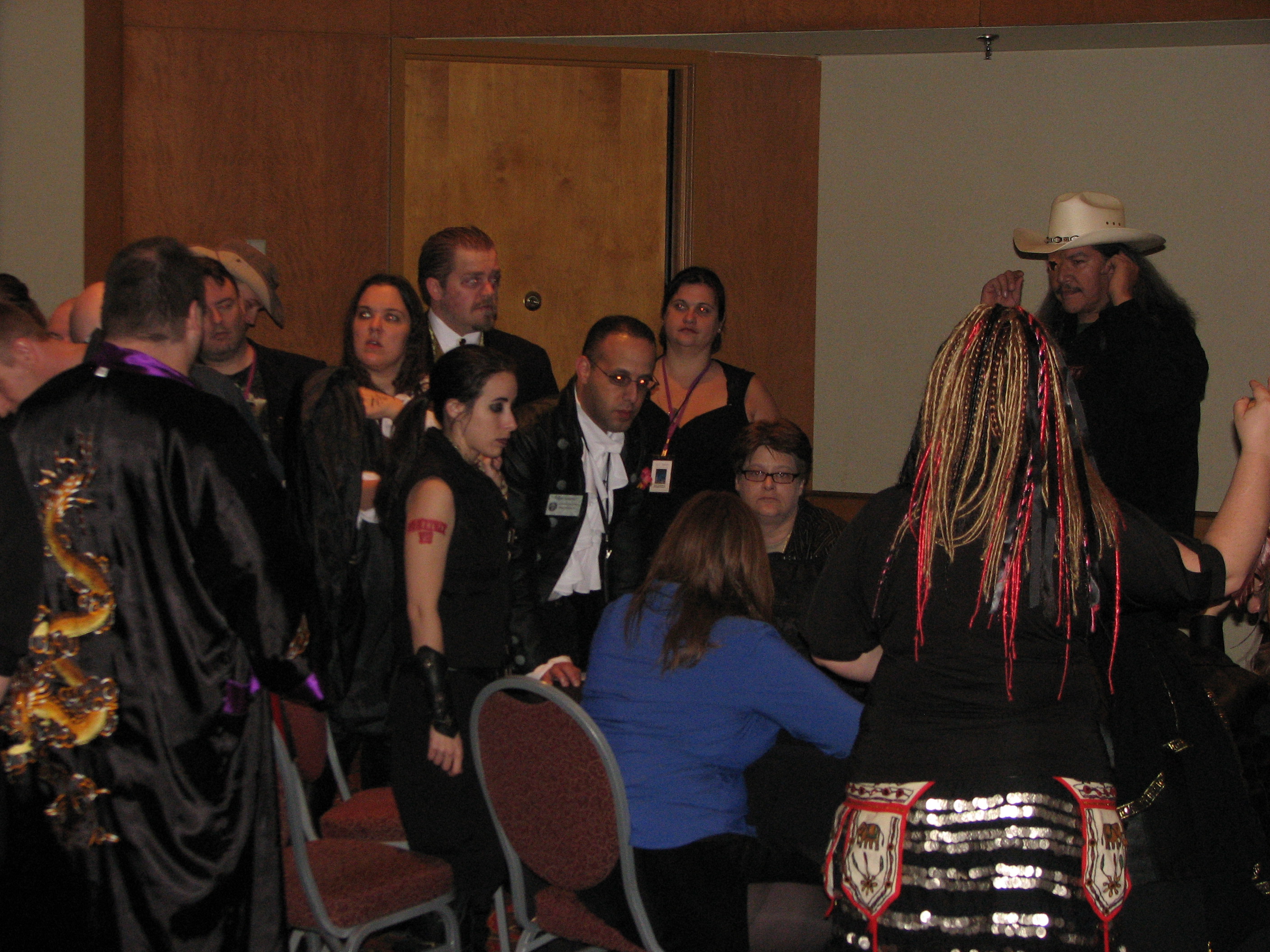 White Wolf/CCP is going to back off a bit from the direct management of the Camarilla as an organization over the next year or so. The goal is the have the Camarilla exist as its own entity and not be run by the company. The membership of the Club should be in charge, they should be the ones who decide what games they play and how they govern themselves. White Wolf is going to support the Camarilla in a number of ways, including new online tools that are being developed by CCP that Club Storytellers and Officers will be able to make use of (character approvals, chronicle database management and other features that all sound very useful for a global chronicle). The other big item was that White Wolf is not going dictate what games the Camarilla can and cannot run from here on out. If the Camarilla wants to restart or relaunch a Vampire: the Masquerade LARP, White Wolf is going to support that decision. If the Cam decides to stick with the newer World of Darkness games…White Wolf is happy to help.
The "Future of White Wolf" section of the Closing Announcements had some dire numbers about the numbers of active hobby game stores in the country (not very many) and the number of big book stores that carry RPGs (also not as many as it used to be). The print market of the RPG industry, not the fanbase, but the actual market itself, is contracting all across the country. White Wolf is as affected by this as any other company. The rapid growth of the eBook market, including the Amazon Kindle and the B&N Nook and other upcoming eReaders is going to allow White Wolf to continue to offer World of Darkness products to fans. This includes new content as well as OOP titles. Partnered with OneBookShelf (who have an upcoming Print on Demand program) White Wolf is going to be offering a lot of World of Darkness content in eBook format. During this segment of the announcements there was talk about a new White Wolf website, with expanded downloadable content, WoD wiki features and other streamlined updates.
There was a very brief mention of the upcoming World of Darkness MMO, but very little specifics and no screen shots, teasers other other promotional content was offered. An amusing slideshow of members of White Wolf and CCP staffers in various costumes and stages of drunken partying did compliment the short speech about how well the companies work together.
This news was met with mixed reactions by a lot of folks in the room. Also, a few members of the Camarilla stood up to ask specifics on how the Camarilla was going to be affected by these upcoming changes. Assurances from the presenters that very little would affect the Camarilla in the short term and that White Wolf would be on hand to help the Camarilla evolve from here were offered.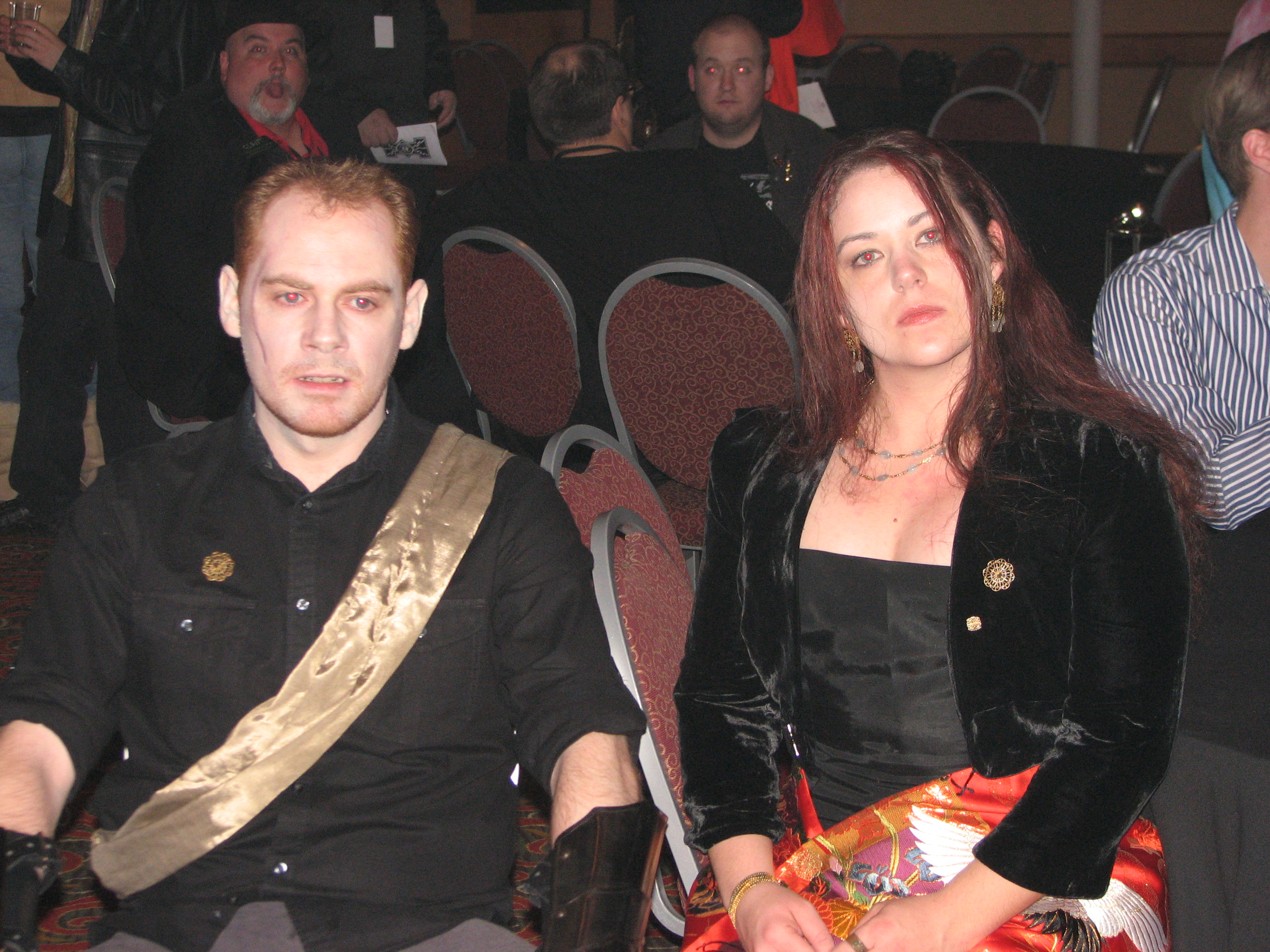 I had the chance to talk to several Camarilla folks after the event ended and many of them are looking forward to new developments (especially the online content management features for Camarilla Storytellers and Staff). Some are not looking forward to more eBooks and less print products (but like the idea of DTRPG offering PoD versions of out-of-print titles). I did not find very many excited about the WoD MMO, which really wasn't surprising since there was almost no content about the game presented during the event. Most of the folks I talked to were more excited about the LARP events, exploring changes in the Camarilla and the announcement of a "vampire" convention in New Orleans sometime next year. I'm looking forward to that one myself.
I have more content and photos to sort through, including an interview with Matt Milberger and Craig Grant, Art Directors for many of the World of Darkness titles. Look for that interview in the near future here at Flames Rising. I hope to have more photos, news and discussion posted over the next week or so. However, since we're headed out for NeonCon in Las Vegas this week…it might have to wait just a bit.
In closing I had a great time at ICC 2009 and look forward to attending many more Camarilla events over the next few years. The Camarilla membership is a great bunch of folks (who in addition to running some great LARPs this year raised $16,000 for charity!) and it was awesome getting to know them throughout the show.
Tags | LARP, werewolves, white-wolf