Posted on May 10, 2017 by Flames
FlamesRising.com contributor Crystal Mazur recently sat down with Christopher Mihm to ask him a few questions about his films. Enjoy this fun interview with a B-movie aficionado!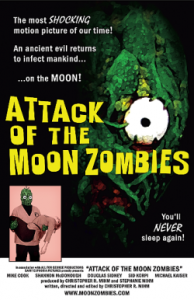 Christopher Mihm is the writer, director, and producer of a series of 1950's B-horror movies that all take place in the "Mihmiverse". He has won several awards and has a dedicated following, too. Mihm publishes monthly newsletters highlighting his efforts, and also has a monthly audiocast where he speaks about his process, the future of his "Mihmiverse", and many other subjects.
I had the opportunity to ask Christopher some questions recently about his movies, his inspirations, and current projects he is working on. I've always been interested in the use of prosthetics and makeup in movies to portray monsters and other types of characters. And, I've always found this genre to be interesting from a makeup and special effects perspective, as this genre really experimented with what looked believable.
His latest project, The Demon With The Atomic Brain, has a wonderful 1950s horror movie feel to it. Just watching the YouTube! trailer is a treat for those who find the B-horror movie genre entertaining. Check it out on the Mihmiverse YouTube! Channel.
What style of special effects do you use in your films? What are your favorites to use?
Being that I make retro-styled films and I'm going for authenticity, I try to use nothing but practical special effects. We digitally composite elements together, but that's generally as far as we go unless we need something like a laser blast, which is easier to do digitally. Although, we do try to make them look as cheesy as possible!
Where do you draw inspiration for your films?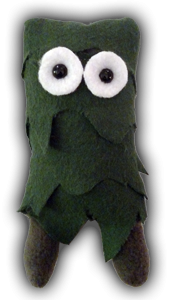 A lot of my ideas are drawn from classic B-movies, but also from modern genre films and those I grew up with the in 1970s and '80s. In fact, every one of my movies includes at least one line from the original "Ghostbusters!"
What camera angles do you use in your films and how do you determine what angles you need to use in a shot?
I tend to use a lot of similar angles when shooting my films, most of them pretty standard. I like to get a lot of coverage on my films to give me as many options as possible for when I edit. If I see something while we're in the thick of shooting or just get a random idea, I'll at least give some a try. Doesn't mean they'll end up in the finished film, however!
Your movies tie together loosely. Do you plan on continuing into a larger plot with those tie-ins?
My films are so loosely tied together that even a tiny reference in a larger plot would still TECHNICALLY tie any future film into the timeline. So, yes. That is my intention.
How do you find plot holes in your scripts?
I usually don't until it's too late! BUT, I AM making B-movies so…it's part of the charm!
How important is diversity in your movies? What does "diversity in the arts" mean to you?
I think it IS important. However, I sometimes feel like my chosen genre (that of 1950s B-movies) makes adding diversity difficult. Early in the my film career, I hewed much closer to that but, as I move forward, I've decided I can do whatever I want and don't HAVE to be limited by the past. So, I've made a conscious decision to try and include more diversity in my work. Diversity in the arts TO ME simply means allowing as many perspectives and voices be heard and celebrating differences and uniqueness while simultaneously using art to find common ground and drive mutual understanding of the human experience.
What ultimately drove you to make the decision to cancel your appearance at Odyssey Con?
At a very minimum, I just don't want my art associated with such negativity. There was a way to handle the situation and the way it was, was exactly the WRONG way. I believe everyone deserves respect and to be treated with dignity. A person should be able to feel SAFE and, when they don't and speak up about it, their concerns shouldn't be brushed aside like they don't even matter.
How inspired are you by current events for your films?
Not as much as I think I could be, although I do like to occasionally get a few references into the modern world and what's going on.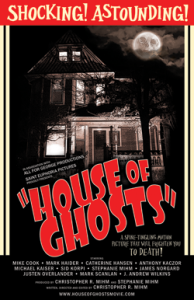 Who would you like to work with on a project?
There are so many I don't know that I can even answer! I'd love to collaborate with someone like J.J. Abrams or Guillermo Del Toro. Or, maybe someone from back in the day like John Agar or Roger Corman or Bert I. Gordon!
Would you ever consider adapting a book/comic to a movie in your style? If so, which ones? If no, why not?
I would love to if I found the right material. As it is, though, I quite enjoy coming up with my own stuff instead!
Do you see your work as a commentary, a distraction/entertainment, or both?
First and foremost, I think of my work as entertainment. If it's not, at a minimum, entertaining, I feel like I've failed. Secondarily, sometimes what I do IS a commentary. One of the things I like to do is turn a mirror on the era of the 1950s and, through my films, show how far we really HAVE come as a society in certain ways.
How do you feel you fit into the horror genre?
I feel like a bit of an outlier, though I do feel lucky. Horror fans are some of the BEST in the world and they really embrace where the genre comes from. In that way, they've been very good to me and I am very appreciative for it.
What makeup style do you use in your films? Do you create any prosthetics/masks specifically for your movies?
We have a guy named Mitch Gonzales who has been creating old-school latex monster masks and prosthetics for my films for many years. Almost every film I've made he's created something custom for it.
Where can we find your films?
They are available at my website at www.sainteuphoria.com or they are available for purchase and streaming on Amazon.com.
Anything to share about your current projects?
I'm currently working on a film entitled Demon with the Atomic Brain. It's very much in keeping with the look and feel of my other films. It's a rollicking sci-fi adventure about a group of scientists and soldiers who are slipping between different alternate realities to stop a tear in the fabric of time and space! My films are completely crowdfunded so I'd be remiss if I didn't mention that we are currently looking for contributors at www.demonwiththeatomicbrain.com!