Posted on June 22, 2010 by Jason Thorson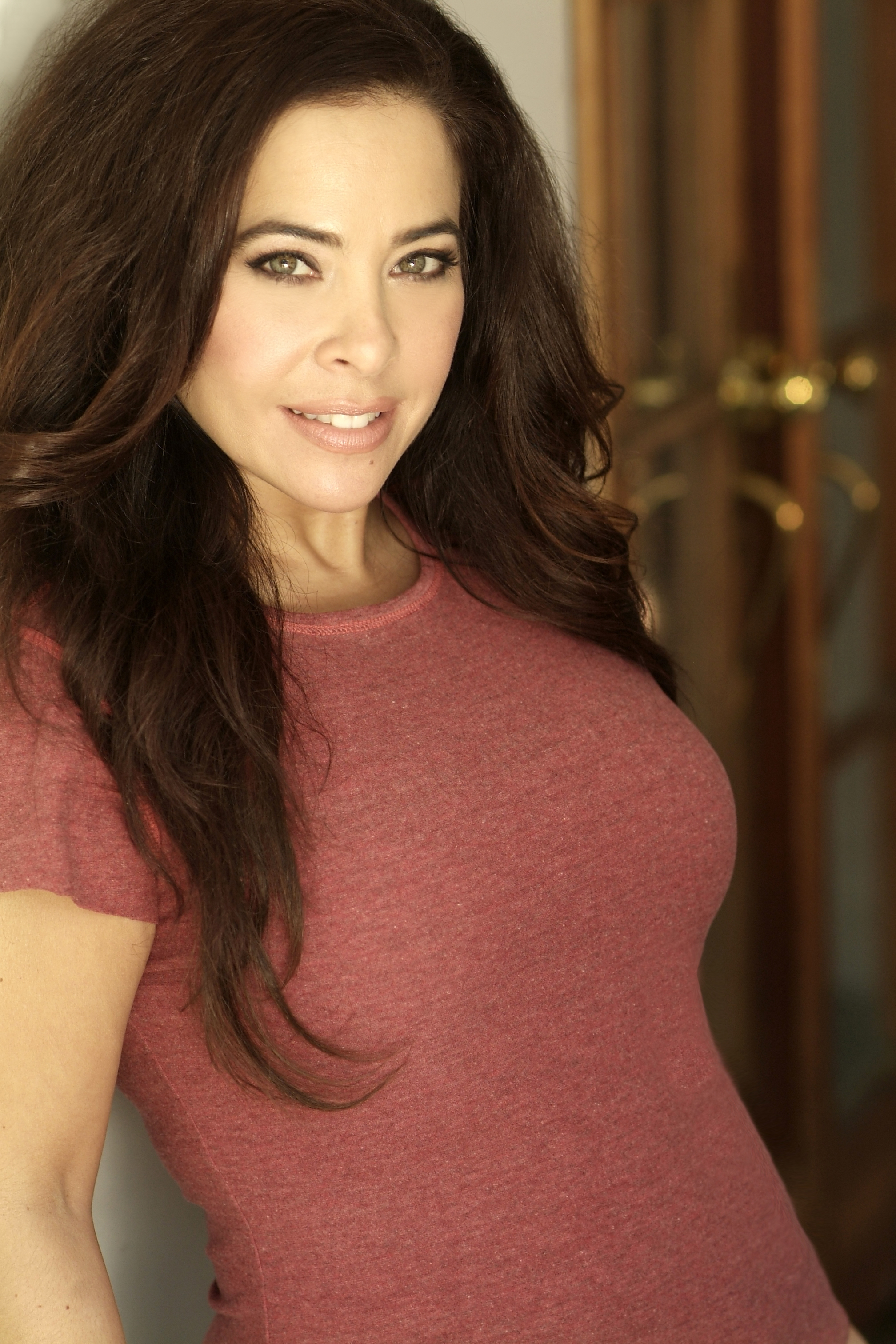 To attain Scream Queen status, one must be beautiful.  Of course, talent helps too.  Now, combine those two attributes with brains and incredible tenacity and you have Brooke Lewis – one of horror film's fastest rising starlets.  I was fortunate enough to interview Brooke recently to discuss her recent successes including her dual Golden Cob nominations, her latest projects such as the sick new flick, Slime City Massacre, and some of the exciting new projects (some of which are actually old favorites – here's lookin' at you, Ms. Vampy!) that Brooke will tackle next.  Please read on, fellow horror fans: 
Congratulations on getting nominated for two Golden Cob Awards this year – Best Scream Queen and Rising B Movie Actress.  You're nominated alongside some genre heavyweights.  Having had mainstream success early on with the Off-Broadway comedy, Tony n' Tina's Wedding, what do these genre nominations mean to you?  Win or lose, do they put you on the map? 
Thank you soooo much for acknowledging the GOLDEN COB AWARDS and I am honored to have been nominated alongside such seasoned veterans of the horror and sci-fi genres.  I feel like my career is an interesting example of how there really is no exact "formula" in this crazy biz!  I started out in mainstream from Off-Broadway to indie dramas to appearances in TV sitcoms and pilots and, although I have never left mainstream, I was blessed to get a "break" in horror and sci-fi and I am loving every minute of it!  I have been such a horror and vampire fanatic, since I was a little girl, so it suits me perfectly! I have been so fortunate to gain an incredible fan base and love and support from my genre peers that the nominations are just "icing on the cake" (Who am I kidding? I cried tears of joy for a month after the nominations were announced!).  In some ways, yes, I feel like I have "arrived" or been "put on the map", but whether I "win" or not, simply to have my hard work acknowledged, already feels like a huge win to me!  [Brooke won Best Scream Queen, Congratulations! – Jason]
What was your experience like filming Slime City Massacre?  According to your co-star, Debbie Rochon, things got pretty wild during the production – can you confirm or deny this….or maybe plead the 5th?  Are you a fan of the first Slime City (1988)?
Babe, I rarely "plead the 5th"!  SLIME CITY MASSACRE is a little gem of an indie horror/sci-fi/action flick!  Greg Lamberson, the writer/director/producer, put his life into this project and everyone pulled together to create something wonderful and artistic with a very low budget.  To be honest, I didn't become a fan of SLIME CITY, until I received the script to SLIME CITY MASSACRE. For all the original SLIME CITY fans, Greg really stepped it up with the sequel! 
I play Nicole, a prostitute in the 1959 flashback scenes.  I really enjoyed preparing for this character and hope horror fans enjoy my work in this one.  Debbie told ya things got "wild", huh?  LOL (I love that woman!)!  So I was told, but, unfortunately, was already back on a plane to Los Angeles when things heated up!  Speaking of heat, the "hottest" and wildest experience I had during production was when I had to be up early for rehearsal the day before shooting.  I was so exhausted and needing sleep when a fire broke out in the kitchen of my hotel.  The alarms went off and we were evacuated from the hotel and I had to sit outside from 4-7 a.m. until they cleared us to go back in!  That was my wild experience! 
You've created a unique web presence with Ms. Vampy.  What's the genesis of this persona and from where are drawing your influences? 
I created a web series MS. VAMPY to introduce the world to one of my favorite characters and I still cannot believe how well she was received!  It was such a lovely little project, in which I created, produced, co-directed and starred under the expertise of my Executive Producer, Todd Tucker of Illusion Industries (formerly DRAC Studios). 
I would love to introduce your readers to Ms. Vampy, whom Elvira, naturally, inspired: "Ms. Vampy is America's funniest, sexiest, sassiest and most high maintenance vampire.  Her personality is as big as her hair and is often described as Betty Boop meets Marisa Tomei in My Cousin Vinny.  She loves pleather and fur and wouldn't be caught "dead" without high heels!  But, there's much more to this lovable Brooklyn vampiress.  While she looks young and vibrant, Ms. Vampy is one of the oldest gals on earth.  She has yet to marry or have children, she freely admits to being boy crazy and hopes to someday make-out with Robert Pattinson.  Ms. Vampy is forever sexy, funny, young, and obnoxious, but her heart is as big as her mouth.  If she ever bites you, it'll be with love."  – Editor, Vampity Fair 
You're a member of Women in Film and you're also becoming a Scream Queen to be reckoned with.  There is one school of thought out there – one I don't subscribe to – that would deem those two allegiances as being incompatible.  What's your take on women in horror, both historically and currently? 
Thank you for calling me a "Scream Queen to be reckoned with" and not "subscribing"!  I think I am/hope to be recreating that rare combination of powerful women in film in both mainstream and the horror/sci-fi genres!  The title "Scream Queen" to me is an honor!  It means a "powerful" female presence in the horror genre!  In my opinion, any true horror fan will recognize that the greatest roles for women in horror history were not necessarily the roles in which women were victimized or objectified, but the roles in which women were the heroine (Jamie Lee Curtis in HALLOWEEN or PROM NIGHT), or the strength behind the man (Margot Kidder in AMITYVILLE HORROR) or the killer (Sissy Spacek in CARRIE).  In my opinion, there are currently sub-genres inside the horror genre and I tend to gravitate toward the more mainstream themes and roles for women, as described above.  I believe there are more women stepping up behind the camera in both horror and mainstream than ever before and I believe that we have strong voices and stories that need to be heard! 
You write, direct, produce, and perform Ms. Vampy.  There are other projects for which you wear multiple hats, so to speak.  Which job do you prefer to do?  What's your least favorite? 
Acting is my heart, soul and passion, so everything else I do is motivated by my love for acting and to create opportunities for me to do what I love!  Somewhere along the way, I learned that I am a damn good producer!  I actually love producing on a different level, because I am such a control freak about my career.  Producing empowers me to have some input on the projects I choose.  I enjoy writing, because I am very creative, expressive and have all kinds of crazy stories to tell, but I am WAY too impatient to be a full-time writer!  I suck at typing and I'm terrible at structure, but I am great with a team when we collaborate together and I can vocalize my ideas!  At present, I would say I am not really a director, nor do I aspire to be.  I Co-directed MS. VAMPY under the expertise of Todd Tucker, because no one could possibly have had the vision we had for this particular character!  As much as I like the creative aspects, including working with actors and creating shot lists, I do not like the technical aspects of directing.  It bores me and my natural tendencies make me gravitate to the front of the camera.  I'm such the "actress". 
You're all over the place these days with several recent projects to promote and several more on the way.  Do you have any down time and if so, how do you like to spend it? 
I feel like I am "all over the place these days"…physically, mentally and emotionally, so down time?  What the hell is that?  Right now, I am dedicating 100% to my career, so that includes acting, producing, writing, developing, publicity, answering emails, fan mail, horror and sci-fi conventions and festivals and let's not forget "tweeting"!  I swear, who would want to date ME???  When I do find time for a break, I enjoy working out, brunching, wine tasting, deep one-on-one conversations, reading spiritual/metaphysical books and, of course, renting horror movies and having a marathon! 
What's next for both you and your production company, Philly Chick Pictures? 
As for Philly Chick Pictures, I am proud to announce that we are in the development stage of creating a feature film for Ms. Vampy.  I am blessed to have a co-production deal with Illusion Industries, in which I will star and produce, Todd Tucker will direct, Jim Pacitti will star and produce and Tamar Halpern and Jim and I have written based on my original story.  The feature is a Halloween Family Comedy titled VAMP IT OUT and will be in the vein of THE NANNY meets ELVIRA meets HOUSE BUNNY.  I am following my heart and soul with this piece and my goal is to inspire teenage girls and women to embrace their inner beauty, follow their dreams and when faced with fear, dig deep inside, find their inner vamp and VAMP IT OUT!!! 
As for Brooke, along with the films mentioned above, I have a few others being released this year, including Ford Austin's horror/scifi/comedy DAHMER VS. GACY, Marc Clebanoff's dark comedy GERALD, Sal Polisi's mobster drama directed by James Quattrochi called SINATRA CLUB, Fabian Carillo's action flick DOUBLE TAP directed by Ryan Combs and a short film SPRINKLES, directed by Roger A. Scheck, in which I play the lead Maura.  This was probably my most challenging and showcase performance to date!  I am attached to play Laura in MONDO HOLOCAUSTO! directed by Anthony Sant'Anselmo and as both an actress and producer will be working on an intense drama/thriller UNTOLD IN WEST TEXAS with my dear friends and business associates Parrish Randall and Roger A. Scheck. 
Thank you for your deep and detailed questions and thank you for sharing me with your readers! 
Love & Horror,
Brooke Lewis
Interview by Jason Thorson
Also check out:
www.brookelewis.com – www.msvampy.net – www.phillychickpictures.com 
Tags | horror-movies, vampires