Posted on May 18, 2017 by Flames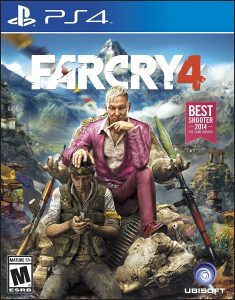 FlamesRising.com is pleased to present an interview with twice-nominated BAFTA writer Lucien Soulban, who works for Ubisoft Montreal. Fans of tabletop RPGs will remember Lucien from his contributions to games like Vampire: The Masquerade and Dungeons & Dragons. Additionally, he's also written novels for Warhammer 40K and Dragonlance, as well as short stories for various horror anthologies that include Blood Lite 1, 2, & 3.
Over the past ten years, Lucien has been working in video games as a writer/lead writer on games such as: Warhammer 40K: Dawn of War, Deus Ex: Human Revolution, Rainbow Six: Vegas, Far Cry 3, Far Cry 3 – Blood Dragon, Far Cry 4, and Watch Dogs 2. He is currently working on an as-yet-to-be named project at Ubisoft Montreal.
If you're interested in Lucien's work, or would like to follow him for updates, be sure to check out Lucien Soulban on Facebook.

1.) Following your work in tabletop RPGs, you've been working professionally in video games for a number of years. Can you talk about your transition from RPGs to video games?
It wasn't part of my planned trajectory. I loved videogames, and I played them avidly, but I never thought I'd be in a position to write for them or to make a career from it. But over time, the friends I made in the RPG Industry made the transition over to videogames, and they vouched for me when gigs started popping up. That's what happened when my best friend jumped from Dreampod 9 to a small studio working on an MMO. I was called in to script-doctor the work, sifting through lines of code to find and rework the imbedded dialogs in the programming strings, but the project got killed. After that, my friend Josh had gone to work for Relic Entertainment, and they were looking for a scriptwriter for the Warhammer 40K game "Dawn of War." It was a damn prestigious project, especially for a beginner like me, but I got the job. From there, I had industry cred and I was living in Montreal where mainstay Ubisoft had offices, so I managed to get a position as lead writer for Rainbow Six: Vegas.
2.) You've garnered a few BAFTA award nominations for your work on Far Cry 3 and Far Cry 4. In your opinion, what makes a video game worthy of an award?
Well, a few things pop into mind on that. I think it needs to be a cohesive experience with gameplay, level design, art, modeling, animation, etc., where the story isn't a separate strata of the overall experience. It cannot be wholly independent or the game is hit with another barrier to entry, another reason to force the player to suspend disbelief. Because of the urgency of the plot in Far Cry 3, for example, players felt guilty for exploring, hunting, collecting items, and liberating outposts at a leisurely pace when their friends had been kidnapped and were likely being tortured. So in Far Cry 4, we made sure that everything fit together better, that the world had an economy and that each region fit into the overall plotline. That way, players always felt like they were making a difference, be it by playing in the sandbox or by knocking off critical path missions. That certainly helped. The big difference, though, is that we refuse to treat games as merely games. When we audition actors, when the writers work on scenes, we do so treating the dialogues with necessary maturity. And it makes a huge difference. We sometimes get actors who slather their performances with all the overacting hallmarks of children's programs on television, and we have to tell them: No, pull it back; imagine you're acting for HBO or Netflix.
3.) The discussion about the need for better representation in games has come to the forefront over the past five years. You've worked in a number of different roles for both small and large companies. Are these same conversations happening behind-the-scenes? Do these discussions highlight a recent shift in game design?
It's been happening for a while, I think, but you're right in that representation has emerged to the forefront more recently. Back in the original White Wolf days some 15+ years ago, there was a push toward diversity, but it came from individuals. We weren't told who to include, but we were encouraged to break the existing conventions and supported when we did. Now, we talk about it more openly, and yes, these discussions are happening behind the scenes because we need to figure out how to properly represent a culture or gender without being ignorant about it.
Videogames are international, and we can expect to see our game translated into 10+ languages, to countries with their own set of values and cultural experiences, to players who want to be inspired by and add to the worlds we create. Look at World of Warcraft, for example. They couldn't sell to the Chinese market until they changed their undead models to look less gory and skeletal. Sorry if that irks people that China has become such a huge market for games and movies, but their market, their economy, their rules. Discussions about diversity are a must, and for more than just practical business reasons. Our audience is international and, in return, we need them to add their stories into the mix to broaden our experiences as well, to add to the next generation of voices with new vision. Any medium that fails to seek out, acknowledge, and welcome new inspiration will stagnate.
4.) With respect to the fans and communities, do you feel there are marked differences between tabletop RPG players and video gamers? Why or why not?
There used to be one, but I think times are changing. In the early days, it was easy to stereotype tabletop gamers as purists who enjoyed literature, and videogamers as adrenaline junkies with short attention spans and no imaginations. But, those borders have eroded as tabletop gamers work at videogame companies and videogame companies look to the world building skills and rule-crunching aptitudes of tabletop gamers. Instead of MMOs like World of Warcraft signing the death knell of roleplaying games, they seemed to increase the player base. Walk into Blizzard Entertainment, and you'll marvel at their sophisticated library filled with RPGs. Go into Ubisoft Montreal at lunchtime and there's easily twenty people from one team alone hosting Magic the Gathering tournaments. Our cafeteria on the fifth floor is littered with board games. The communities are shared, the hobby and interests mutual.
5.) If you could work on your "dream game", which one would it be and why?
Ooo, that's a tough one. Honestly, I've spent so much time working as an IP writer on existing brands, that the dream project would be my own horror-fantasy RPG. It's not that I think my idea would be better than working on, say, a Dune or Blade Runner videogame (could you imagine a moody Blade Runner RPG a la Mass Effect?), but I'd love to stretch my legs in one of my own universes and give that a spin. I want to see how I could develop and flesh out one of my universe's from conception to full realization. BUT, if I was told to polish a property off for videogames? Blade Runner as an RPG for sure.


Tags | interview, ubisoft, videogames